Athanasius Titus Renkaraka was a talented artist whose paintings are difficult to find. He painted a country with the totemic hills appearing to move gently. His gum trees sometimes appeared to be animate observers of the scene, which was portrayed. The artist used pencil outlining less than other Hermannsburg School painters, employing a 3 mm wide brush for drawing in paint with an emphatic painterly effect. He was a confident but not prolific painter
Athanasius Titus Renkaraka was the son of Titus and Esmeralde Renkaraka. He was Western Arrernte, Subsection (Skin) Ngale. He was born at Haasts Bluff when his father Titus was the leader of the Lutheran congregation. Titus kept the peace at Haasts Bluff and much intertribal fighting stopped. [1]
The Renkaraka/Ratara family group was the largest claimant group in the Palm Valley Land Claim no 48. The group is made up of the descendants of three apical ancestors, two brothers, Renkaraka and Ratara and a sister Kulta. Renkaraka, as the elder of the brothers, was the original leader of this group. His only son, Titus (father of Athanasius), spent a good deal of his time away from Hermannsburg doing evangelical work for the Lutherans at Haasts Bluff.
Hence leadership of the group (in the traditional sense) eventually passed to the Ratara line, through Ratara's son, Abel, and grandson, Kristoph, to his great grandson, Norman. Norman, born in 1935, also became a fine watercolour artist, as described above.
Note: The surname appears as both Renkeraka and Renkaraka. The artist signed as Renkaraka and this spelling is used throughout this discussion.
No paintings by Athanasius Renkaraka have been found in public collections so far. The artist appears to have started to paint in the early 1960s – say about 1960. On 30.6.1966 on the Census of Wards he was at Alice Springs at 'Mission Block'. He was aged 45 when he died.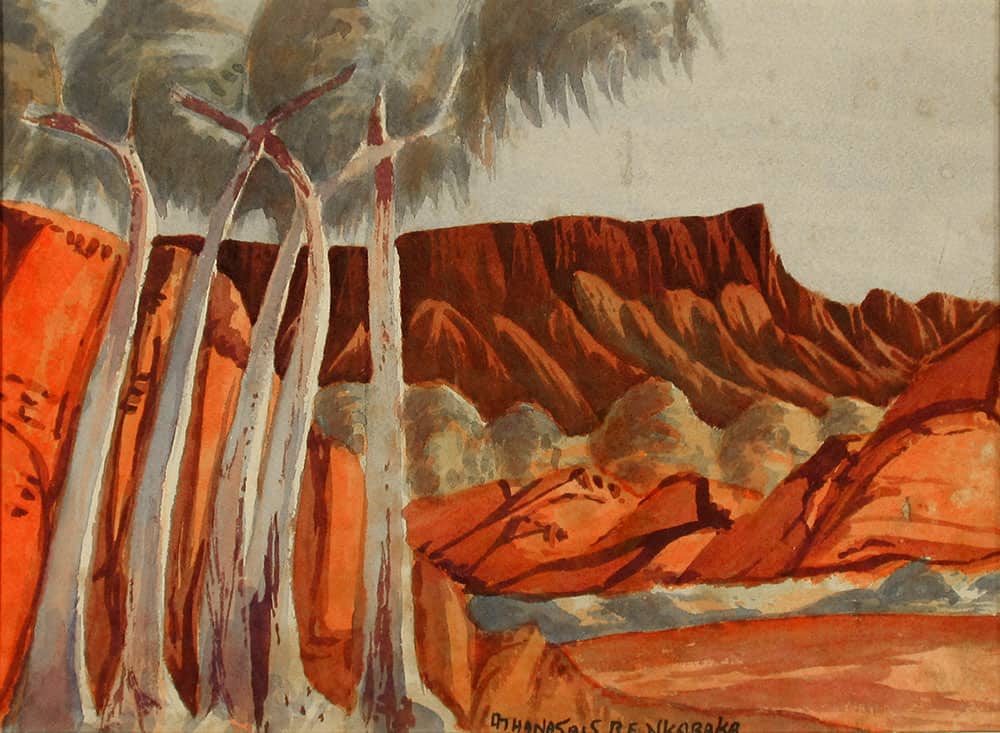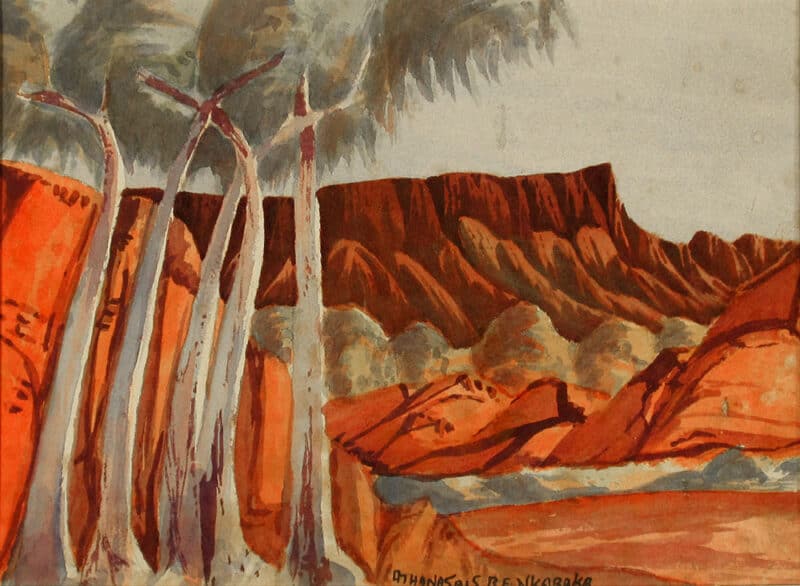 Ghost gums, Mt Gillen
Athanasius Titus Renkaraka
• • •
est. 1960-64
Watercolour on paper
25.5 x 36 cm
Beverley Castleman Collection
BDC-AtR-06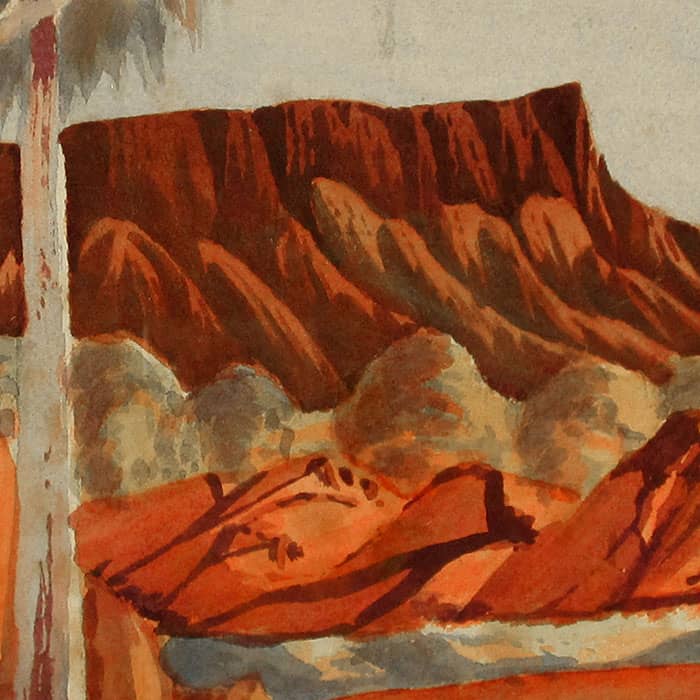 The trees are like five witnesses at one with the hill. This memory painting is a vibrant reconstruction of his recollections. The artist was already confident in his sophisticated and very individual style. There is minimal pencil outlining and much drawing with 3 mm thick brush strokes. Mt Gillen is portrayed in dark crimson. Lemon is used behind foliage to and on mid ground strip to suggest sunlight. Purple shadows are on trunks and lower foliage. White on trees is unpainted paper.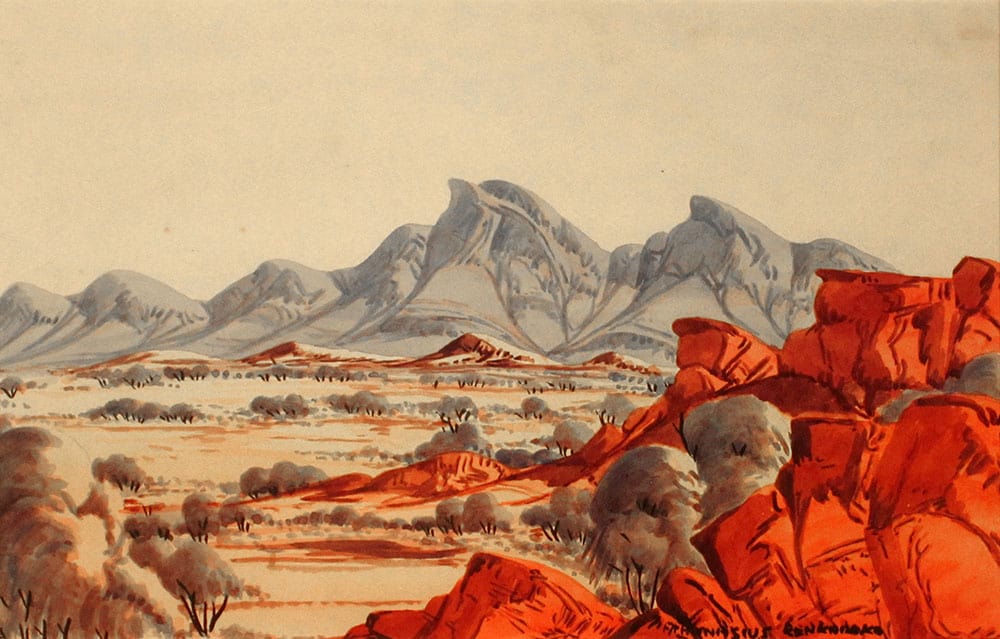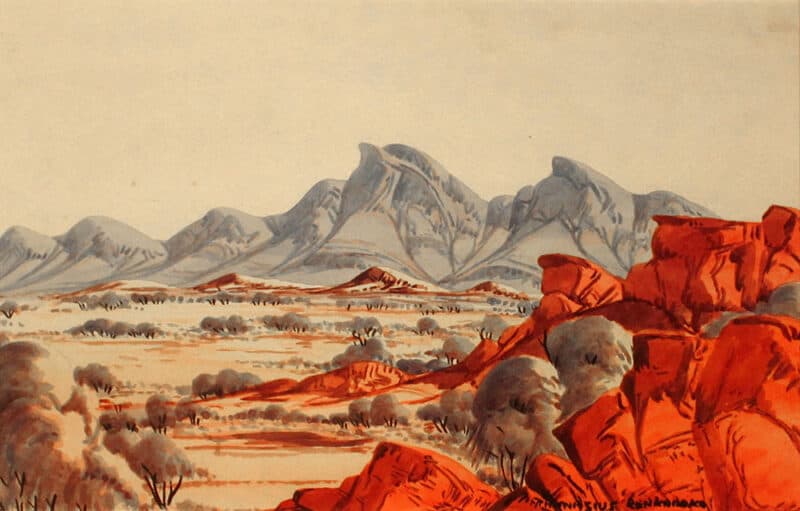 Central Australian landscape

Athanasius Renkaraka
• • •
est. 1964-66
Watercolour on paperboard
22 x 34 cm
Beverley Castleman Collection
BDC-AtR-04
The hills and rhythmic rocky outcrops seem to be in happy dancelike motion on the flat plain. All of the trees are small and appear transient, as if most of them will not survive the next grassfire. The happy rhythmic blue distant hills seem to dance as a backdrop to the action.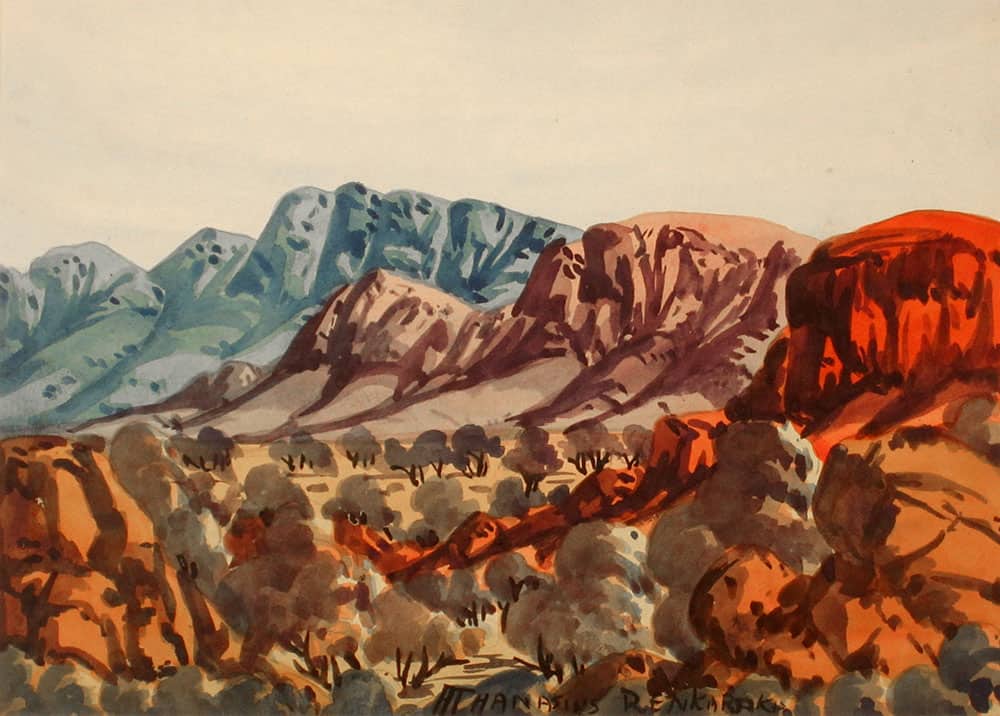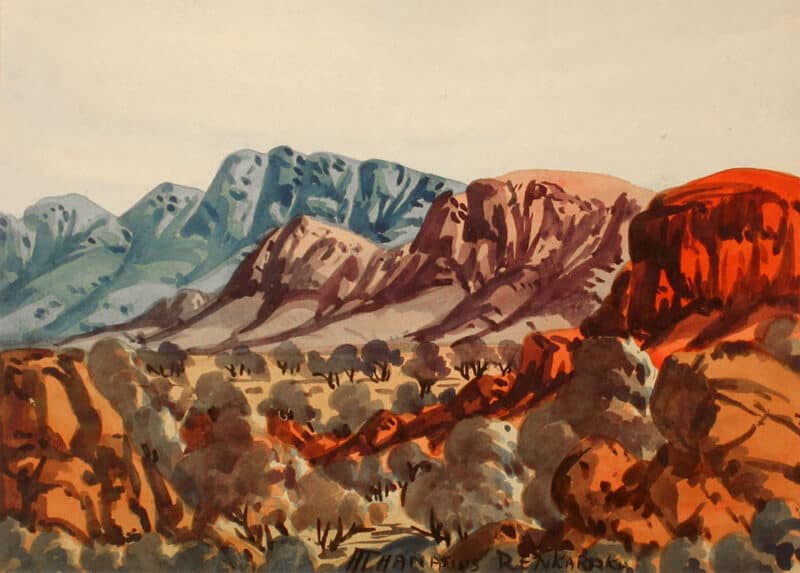 Harts Range, Central Australia

Athanasius Renkaraka
• • •
est. 1967-73
Watercolour on paperboard
25 x 35 cm
Beverley Castleman Collection
BDC-AtR-02
This is a confident painting with assertive drawing by paint-brush. Wide brush strokes of approximately 3 mm wide outline and emphasise shapes. There are minimal pencil outlines of main hill profiles. There is a pale blue sky and blue rear hill, mauve mid hill, cadmium red hill at right and orange rounded rocky outcrops on each side near the foreground. There is a yellow wash on the plain with trees painted over the plain. Harts Range is north-east of Alice Springs.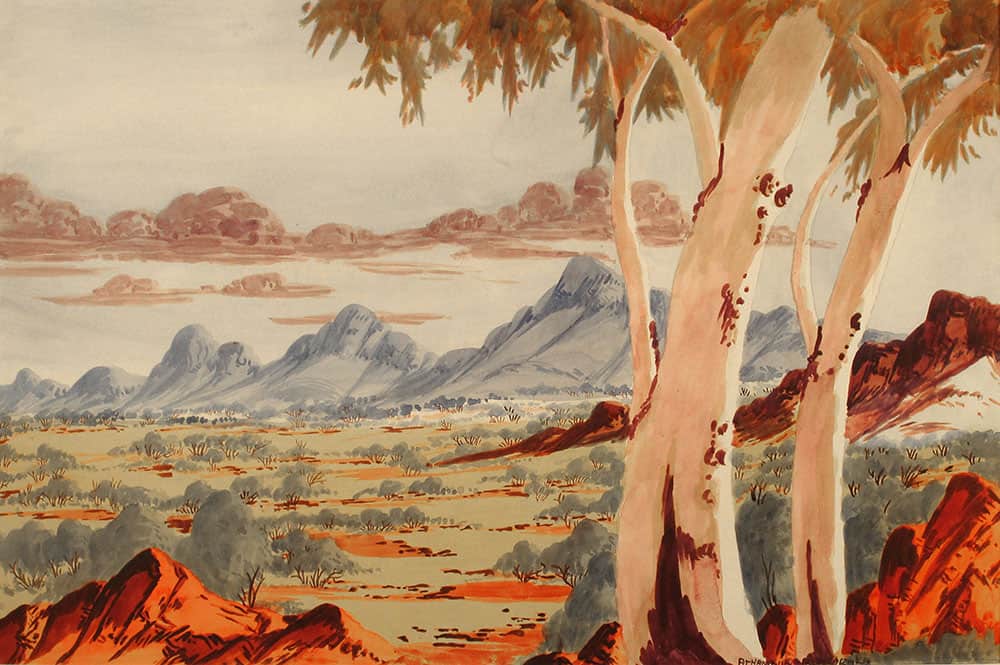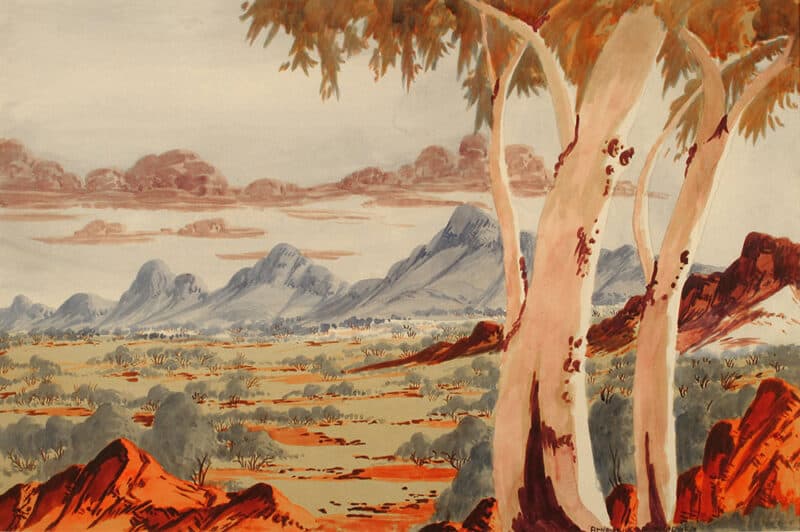 Untitled

Athanasius Renkaraka
• • •
est. 1970-75
Watercolour on paperboard
49 x 74 cm
Beverley Castleman Collection
BDC-AtR-01
This elaborate composition, was carefully created and suggests a country in motion. The horizon appears to slant up towards the right side of the viewer. The clouds are part of the action. The two gum trees appear to look down the plain to the left.
Cobalt blue sky and hills. The clouds are mauve as are the shadows on the left side of the tree trunks. The plain of intense cadmium yellow recedes to a white unpainted strip below the distant hills. Cadmium yellow is also painted behind foliage.
REFERENCES TO EXTERNAL TEXTS
[1] Paul G E Albrecht, From Mission to Church 1877 – 2002 finke river mission, p15