Clifford Inkamala created rhythmic paintings in the late 1950s and 1960s. Although painting was not his main career, he created some capable interpretations of his country, and included emus as subjects in the landscape. All of the paintings were painted quickly, eloquently and schematically
Clifford Inkamala started painting in the mid-1950s (say, 1955). In October 1958 Clifford, then aged 31, was described as three-quarters Aboriginal and as a stone mason. Clifford was Western Arrernte, Subsection Mpetyane. Although painting was not his main career, it must have been a satisfying bonus to his income and morale. He was several years younger than Adolf and Gerhard.
Clifford's wife Phyllis Myers was half Aboriginal. As at 1957 they had five children and were living at Hermannsburg.
There are four paintings in the author's collection and one at Flinders University Art Museum. The area in which the following two paintings were painted may have been the Ubana range, which was the subject of two paintings by his brother, Adolf.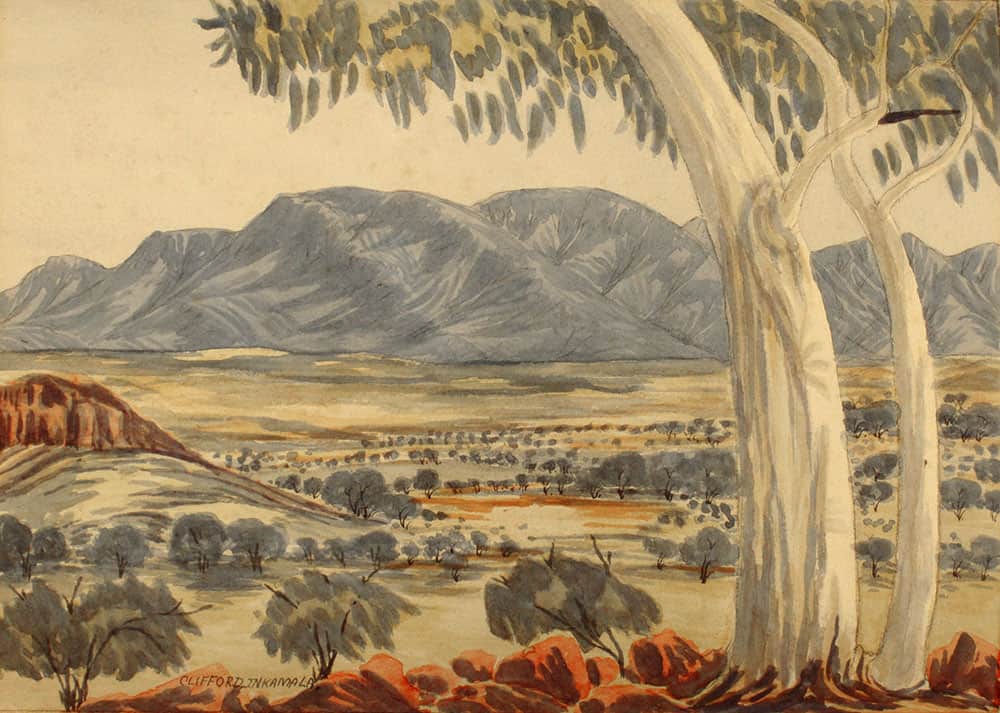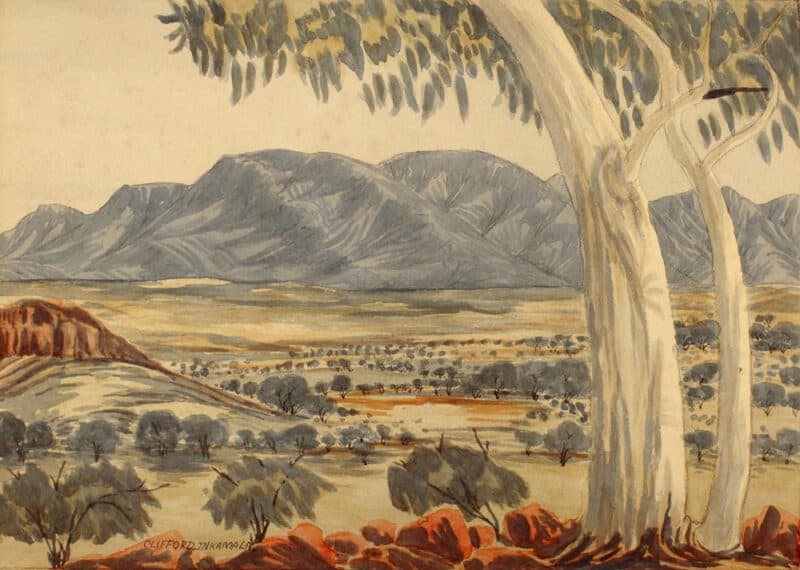 MacDonnell Range
Clifford Inkamala
• • •
1959
Watercolour on paper
26.5 x 36.5 cm
Beverley Castleman Collection
BDC-CInk-03
A blue range of hills with rhythmic curves is framed by a similarly curved double trunked tree. This is a calm painting with soft colours, but the foreground would have been a somewhat brighter red, as the rocks have thin wash-like paint. Flat pale cobalt blue sky with three tone cobalt blue distant hills. Lemon under wash on plain and behind big tree foliage. Rear plain horizontal long brush strokes.
Mid ground has infill lines of dots and medium blob trees. Yellow ochre lines in front of mid ground pink and ultramarine topped hill with lemon and ultramarine and cobalt line base. Blob blue trees screen base of left hill and continue spaced across rear of foreground. Foreground plain lemon. Three blob trees behind foreground low red and ultramarine rocks. White of trunk is unpainted. Lemon blue and grey vertical brush strokes for shady side of trunk.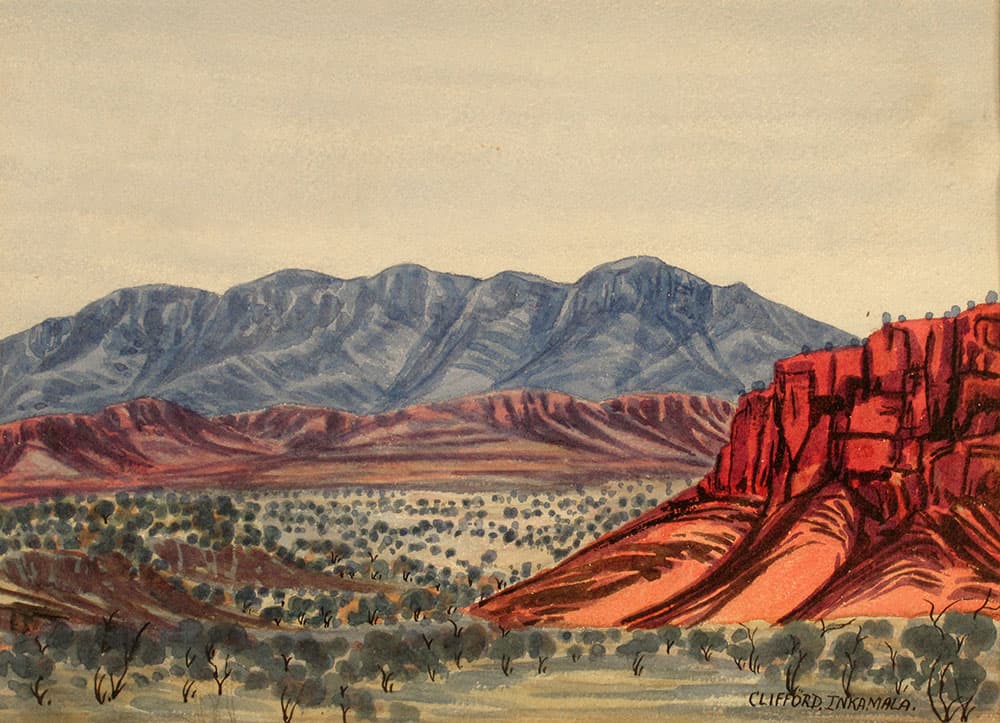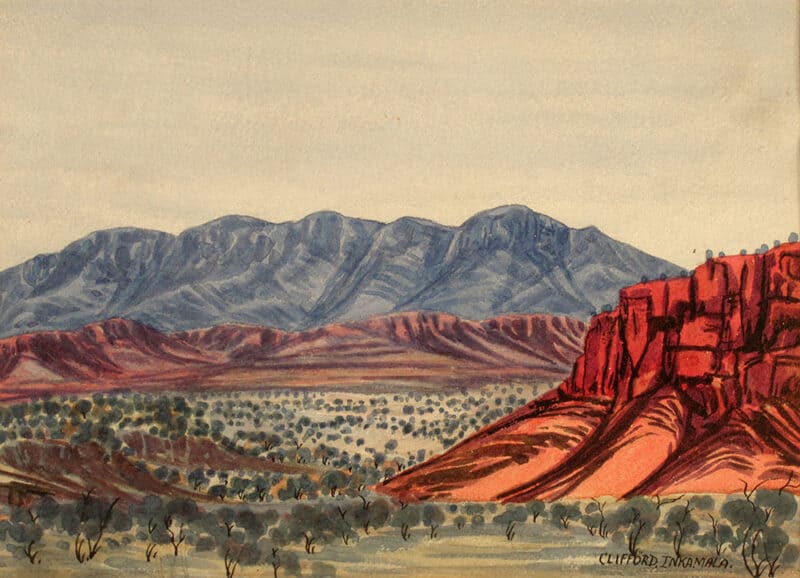 Mt Sonder
Clifford Inkamala
• • •
1960
Watercolour on paper
25 x 34 cm
Beverley Castleman Collection
BDC-CInk-01
Part of Mt Sonder is portrayed in ultramarine with a band of low magenta coloured foothills. To the right is a red hill with vertical cliffs. Pale lemon under foreground area. Rhythmic, parallels, infill lines and dots enliven this painting.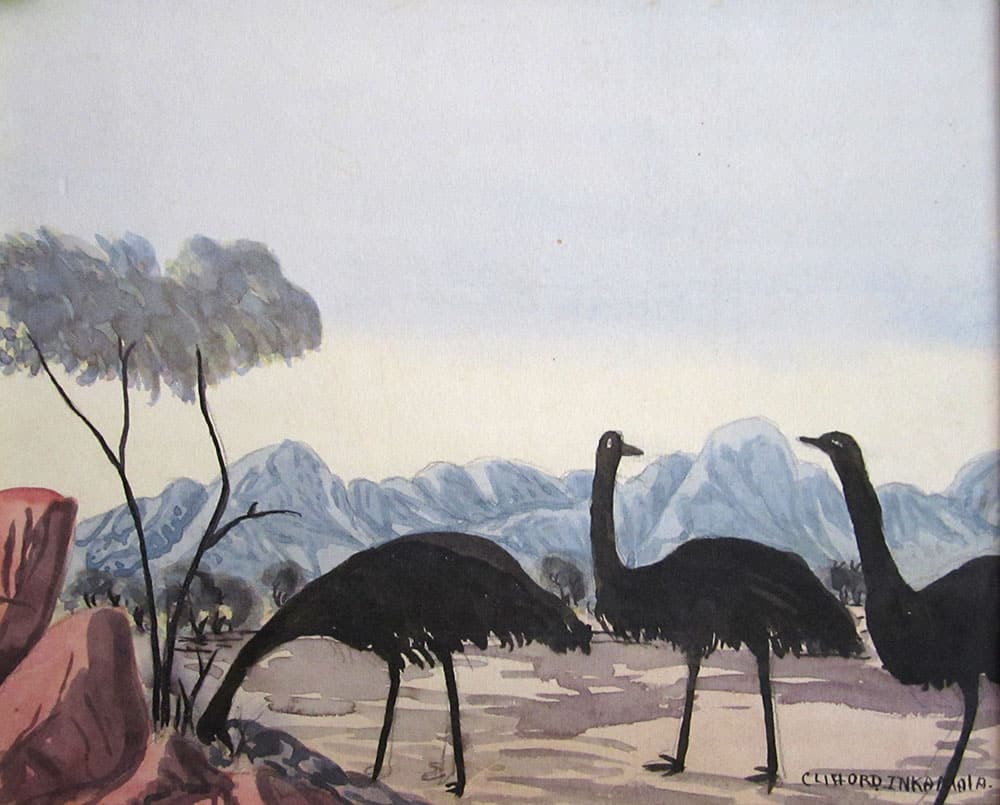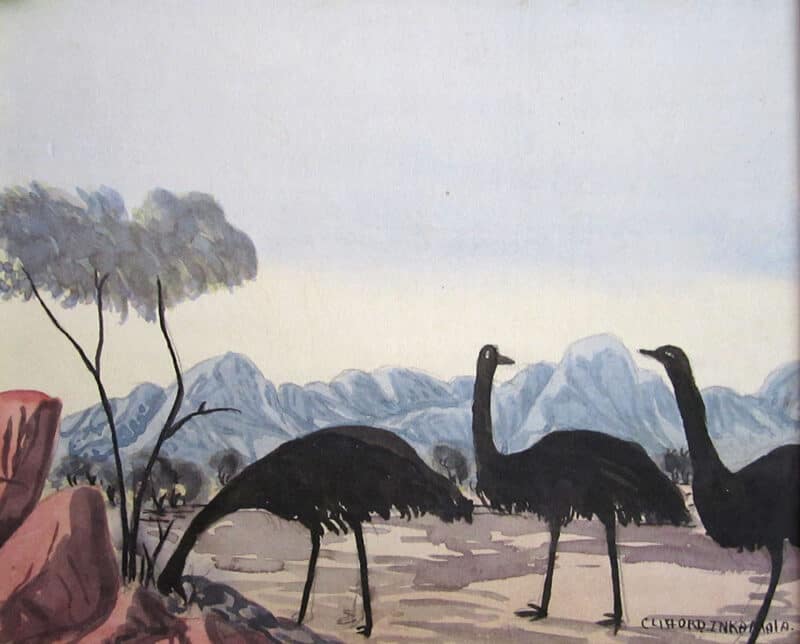 Emus
Clifford Inkamala
• • •
est. 1969-70
Watercolour on paperboard
21.5 x 26 cm
Beverley Castleman Collection
BDC-CInk-04
The painting is about the black emus, which dominate the composition, through blackness and shape. The thin black tree trunks link the birds with the quieter parts of the scene, allowing the landscape to complement the birds and the sky to relieve the intensity of the birds.