1914 – 1975
Henoch Raberaba started to paint in 1946 first under the guidance of his friend and tribal relative Albert Namatjira, then with another relative Edwin Pareroultja to work out his own style. Over a few weeks he evolved rapidly into a style of upward curving cliff bases beneath rocky cliff tops in a simplified lyrical style. He displayed his country flamboyantly and elegantly. He developed a system of harmonious patterning of curved parallel lines to emphasise the natural shapes of hills and trees. On occasion he invited the viewer into a space of apparent importance to him. He was painting seriously from 1946 to 1972. He was a founder of the Hermannsburg School and through his successful career he was an early role model to other Arrernte men.
According to the Palm Valley Land Claim Report of 13.8.1999 (3.7.7), the Raberaba family is quite small, but it is important traditionally, due to its close ties to the Ratara family. The large Renkeraka/Ratara group was the largest group to have prime spiritual responsibility for much of the Palm Valley land claim area. At the time of the Palm Valley Land Claim in the early 1990s the Raberaba family descendants asserted their ownership through their traditional ownership of the 'Roulbmaulbma estate' which overlapped the Palm Valley land claim area. The Roulbmaulbma area abuts the Ntaria Aboriginal Land Trust, extends eastward to Ellery Creek, to the Chewings Range in the north, claiming that their estate comes south as far as the junction of the Finke River and Ellery Creek at Rubula. Several Raberaba paintings portray the Ellery Creek area.
Henoch and his younger brother Herbert (1920-1980) did very well selling their paintings to the increasing tourist trade in Central Australia, as well as in the capital cities. Their locations were diverse. They were important painters and fully engaged in their art. Henoch was Western Arrernte, Subsection (Skin) Kngwarreye or Penangke. Henoch married an Arrernte woman, Regina (born 1917).
Henoch was a good friend of Albert Namatjira. Albert was convicted of leaving alcohol within reach of Henoch, thus leading to Albert's conviction for supplying alcohol to Aborigines in 1958. Henoch Raberaba was the 'tribal brother' to whom Albert Namatjira, was convicted, as a non-Ward, for supplying alcohol. On an earlier occasion Henoch had been found at Hermannsburg too drunk to stand after a taxi trip with Albert. [1] In evidence at Albert's trial in Alice Springs in August 1958, Henoch stated that although Henoch Raberaba was Albert's tribal brother and not his blood brother, he was still obliged to share with him. [2]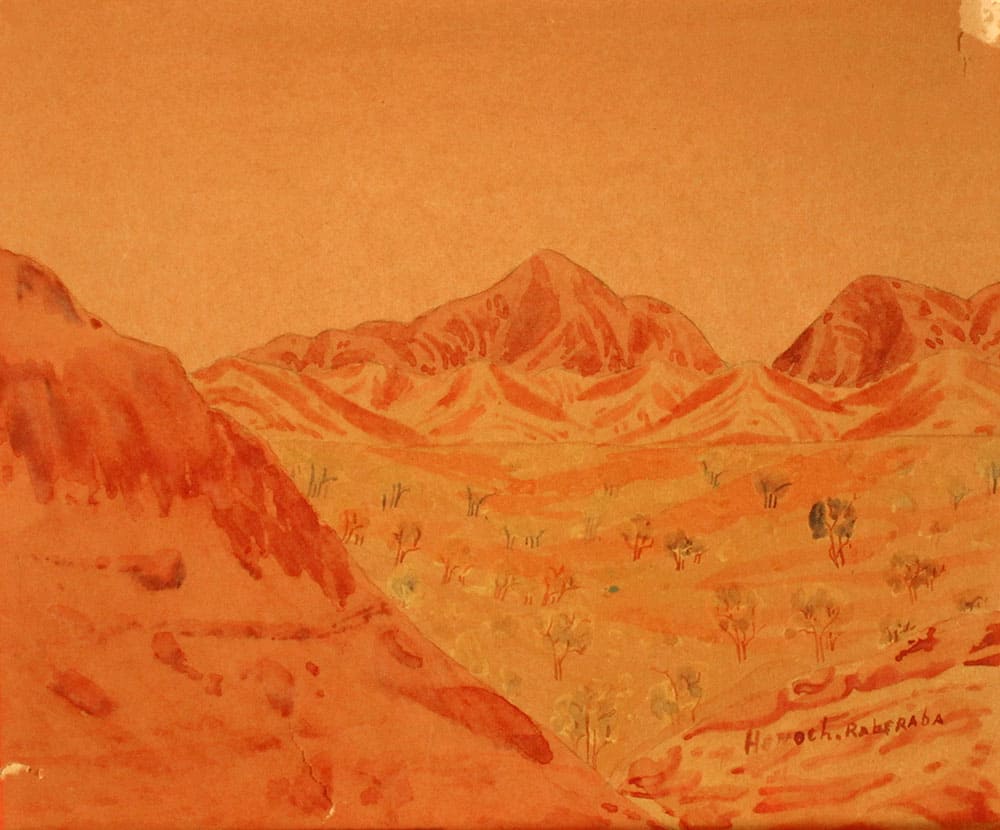 Central Australian landscape
Henoch Raberaba
• • •
est. 1946 (from first 2 months of painting)
Watercolour on buff coloured paper
24.5 x 28.5 cm
Beverley Castleman Collection
BDC-HnRab-10
The earliest painting in the author's collection which is by Henoch is obviously a teaching painting as a competent artist has started it with well described hills and foothills, leaving Henoch to complete it himself. Albert was probably the artist/teacher as Henoch spent a month painting with Albert. This is probably Henoch's first attempt with paint on paper. Rex Battarbee states [3] that Henoch then spent a few weeks with Edwin and then created work similar to Edwin before working out his own style.
The plain has a lemon wash applied first and the foreground hill at left also had a red wash. The sky is flat pale orange. The hills are pale red/orange. Trees are suggested with blob marks.
Museum and Art Gallery of the Northern Territory has a painting by Henoch, James Range 1948 which is somewhat like Albert's style with its delicate colours. It shows more experience with paint and composition.
The next known painting by Henoch was At James Range Gorge, 1948 (watercolour on paper; 25.5 x 37.5 cm; Museum and Art Gallery of the Northern Territory; NAM-0248). This shows huge progress into Henoch's own style. The focus of this painting is on the U shaped gap with distant blue hills. Somewhat animate tall trees at right lean inward, like observers, to emphasise the area of focus. There is a geometric based screen of red rocks foreground with small blob trees. Intense colours are employed confidently.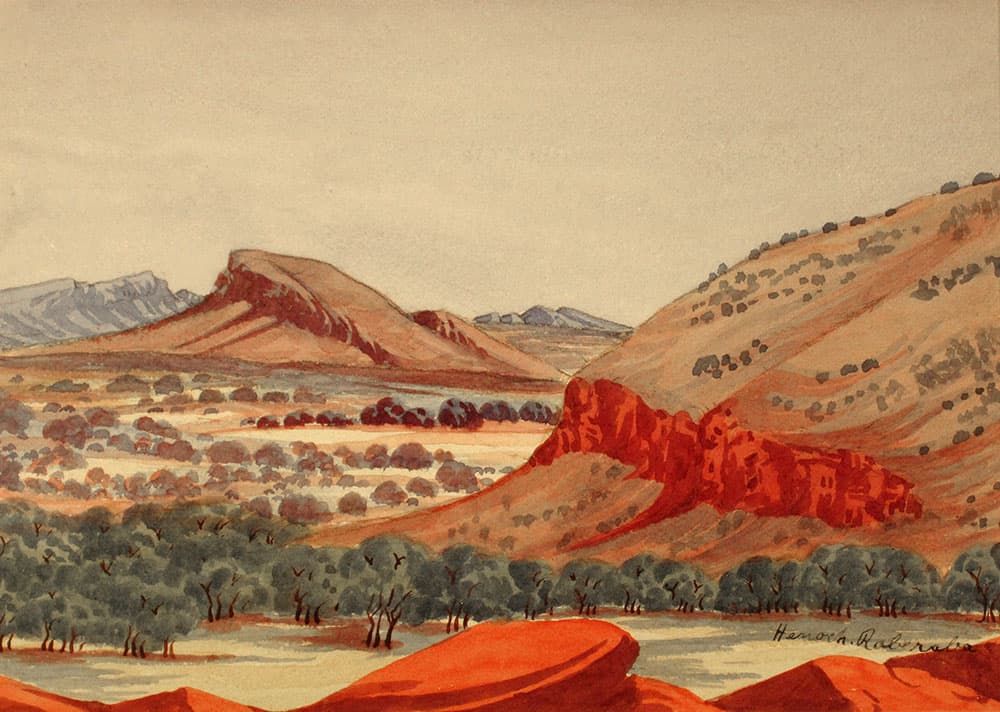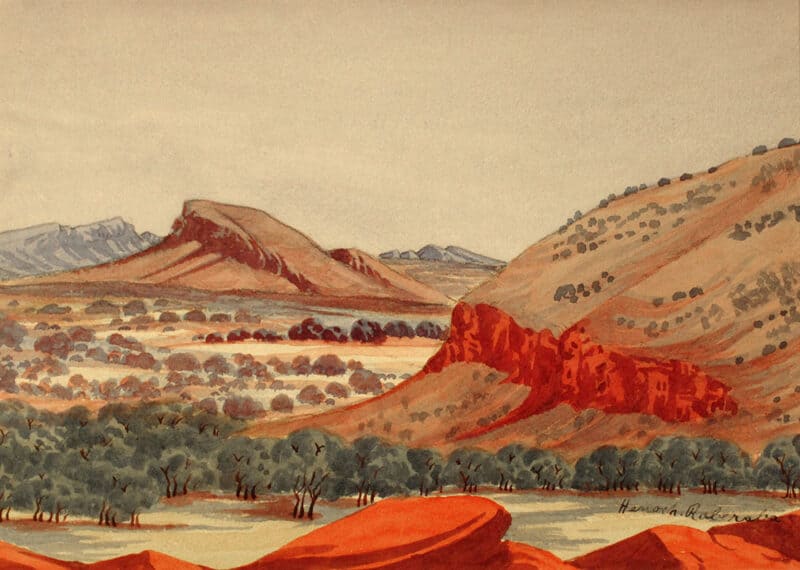 Central Australia
Henoch Raberaba
• • •
October 1954 (Native Affairs Branch sale approval)
Watercolour on paper
26.5 x 37.75 cm
Beverley Castleman Collection
BDC-HnRab-01
Red ochre rocks across the bottom summarise the main shapes of the two hills. There is a flat cobalt blue sky and cobalt blue distant hills. Lemon yellow illuminates the front slope. The back plain glows in cream, which is overpainted with an infill of blue and greyed lines and blue blob marks. Blob trees across back of foreground with green foliage screen of big hill on right and the plain. Right hill is muted purple from red ochre and blue, red on cliffs. Important hill at rear is muted grey like right hill. There is infill of lines and blobs on the rear plain.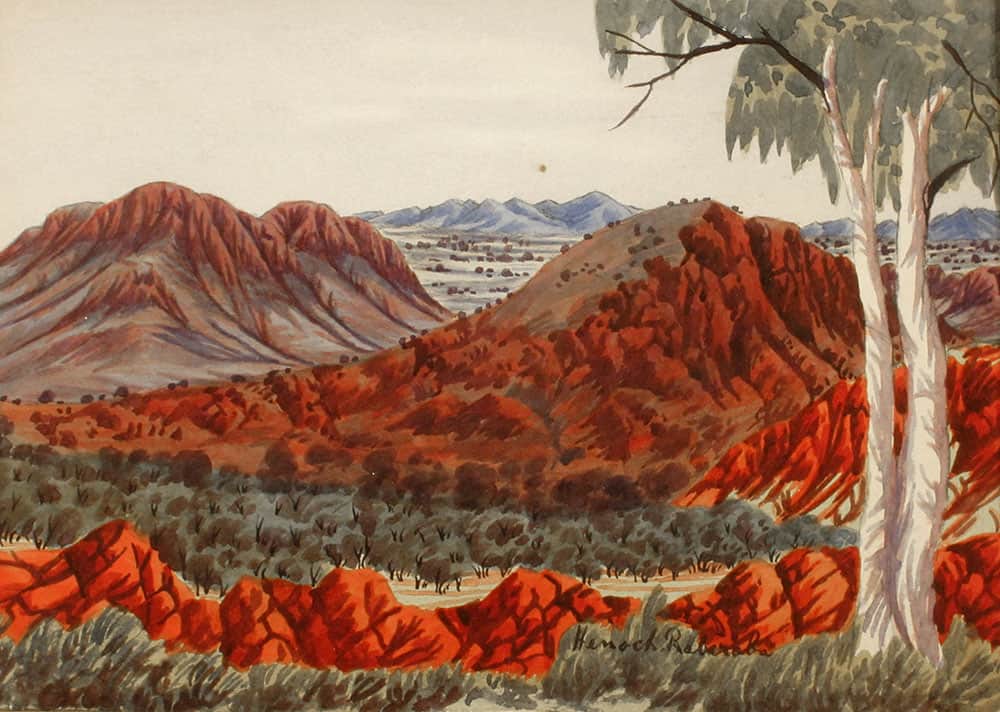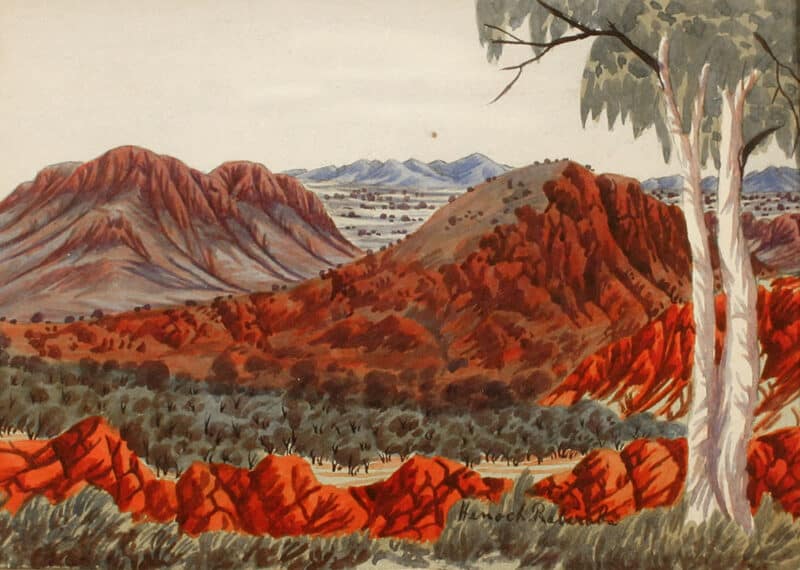 Central Australian landscape
Henoch Raberaba
• • •
est. 1954-56
Watercolour on paper
24.5 x 34.5 cm
Beverley Castleman Collection
BDC-HnRab-12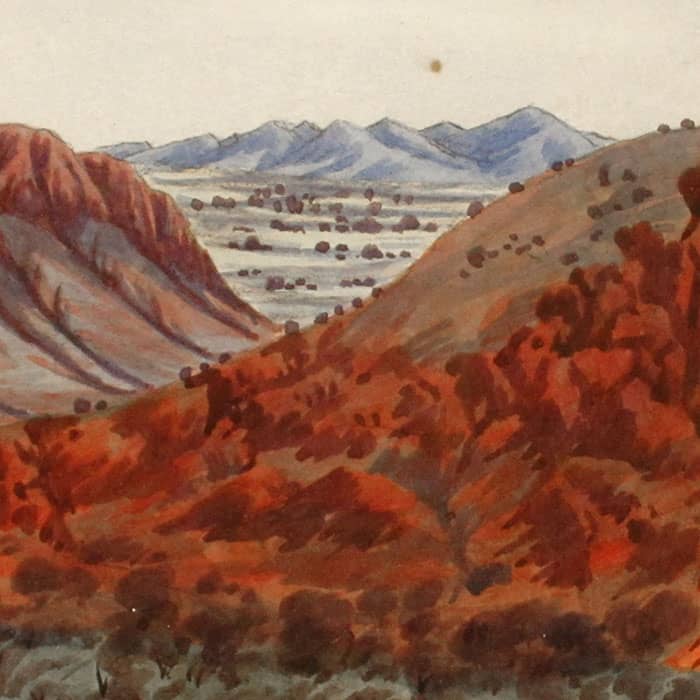 Henoch portrayed his subject hill as vibrant, rather than inert. In this engaging painting Henoch was clearly experimenting with an all-over system of patterning to invigorate the appearance of the topography. There is a continuous red rocky outcrop above the low foreground grassy viewpoint at the bottom. Restrained parallel brush strokes are balanced by extensive patterning based on geometrics and nature. The tree on the right is sunlit from left.
A lemon under wash on the right hand hill at front and foreground increases luminosity. Hint of lemon on rear distant plain, which is infilled with blue lines and dots. Lemon backlights the big tree foliage. There is a line and dot infill on the distant plain.
Henoch seemed to consider his subject hill to be vibrant and thus foreshadowed Otto Pareroultja's pulsating hills portrayed a few years later. This is a confirmation that Arrernte people considered their spiritual landscape to be vibrant, rather than inert.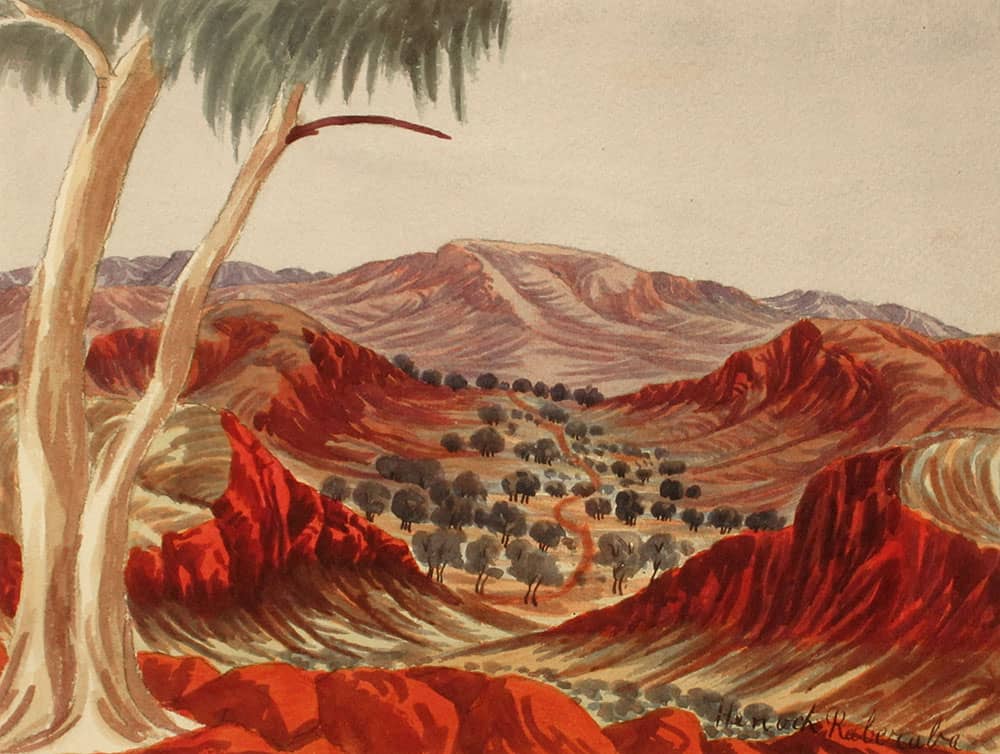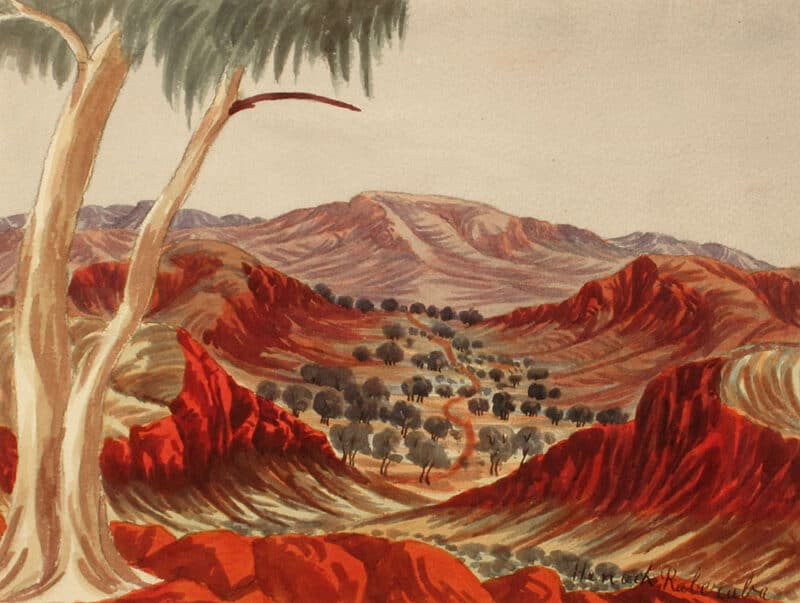 Mauve Plateau
Henoch Raberaba
• • •
est. 1954-57
Watercolour on paper
25 x 34 cm
Estate Maria Mueller, late of Alice Springs
Beverley Castleman Collection
BDC-HnRab-05
The big tree does more than frame the the view of sculptured valleys below. We can glimpse the scene or choose to know it better by entering the intimate space in spirit. The red rocks and big tree form a low screen in the foreground.
The rocks appear natural, but the tree is described in curving parallels at one with the sweeping parallels below. The tree invites.
This great little painting has an all-over system of parallel patterning, reminiscent of the incised parallels were used on important implements, especially boomerangs. The big tree and left hill are sun-lit from left, but right hill is sun-lit from right! A sense of symmetry or equivalence was important. The plain in the middle behind side hill glows soft orange – as if emanating light – and a red meandering line seems to recommend a pathway from the front valley through the rear valley to the world beyond. The composition involves a harmonious system of parallels with long 3 mm brush strokes. There is no recession suggested in the flat cobalt blue sky. The cobalt distant hills are described with parallels.
After the drama and death of Henoch's friend Albert Namatjira in August 1959, Henoch continued painting. Art was a lifeline amid stress and numerous tribal relatives were inspired to start painting seriously over the following year or so.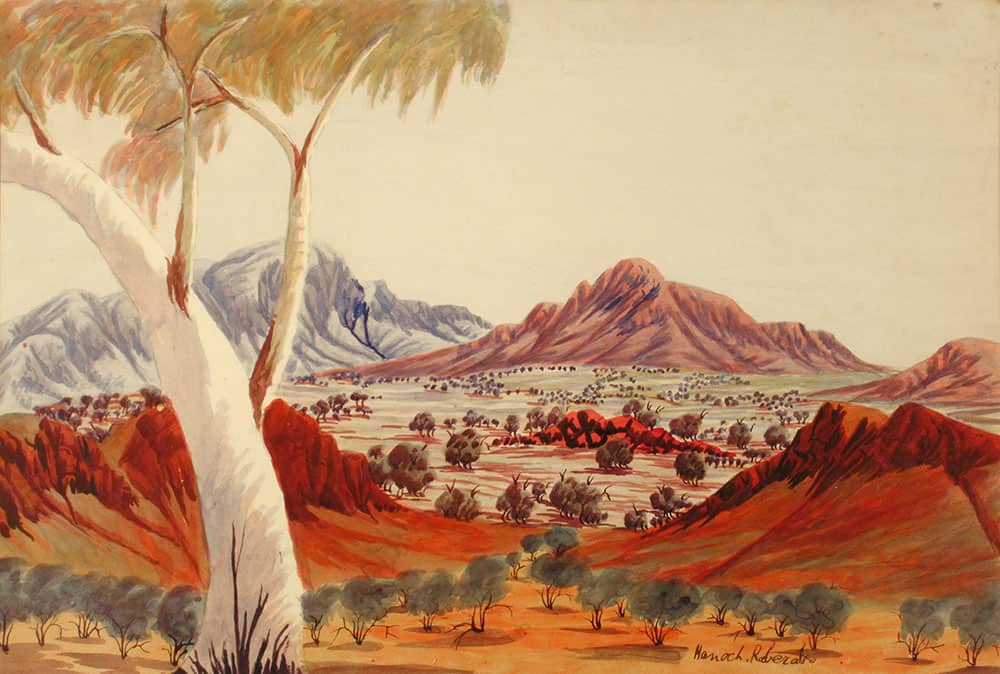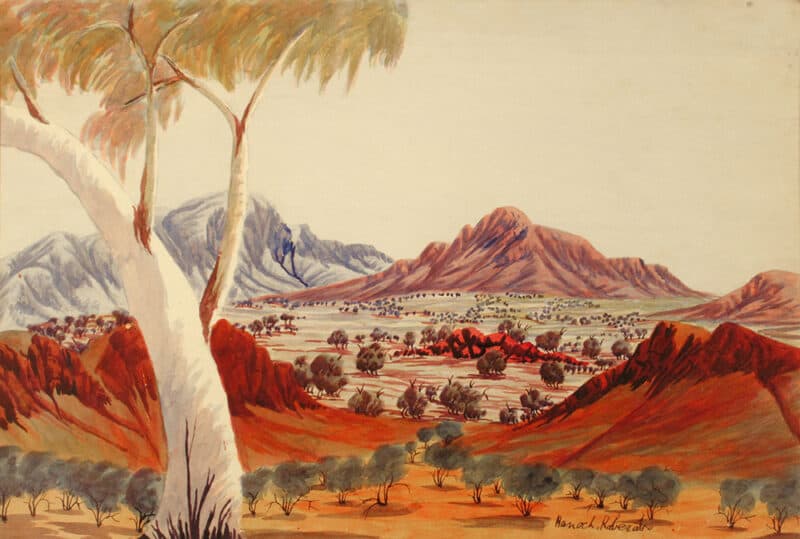 Central Australian Valley
Henoch Raberaba
• • •
est. 1960-64
Watercolour on paperboard
36 x 54 cm
Beverley Castleman Collection
BDC-HnRab-06
This is a rhythmic composition with a reduced emphasis on parallels in the hills and more emphasis on using infill lines and dots with blob trees. Luminous orange foreground plain. There are few parallel brush lines on hill bases. Parallel strokes in big tree foliage. The mid ground blob trees appear animate as they indicate the way through the gap to the country beyond.
The final painting by Henoch expressed emotional turmoil in his time of decline and ill-health. It is Untitled, 1972 (watercolour on paperboard; 36.2 x 54.6 cm; National Gallery of Australia 224310). Handwritten note verso: "purchased 13/6/72. Henoch has been in hospital 3 months – not well, obviously having trouble with muscle co-ordination."
Henoch died in March 1975 at the age of 60 years.
The artist portrayed a pair of big trees which seem about to topple over, before a view of a plain and hills. There is extraordinary turmoil of colour and design, probably reflecting Henoch's upset emotions and frustration. This important artist and participant in the drama and tragedy of his friend and tribal brother, Albert Namatjira, expressed pain and bewilderment.
REFERENCES TO EXTERNAL TEXTS
[1] Barbara Henson, A Straight-out Man: F W Albrecht and Central Australian Aborigines, p234 [2] Joyce D Batty, Namatjira, wanderer between two worlds, p135 [3] Rex Battarbee, Modern Australian Aboriginal Art, p39