Benjamin Landara (Ebatarinja) was painting in his own somewhat naïve and engaging style, when his father-in-law Albert Namatjira intervened and demonstrated his own approach to composing a painting. In Benjamin's first stage he had already evolved his capacity to portray his view of the essence of a mellow rhythmic country. After the guidance Albert's influence was increasingly apparent as his more detailed approach was absorbed by Benjamin.
After Albert died in 1959 Benjamin resumed his earlier style in a succession of paintings about the vibrancy of country through mellow colour and fine marking. He became a prominent artist and helped reinforce the impact of the Hermannsburg School.
Benjamin Landara was born 'Ebatarinja' in 1921 and was the brother or half-brother of Eric Ebatarinja (they may not have had the same mothers). (Eric Ebatarinja 'grew up' Lindsay Imbarndarinja, who was born at Santa Theresa and was Eastern Arrernte.) Benjamin was Western Arrernte, Subsection (Skin) Perrurle.
On 9th August 1942 Benjamin married Maisie, daughter of Albert and Rubina Namatjira, at Hermannsburg and so became a son-in-law to Albert and Rubina. He died in 1985 having painted until at least around 1977.
He is said to have started painting in 1945. He was painting seriously from around 1952 and created a number of paintings in 1954. The earliest paintings seen by the author are dated 1954. One is at Araluen and the others are Glen Helen, MacDonnell Ranges and Mt Sonder in the author's collection. After 1968, Benjamin's paintings did not change much – hence the broad estimation of 1970s.
Albert encouraged Benjamin in his painting and there are two fine and elaborate examples of 'teaching' paintings in the author's collection. In these 'teaching' paintings Albert painted the distant 'iconic' areas as a sort of demonstration and gift for his son-in-law to complete, and then sign with his own name.
After Albert's death, Benjamin expanded his individual style of watercolour painting and created many fine paintings that would have had broad appeal. He did not seem to attempt to demonstrate increasing attitudes of aboriginality in his watercolours. However, in around 1977, Benjamin created at least one painting in the Western Desert (Papunya) style: Honey ant Dreaming at Ellery Creek. He did not seem to continue in watercolour after around 1977.
In the mid-1960s Benjamin, however, created an unusually emphatic and expressive painting centred on discomfort with the Mission or on the clash of cultures possibly produced by the then perceived incompatibility of traditional religion to live alongside Christianity. Until 1976, the Lutheran Missionaries considered that if they accepted traditional religion alongside Christianity they would violate the first commandment: 'Thou shall have no other god before me.' [1]
As at June 1966, Benjamin was at No 2 Artists Camp in Alice Springs but his wife Maisie and two children were at Hermannsburg. At the same camp in Alice Springs were Keith Namatjira and Gabriel Namatjira. In this period Pastor Albrecht was concerned that many artists were spending time in Alice Springs camps with the attractions of alcohol.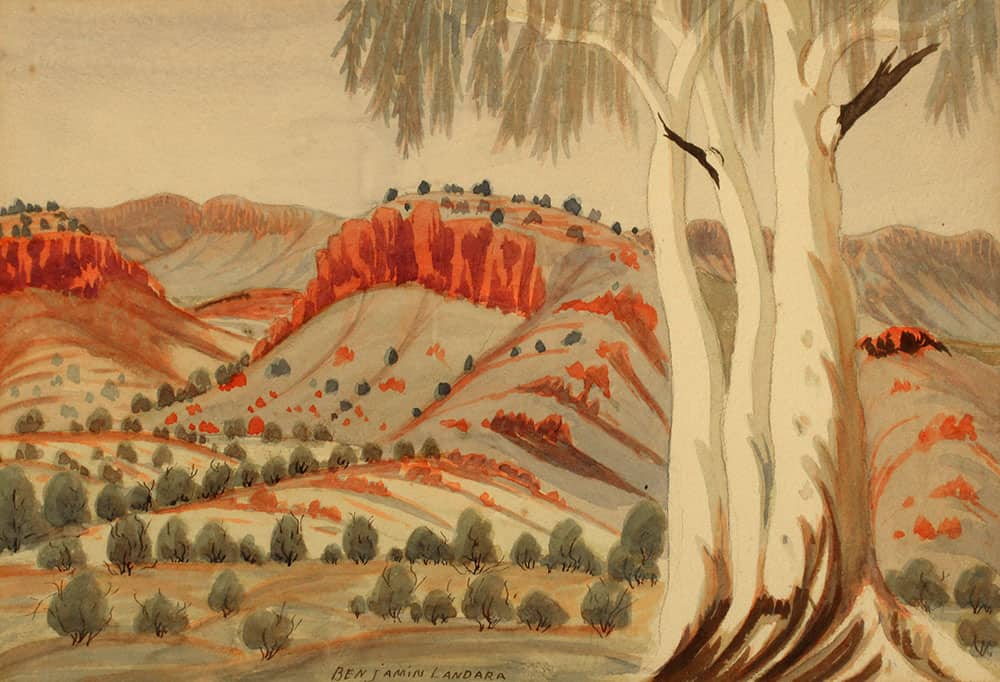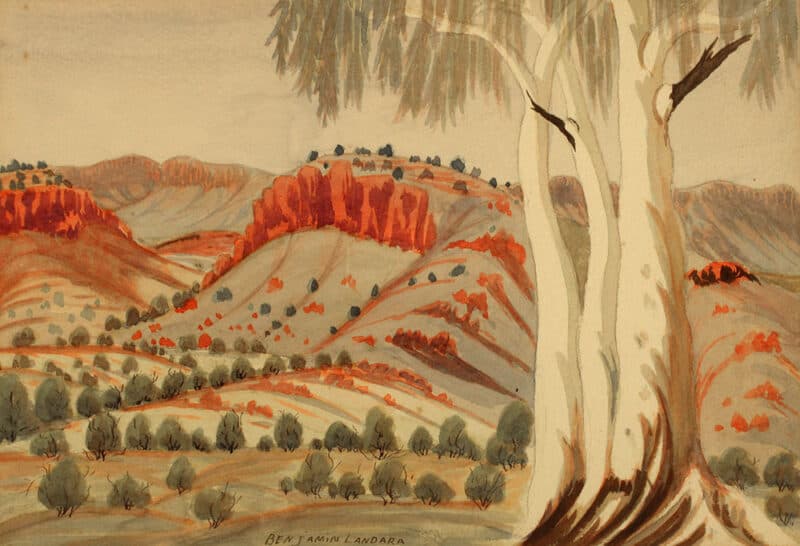 Glen Helen, MacDonnell Ranges
Benjamin Landara
• • •
1954
Watercolour on paper
25 x 36.5 cm
Beverley Castleman Collection
BDC-BnL-15
This fine painting employs many traditional elements of decoration, especially parallels as originally used on implements. He demonstrated a skilled use of transparent washes, especially lemon, to illuminate the scene. Parallels are important even in very long leaf foliage, which is backlit with lemon behind the foliage. This painting is like Through the Valley 1954 in collection of Museum and Art Gallery of the Northern Territory (NAM-0155), in painting style and system.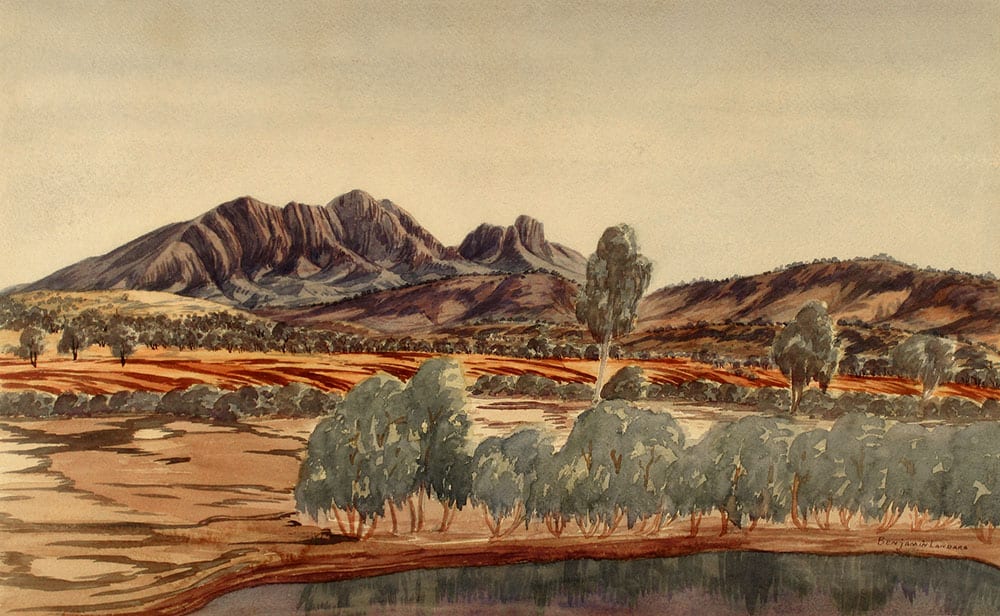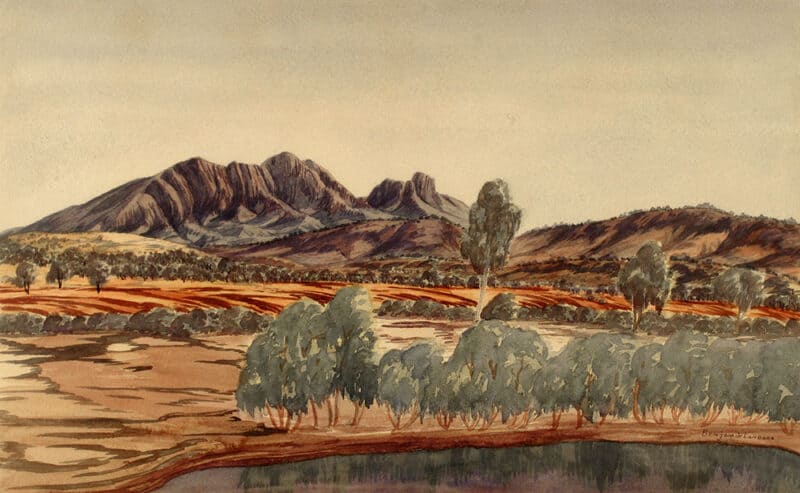 Mt Sonder
Benjamin Landara
• • •
est. 1955-57
Watercolour on paper
34 x 55 cm
Beverley Castleman Collection
BDC-BnL-14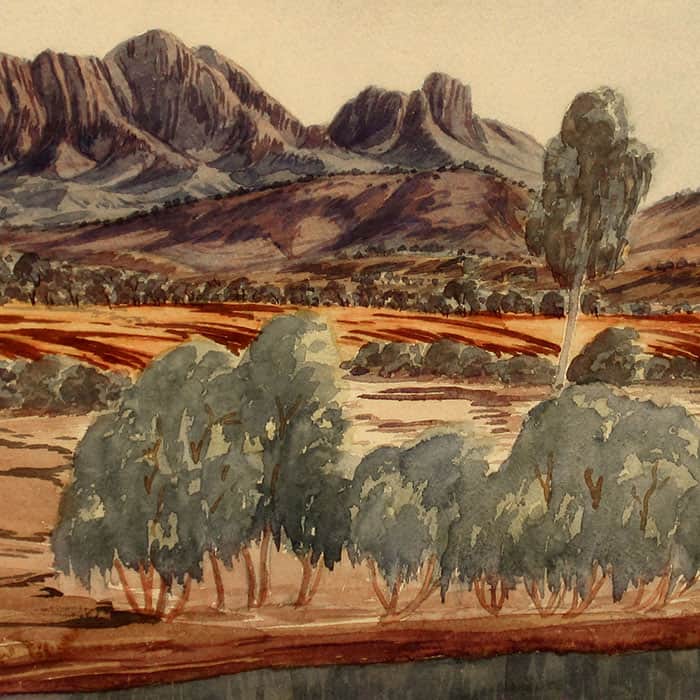 This is a 'teaching' painting. The iconic Mt Sonder part of the composition was painted in by Albert Namatjira on a high horizon. Then Benjamin completed the composition, merging his distinctive style with that of Mt Sonder. He applied horizontal colour fields to establish the foothills, mid ground and forward to the foreground at the bottom of the paper – in his own style. Albert included his method of achieving the appearance of depth in the composition in the recession of the sky, by lightening the colour of the lower sky.
The second 'teaching' painting in the author's collection (not illustrated) occurred at a slightly later stage and Albert completed an elaborate curving tree, perhaps as a demonstration of such a tree.
Benjamin created an unusually expressive painting which referred to a perceived clash between traditional and Mission culture. Crucifixion, est. 1963-66 (watercolour on paperboard; 53.3 x 35.5 cm; signed lower right: BENjAMIN LANDARA. Flinders University Art Museum 3314). The painting is highly expressive. It possibly refers symbolically to the then Finke River Mission issue of one religious way or the other.
At this stage the Missionaries continued to believe that acceptance of traditional religion as well as Christianity was in violation of the first commandment 'Thou shall have no other gods before me.' It is positive about country, matter of fact about Christ, and negative about the institution represented by the building. The building looks like a prison and bears no resemblance to the Mission precinct at Hermannsburg.
The composition is dominated by a large crucifixion image in the centre, which divides the scene vertically and emotionally. There is a grim looking grey building on the left of the cross and traditional country on the opposite side. The Central Australian landscape on the right side of the painting is in the artist's style of around 1963-66.
Christ on the cross dominates the picture and is in hard edge, like the grey building. The halo in lemon is somewhat paler than the yellow of the hills and backlighting of foliage. The sign over Christ's head reflects the artist's style of signature: viz INRi (Jesus of Nazareth King of the Jews). Ben's signature is on the lower right foreground below his country: BENjAMIN LANDARA.
Below the cross a path pointing diagonally across the foreground toward the building is separated perhaps symbolically by a wedge of traditional country.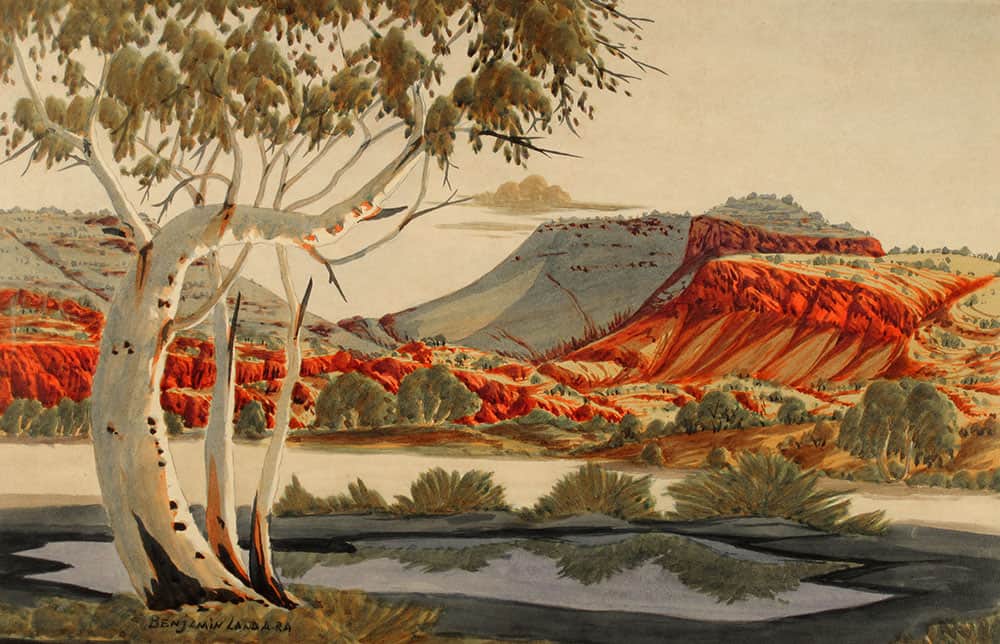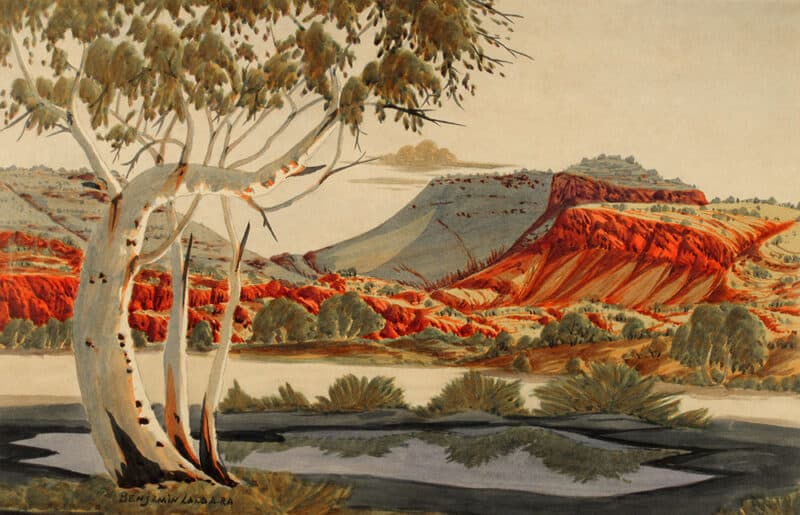 Ghost Gum at Finke River Bank
Benjamin Landara
• • •
1968
Watercolour on paperboard
35 x 54.5 cm
Beverley Castleman Collection
BDC-BnL-07
Benjamin's fantasy interpretation is clear and confident. This is an idyllic view, much matured from 1954.
There are five horizontal bands of unifying colour:
1. pale flat cobalt blue sky with flying saucer clouds;
2. pale green over-wash on Mt Hermannsburg and left hill;
3. lemon with crimson cliffs;
4. white looking washed riverbed;
5. ultramarine washed foreground (including water) with yellow backed ground cover bottom left and right.
In addition, a large ghost gum and two thin ghost gums frame and emphasise the scene. Curved tree and its lemon backed blob foliage are a bit awkward. There are no geometrics, but curves are supported by parallels.
In the 1960s and 1970s Benjamin created a succession of paintings portraying a mellow and welcoming country, employing distinctive fine brush marks on hills, which showed considerable pride of expression. An example is Central Australian Landscape, pictured below.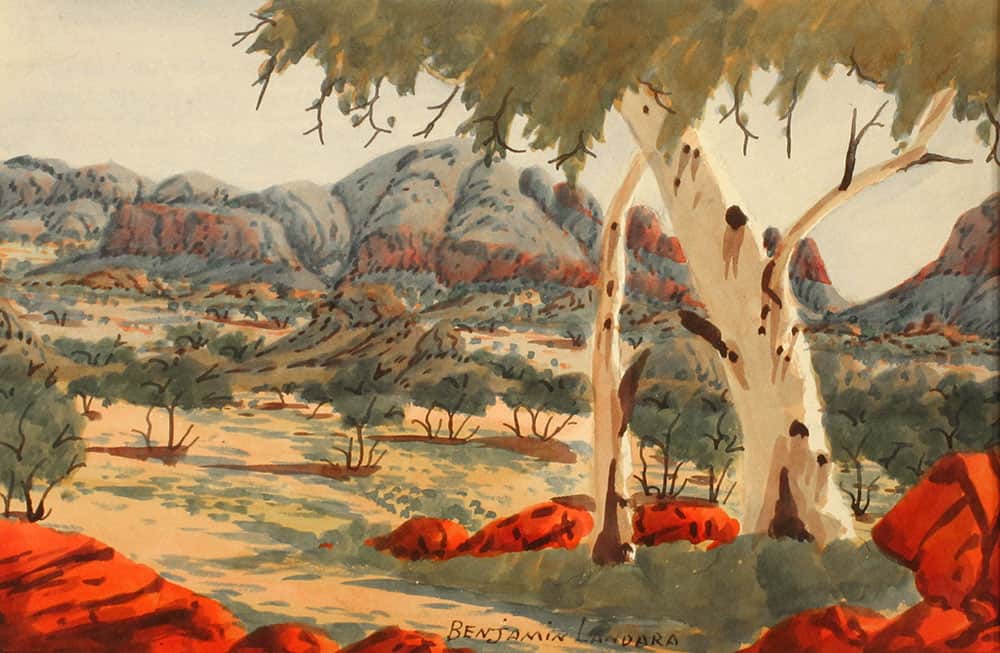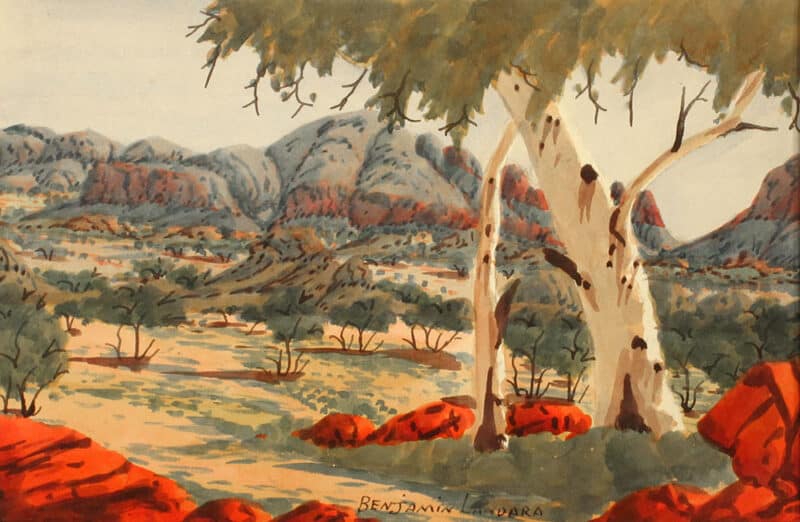 Central Australian landscape
Benjamin Landara
• • •
est. 1970-79
Watercolour on paperboard
22.4 x 34.4 cm
Beverley Castleman Collection
BDC-BnL-17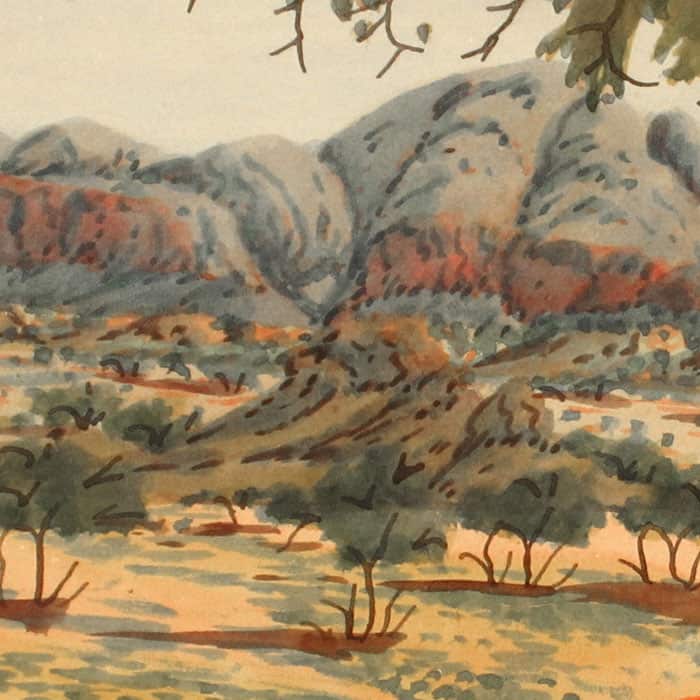 This slanting plain is an aesthetic choice and is balanced by the slightly curved big tree and the vertical younger tree. In the 1970s he evolved a system of fine brush marks on hills, but in this work the system of little fine marks is less pronounced on big tree. The plain is palest green at back. Pale pine/orange and areas of yellow on mid-ground to foreground plain. Yellow behind big tree foliage. Red rocks each side foreground.
Honey ant Dreaming at Ellery Creek, est 1977 (synthetic polymer paint on canvas board; 60.6 x 45.3 cm; Flinders University Art Museum 2648). This Western Desert style painting is on a red ochre ground on which small muted white blob/dots were applied. The symmetrical design features a pattern of concentric circles with U shaped symbols surrounding a central enlarged pattern. This is the only painting found of the artist painting in the symbolic way of the Papunya School. It may have been an attempt to change course away from the picture format of his watercolour paintings. Benjamin did not seem to paint in watercolour after this work of 1977.
REFERENCES TO EXTERNAL TEXTS
[1] Paul G E Albrecht, From Mission to Church 1877 – 2002 finke river mission, ch7