The painting movement consolidated with broadened participation from 1949 to 1955 with the addition of the following artists:
Rex and Bernice Battarbee were married in the church at Hermannsburg in September 1950 and set up home in the house Rex had built in Alice Springs. Alice Springs became his main base. They set up Tmara Mara Gallery in their home.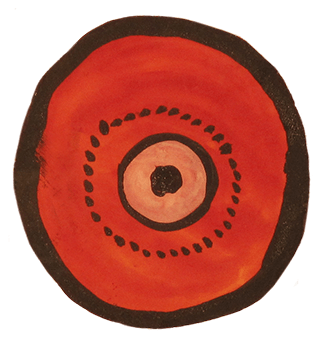 Drinking problems among Aborigines and part-Aboriginal people in Alice Springs were steadily worsening, following the lifting of alcohol restrictions on part Aboriginal people. One centre of drinking and fighting was Albert Namatjira's camp at Morris Soak on the outskirts of Alice Springs.
Albert Namatjira was granted Australian citizenship in 1957 after a vigorous public campaign was waged on his behalf because he was restricted in his rights and was yet levied for income tax. He had not sought citizenship. [25] Albert was refused a permit to build a house in the Alice Springs town. After a young Aboriginal woman was killed at Morris Soak, Albert received a court warning that he would face a gaol sentence if he was caught supplying liquor to wards. [26]
Many of the artists were camping near Alice Springs and contributing little or nothing to the maintenance of their families living in Hermannsburg and the Mission seemed powerless to prevent it. There was plenty of money but no responsibility in using it, according to Henson. [27]  Art earnings brought mobility and independence beyond their experience. Sudden access to alcohol destabilised the Mission community after access was granted to part Aboriginals, who then in turn supplied full blood Aboriginals.
On 28 August 1958 Albert was charged with supplying liquor to members if his tribe who were wards of the state. On 7 October 1958 Albert Namatjira was convicted of supplying liquor to Henoch Raberaba (by leaving a bottle of rum where he could get it) and sentenced to the minimum of six months imprisonment. A nationwide protest broke out. [28]
The Minister for Territories, Mr Paul Hasluck assured the public that in view of the public concern, if the final outcome should be that Albert Namatjira passes into the custody of the Northern Territory Administration, any sentence passed on him will be served in the open, in his own country and in conditions most likely to help him regain his own grip on life. [29]
Albert's solicitor lodged an appeal against both conviction and sentence and the appeal was set for hearing in the Supreme Court in Darwin, probably in November. Albert was released from Alice Springs Gaol and driven to Morris Soak.
Albert's appeal hearing began on 15 December. Albert told the court that although Henoch Raberaba was his tribal brother and not his blood brother, he was still obliged to share with him. [30] Albert failed in the appeal against the conviction, but the sentence was reduced to three months.
Albert would spend the prison term at Papunya Native Reserve in Arrernte country. Mr. E.L. Fietz, Superintendent of the Reserve was specially appointed an officer within the Prison Ordinance and became Albert's custodian. Albert spent the days of the appeal process in Alice Springs gaol, where the medical examination found him to have high blood pressure and an enlarged heart. Gaol officials ensured that Albert performed light duties including preparing vegetables for meals and sweeping garden paths. The failure of the appeal against the conviction was a bitter blow for Albert, who hoped for a complete remission of the sentence.
REFERENCES TO EXTERNAL TEXTS
[25] Barbara Henson, A Straight-out Man: F W Albrecht and Central Australian Aborigines, p232-33  [26] Henson, p233  [27] Henson, p234  [28] Henson, p234-35  [29] Joyce D Batty, Namatjira, wanderer between two worlds, p132-33   [30] Batty, p135