1918 – 1986
Edwin Pareroultja was the first of the young men of Hermannsburg to start painting seriously in 1943 after Albert Namatjira had been painting for about eight years with successful exhibitions. Edwin's successful adoption of watercolour painting and his breakaway from Albert's popular true to nature style was pivotal in inspiring other Arrernte young men to become artists and to develop careers in painting.
Edwin intensified the brightness of Albert's soft fields of colour. Edwin began by presenting intense colour fields as an end in themselves and thus showed a way forward to more individual expression. His painterly style thus inspired approaches depending on colour, brush strokes, texture and line drawing to explore patterning and rhythm in the joyous celebration of country. After Albert, Edwin was the first of the founders of the Hermannsburg School.
Diane Austin-Broose states that fine artists, patrilineally related to the Namatjiras, the Pareroultja group had a reputation of diffidence toward the old mission order. Their name came from a site northwest of Ntaria. [1]
By 1943, when Edwin started to paint, Albert's experienced style was too complex for Edwin to emulate as a starting point.
After attempting Albert's style unsuccessfully, Edwin restarted by reverting to Albert's tendency of his earlier years to divide the composition into a few simple pale horizontals bands on which to express the scene as the organising principle of his compositions. This had helped Albert to portray distance in Battarbee's method of European style landscape painting. Importantly the broad horizontal bands, (on which Albert added detail) also helped Albert translate the Arrernte practice of drawing and decorating on the ground to a vertical support in which the horizon and sky became important.
Edwin's 'breakaway' involved perceiving the understated organising principle of Albert's compositions but, unlike Albert, he intensified the colour and included only a minimum of detail. Edwin presented the colour fields dramatically. He then sorted himself out to progress in his own way. Albert's early use of simple paler colour fields in paintings of 1936 and 1937, for example, were, no doubt, familiar to Edwin.
Edwin showed Battarbee his first attempt at a watercolour painting on 25 October 1943. Battarbee states: [2]
The greatest impression any artist has ever made on me was on 25th October 1943, when Edwin showed me his first water-colour. He had a painting on each side of the paper; both were of Mount Sonder, a landmark near Hermannsburg. One of these, though incomplete, showed the influence of Albert Namatjira but the other, which showed a complete breakaway from Namatjira, is reproduced in this book. [3] The picture was painted in the three primary colours, yellow, red, and blue… The drawing, sense of decoration, colour, and power were amazing for a first attempt.
Edwin's first painting, described above, Mount Sonder, 1943 (watercolour on paper; 19.5 x 28.5 cm; The Araluen Centre in Alice Springs. Museum and Art Gallery of the Northern Territory NAM- 0221).
After his bold breakthrough, Edwin Pareroultja retained the principle of broad colour fields in his work, which was in turn adopted by other artists. After a few years he reached a more relaxed painterly style with more detail.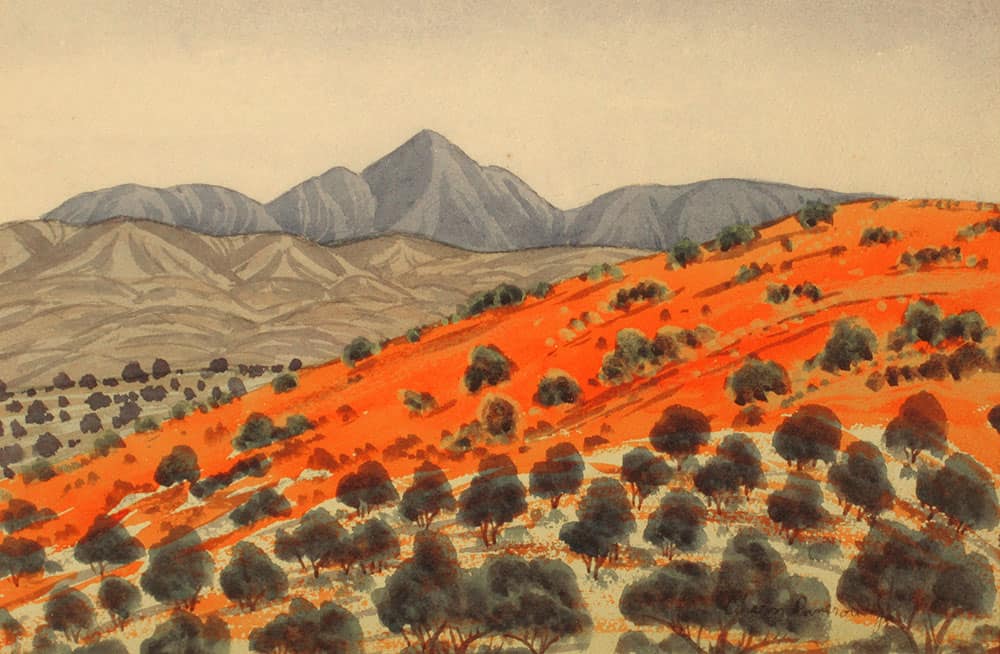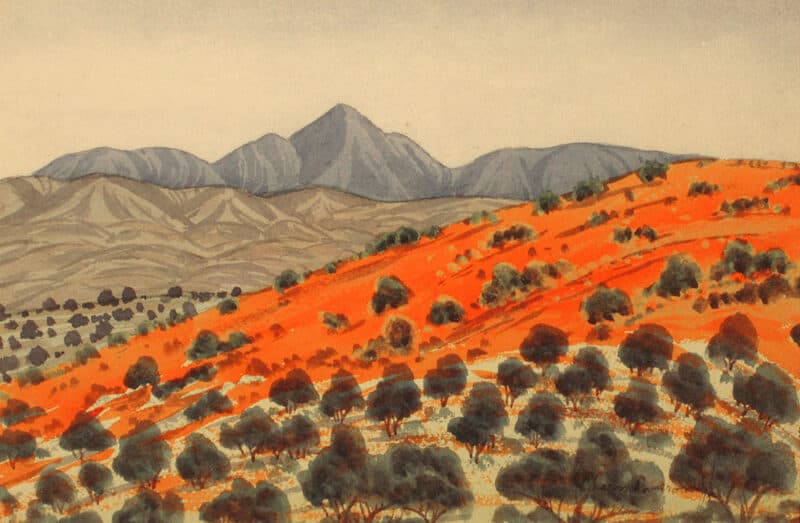 Sandhill and Mt Giles
Edwin Pareroultja
• • •
1944-45
Watercolour on paper
24 x 36.5 cm
Beverley Castleman Collection
BDC-EPar-11
The distant peak, Mt Giles, is located east of Ormiston Pound and there are red sandhills in the area. (Rex Battarbee painted a similar view in 1945.) This is a more confident painting, which is resolved joyously in confident brushstrokes and colour. The distant hills and their foothills are more stylised. There is more elaborate detail in the mid and foregrounds. The artist was settling in to an all over system of painting. There are four colour fields plus the sky. The sky is pale ultramarine and the two tone Mt Giles is ultramarine. There is a pale lemon under wash on the orange hill. In foreground section orange and grey/blue parallels are painted lightly over the coarse paper. These parallels repeat curved parallels on front foothills. Foreground ultramarine and green blob trees seem to follow slope of foreground. Prominent 6B pencil line along top curve of foothills. Mid ground – smaller blob trees and parallel lines follow slope. Infill of lines and lines of dots on back plain. Trees and shadows unite the horizontal areas. One careful painting session was apparently involved.
Edwin Pareroultja's first exhibition held in Melbourne in 1946 was a great success and the artist received between £400 and £500. [4] The following week Albert Namatjira had an exhibition in Perth.
The NGV has two excellent early paintings by Edwin: Red Wall, Ormiston Gorge (1946; 1698.4) and Mt Sonder from Ormiston (1946; 1699.4).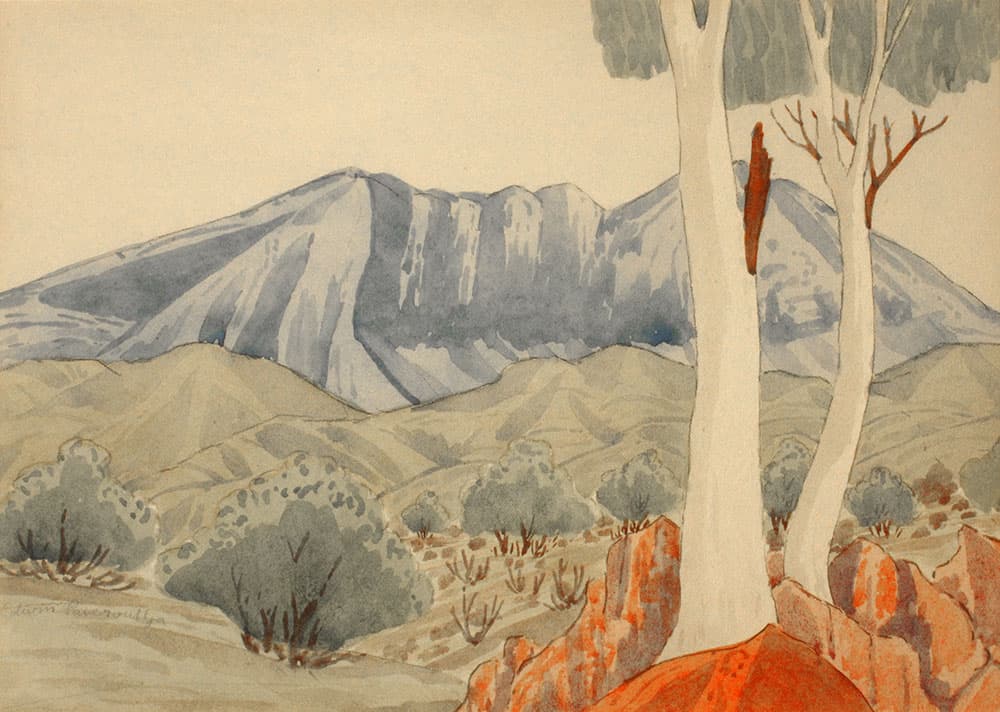 Mt Sonder
Edwin Pareroultja
• • •
est. 1946-49
Watercolour on paper
24.5 x 34.5 cm
Beverley Castleman Collection
BDC-EPar-01
Edwin painted steadily until the mid-1950s. He then had a quiet period until around 1960, when he resumed in a more reflective and exuberant style which idealised and emphasised the richness of colour and patterning of his loved homeland.
Edwin married Muriel, an Arrernte woman, and as at 1957, they had six children including Ivy Pareroultja who later became a watercolour painter. Edwin was Western Arrernte language group, Subsection (Skin) Kngwarreye.
Edwin rapidly employed more complex colour bands, relieving the horizontals with verticals of trees and shadows. Rhythmic patterning and clear colours developed. Edwin had his first exhibition in 1946 in Melbourne.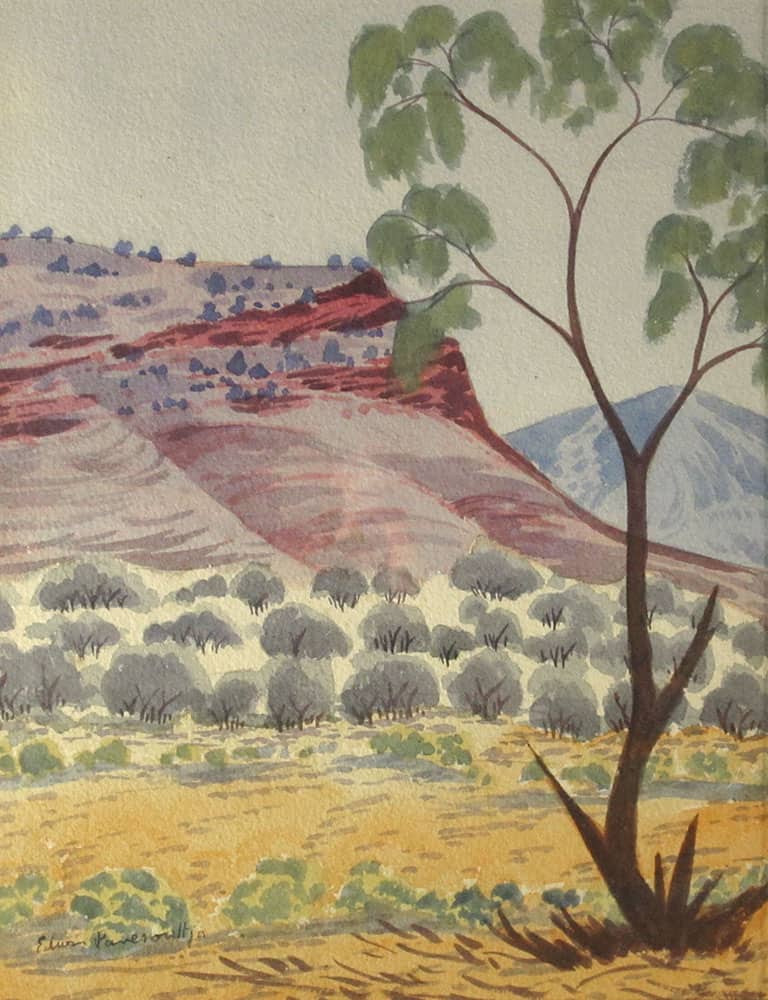 Edge of James Range
Edwin Pareroultja
• • •
est. 1952 (purchase authorised stamp)
Watercolour on paper
Length 35 x 28 cm
Beverley Castleman Collection
BDC-EPar-18
A sinuous silhouette tree accents the view toward the end of a hill with its rocky cliff top above the curved hill bases. The space from the viewpoint over a riverbed to the hill is the focus in this vertical format scene. The distant blue peak represents the world immediately beyond. Edwin has continued to employ the horizontal areas of wash to achieve successive recession of areas from foreground, front, middle and rear of mid-ground back to curved hill base (complete with parallel lateral lines) and red highlighted cliff above. The tree unites with the curves in the landscape and the foliage unites with the trees on rear of mid-ground. This was painted in one session.
Edwin, Otto and Reuben Pareroultja had a pause or quiet period for a number of years in the mid-1950s when there is no clear evidence of production. Edwin Pareroultja may have been away from Hermannsburg from around 1955 to 1960 as there is a gap in his work during that period, apart from a painting of Ayers Rock (Uluru) estimated to have been painted during 1957 – 59. The three resumed after there was a resurgence of interest following the drama and tragedy of Albert Namatjira in 1958 and 1959. The resurgence involved the commencement of serious painting by other tribal relatives.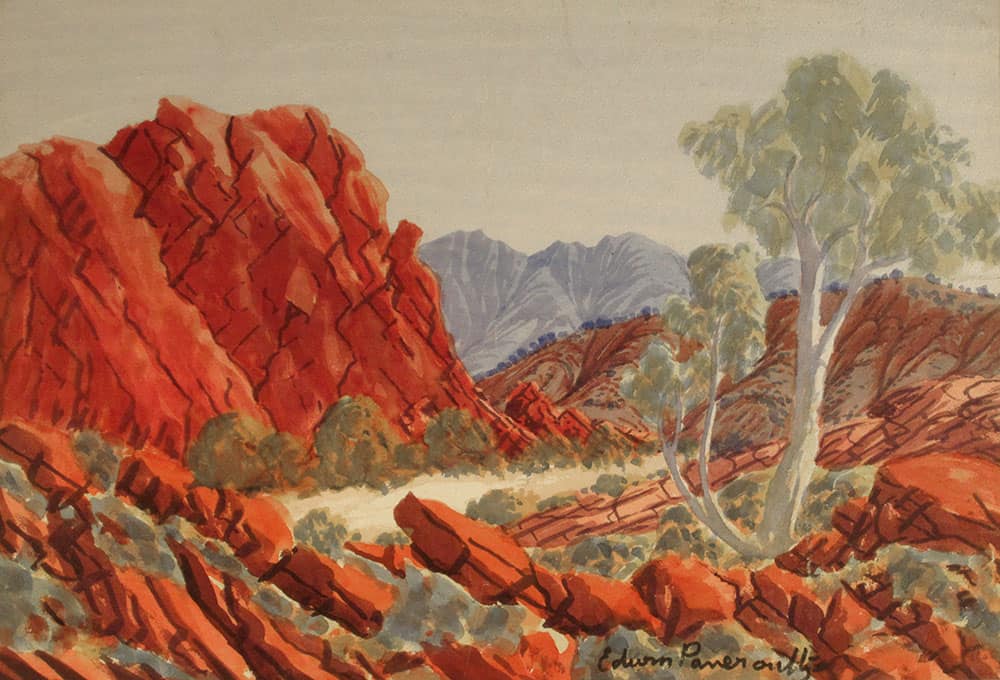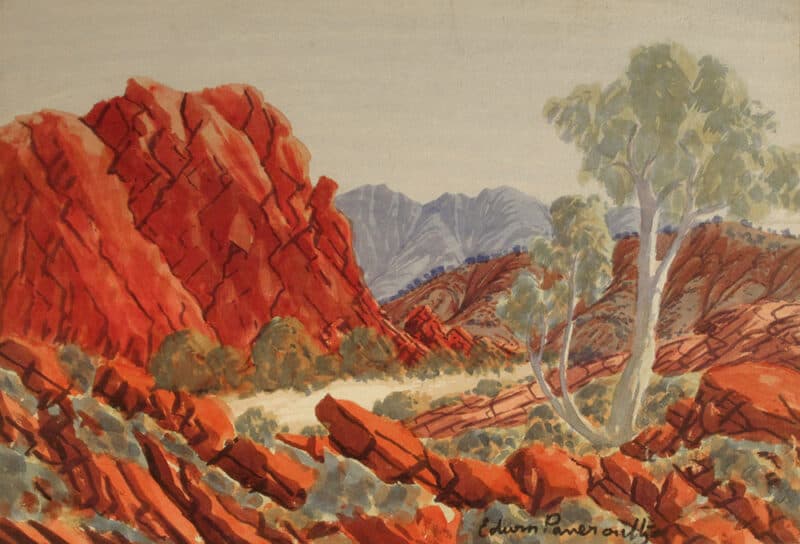 Totemic landscape, MacDonnell Ranges
Edwin Pareroultja
• • •
est.1960-69
Watercolour on paperboard
36 x 53 cm
Beverley Castleman Collection
BDC-EPar-19
This appears to portray the Finke River bed south of Hermannsburg. This painstaking portrayal of the route from Hermannsburg southwards to Palm Valley portrays a tree in an ephemeral way as if its presence is a fleeting idea as it might be glimpsed while progressing along over the sand and rocks. At the same time, the tree is an aesthetic device. The author has experienced the drama of this trip by severe 4WD along the river bed after heavy rain. The riverbed is the natural thoroughfare from Hermannsburg to Palm Valley.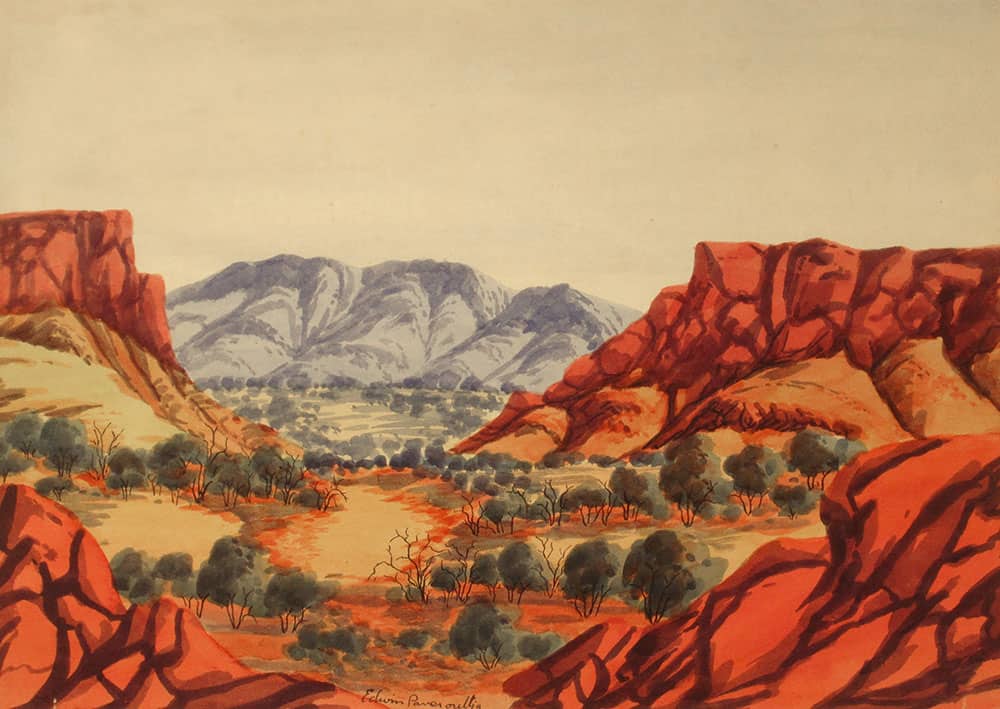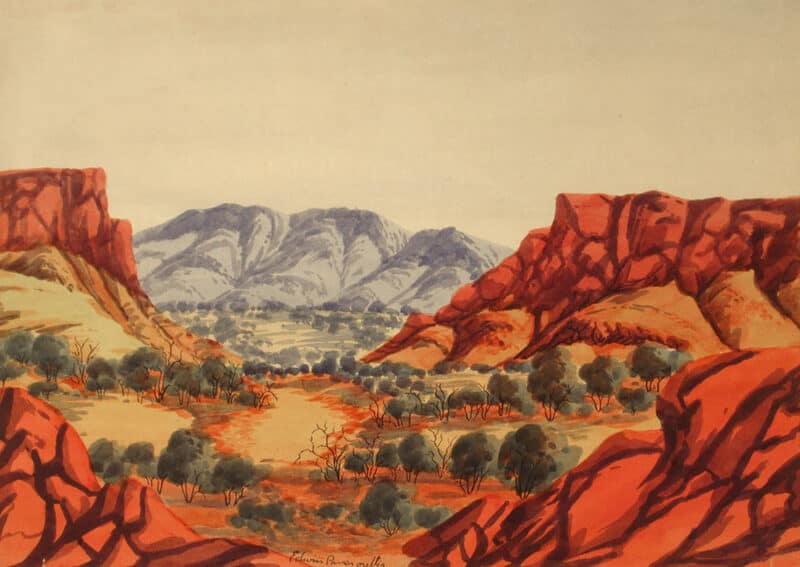 Plateaus Framing the Ranges
Edwin Pareroultja
• • •
est.1960-69
Watercolour on paperboard
36 x 52 cm
Beverley Castleman Collection
BDC-EPar-04
This major work shows a glowing very special place, perhaps a recollection of happy and significant ceremonial times. There is significant reference, apparently, to a concentric circle mid-ground, the centre of which is uncluttered. The mid-ground seems important and the main concern of the painting. There are possible ceremonial areas to the left and right of the main concentric circle.
Edwin's relaxed painterly style became more intense and detailed in the focal central ceremonial arena with a lesser 'arena' suggested to the left. The scene was sharpened with fine pen line work on trunks and branches of trees. The rear plain and distant hills are part of a separate world beyond this special place – and small blue trees link the focal area to the blues beyond the gap.
This composition probably involved at least two extensive sessions.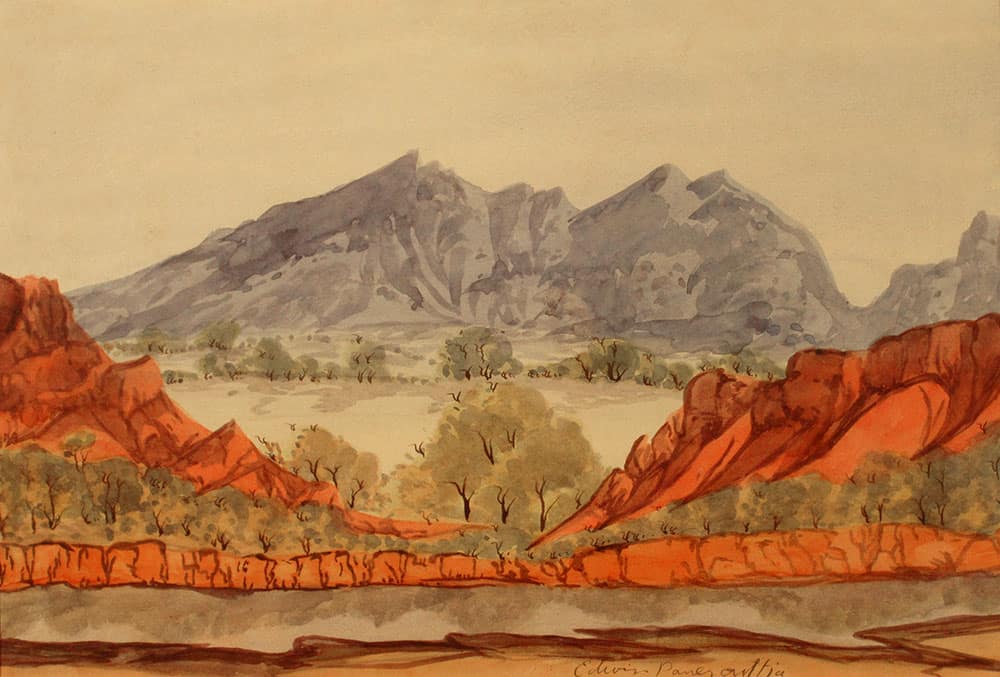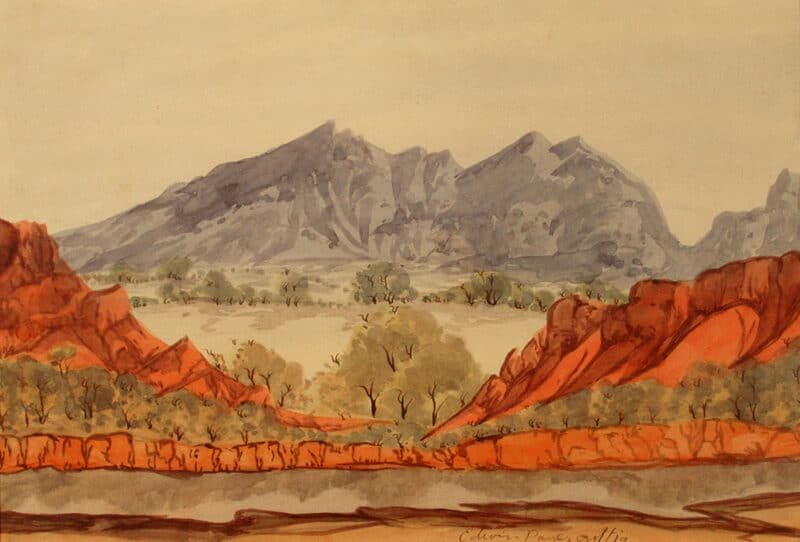 Mt Sonder
Edwin Pareroultja
• • •
1968
Watercolour on paperboard
35 x 53 cm
Beverley Castleman Collection
BDC-EPar-14
This scene is viewed from on high over a contrived foreground border pattern of earth, river, and red rocks. The lower border returns to the horizontal patterning in a new way. The patterning and symmetry suggest increased awareness of aboriginality, which was a characteristic of Aboriginal life in the late 1960s. This composition probably involved two or more sessions, with possibly only one being on location.
The atmospheric sky is of pale ultramarine. Mt Sonder was painted in pale ultramarine and described by a wash of deeper but not dark ultramarine lines. Mt Sonder is described in Edwin's relaxed painterly style. There are five colour fields plus sky. Palest lemon on plain, greyed toward base of Mt Sonder. A horizontal band of three fields separates the viewer from the view, which frames and leads in to Mt Sonder.
REFERENCES TO EXTERNAL TEXTS
[1] Diane Austin-Broos, Arrernte Present, Arrernte Past: Invasion, Violence, and Imagination in Indigenous Central Australia, p42. [2] Rex Battarbee, Modern Australian Aboriginal Art, p22. [3] Battarbee, plate V [4] Barbara Henson A Straight-out Man: F W Albrecht and Central Australian Aborigines, p179