The three paintings in the author's collection by Gabriel show him to have been very talented in his tragically short life. The artist revealed enormous cultural pride in his country and heritage. Gabriel was the son of Enos Namatjira and his wife Ruby Moida. The artist attempted to show meaning to those 'in the know' and to display idealised country to others.
NOTE: The author met Gabriel's daughter Rosalie at the opening of the National Gallery of Australia Seeing the Centre Exhibition in July 2002 at Araluen in Alice Springs. This exhibition of Albert Namatjira's paintings was accompanied by a small number of paintings by Albert's sons from the collections at Araluen Centre in Alice Springs. The author had already admired the outstanding painting by Enos when she noticed an Aboriginal woman with a young man on either side of her viewing the Enos painting. The woman had her hands on the shoulders of each young man, affectionately and she seemed very moved at the sight of the painting. The author leaned over toward her and said of the painting 'It's a knockout isn't it' and she turned around and hugged the author. She said she was the daughter of Gabriel and granddaughter of Enos, whom she remembered lovingly. Albert was her great grandfather. The young men appeared to be family members. Rosalie would have been about 37 years old. 'We spoke at length and for a considerable time walked around with our arms around each other'.
Gabriel is described in Heritage as Western Arrernte, Subsection (Skin) Kngwarreye. Gabriel was half Pitjatjantjara (his mother Ruby Moida born 1926/28), one quarter Western Arrernte (his grandfather Albert) and one quarter Kukatja (his grandmother Rubina). Gabriel's father Enos was thus half Arrernte and half Kukatja.
Gabriel married Valerie (born 1945) who was part Aboriginal and as at 1957 they had two children including Rosalie (born 4.11.1964) whom the author met as described above.
At the Census of Wards in 1961, Gabriel was at Papunya, which was part of the Mission area of influence from 1959. At the Census of Wards 30.6.1966, Gabriel was at No 2 Artists Camp in Alice Springs with Benjamin Landara, Keith Namatjira and Lindsay Ebatarinja (Imbarndarinja).
He painted seriously, but not with a large output, from around 1959. He was active in 1969.
The dates of creation of Gabriel's paintings are difficult to estimate as no very early paintings have been found and only two have dates, 1964 and 1969.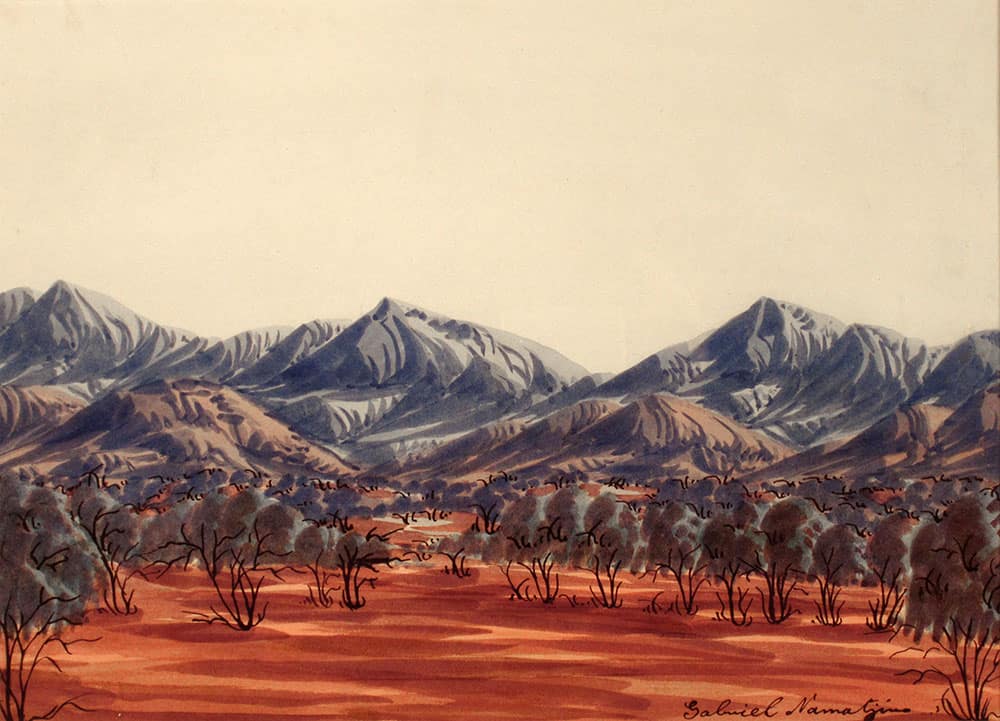 Blue Mountains at MacDonnell Ranges

Gabriel Namatjira
• • •
est. 1960-69
Watercolour on paperboard
26 x 36.5 cm
Beverley Castleman Collection
BDC-GN-02
This tranquil scene is portrayed elegantly with a sophisticated system of design and colour. This deceptively simple painting is very sophisticated. The relaxed horizontal stripes of the foreground lead in to the more detailed area of rhythmic small trees and the rear plain between these trees and the foothills.
The author considers that the artist revealed his enormous pride in his country in this refined interpretation. The design system of elegant lateral curved parallels on the blue hills recalls the cultural pride with which important traditional implements, such as boomerangs, were incised carefully with beautiful parallel lines to enhance their efficacy. The colour system is of cobalt blue, ultramarine, magenta with suggestion of yellow ochre in two brush strokes on magenta plain and mixed with blue to suggest green on mid-ground trees. The plain is described in light and dark magenta stripes. The curving small trees complement the hill patterns, as part of one system.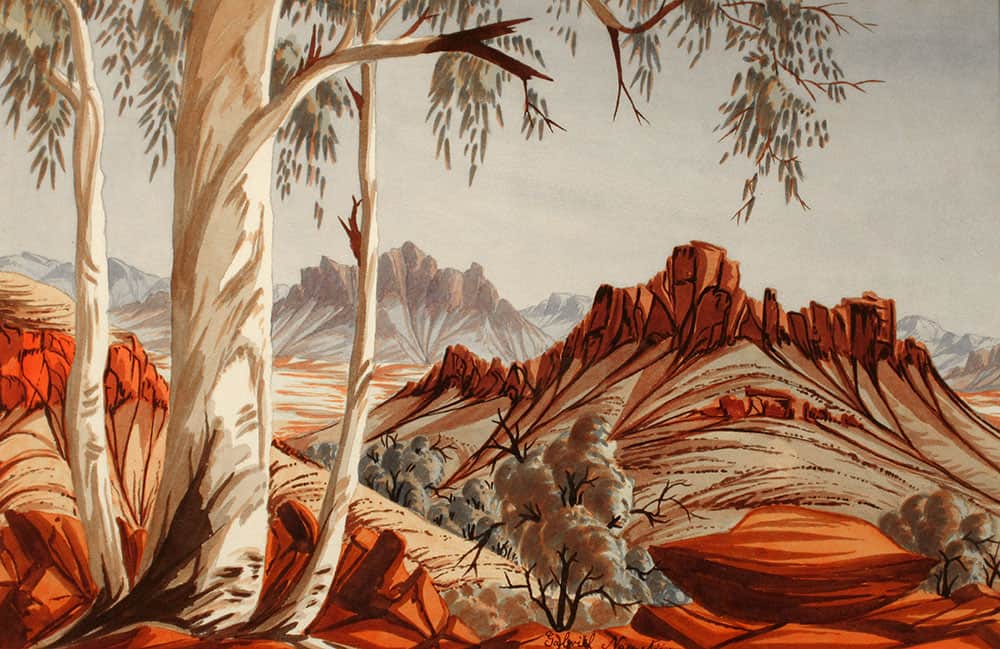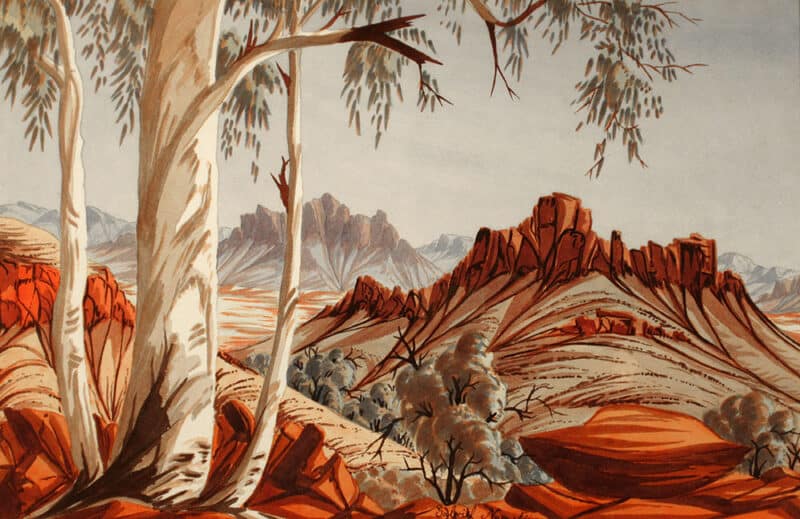 Near Hermannsburg

Gabriel Namatjira
• • •
est. 1960-69
Watercolour on paperboard
33.5 x 51.5 cm
Beverley Castleman Collection
BDC-GN-01
The big tree stands like an elder explaining to two young men something of the totemic hill. The big tree with a young adult tree on each side stands at left on high behind the barrier of a red rocky foreground outcrop. It is as if the two young 'men' are being shown the site to which they will be taken by another route perhaps for important ceremony.
This seems to be a narrative painting with meaning to those 'in the know' and to show the idealised country to others. The totemic hill appears to be the same as the hill in a painting by Gabriel's father, Enos Namatjira.
Cobalt blue sky with slight recession and two-tone distant hills. Well described important rear hill in front of distant hills – cobalt with top outcrops of cobalt greyed with orange. Pale lemon wash on the two glimpses of distant plain with orange and grey stripes over. Yellow ochre on top and base of left hill, which has red cliff outcrop. The totemic hill has slightly greyed red top and base of muted green and greyed magenta. There is no dot infill.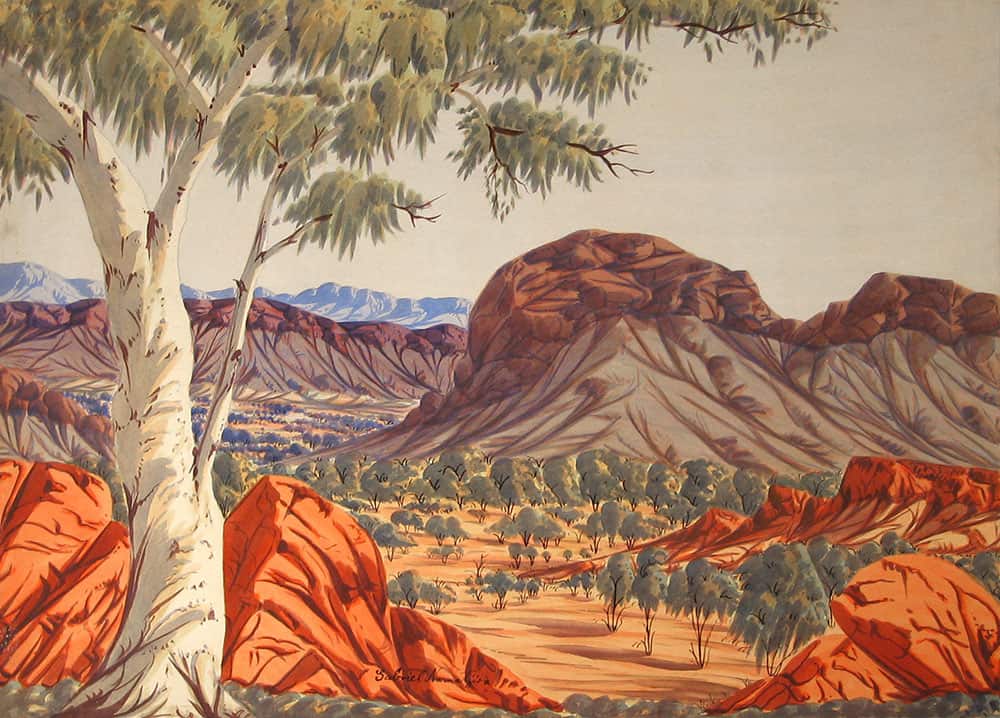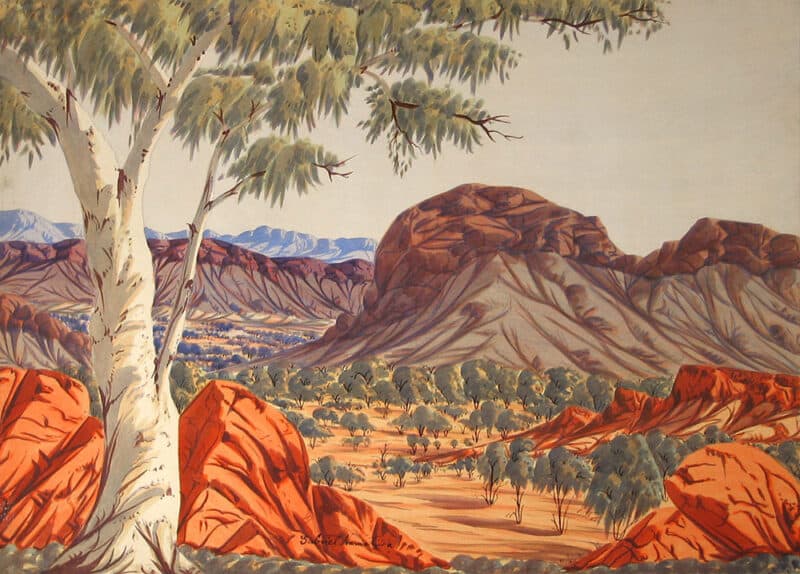 The Grandeur, MacDonnell Ranges

Gabriel Namatjira
• • •
est. 1964-69
Watercolour on paperboard
52 x 71 cm
Beverley Castleman Collection
BDC-GN-03
The artist is demonstrating the grandeur of his country of which the ghost gum is a major landmark and shelter for a meeting place. The band of backlit small trees in front of the big mid-ground hill suggests that there is a river bed there. The focus is on all of the country, rather than part of the country. The painting shows more experience and confidence and the parallels are more relaxed.
Four paintings have been found in public collections, National Gallery of Australia and Museum and Art Gallery of the Northern Territory at Alice Springs.