Jillian Namatjira's passionate paintings expressed a joy of life, despite pain. She shared her feelings, which ranged from hope to exuberance. She lived at Areyonga and her archetypal scenes were set in beautiful country, probably far out west of Hermannsburg. The author feels very touched by her eloquence in her tragically short life.
Jillian, the daughter of Enos Namatjira, was born at Areyonga (west of Hermannsburg) and died in Alice Springs. Her mother was Pitjantjara woman Ruby Moida, born 1928.
Jillian was married to Pitjantjara man Hezekiel Tjinagoona (also born at Areyonga) in July 1938. Enos was half Western Arrernte and half Kukatja. Thus Jillian was half Pitjantjara one quarter Western Arrernte and one quarter Kukatja. Jillian was listed on the 1957 Register of Wards and the 1963 Nominal Roll as living in Areyonga. (Her brother Herman Namatjira was also in Areyonga.) She was listed as Pitjantjara-Arrernte. She was described as Western Arrernte, Subsection (Skin) Kngwarreye (The Heritage of Namatjira: The Watercolourists of Central Australia).
Jillian won the National Aborigines and Islanders Day Observance Committee (NAIDOC) Aboriginal Artist of the Year Award in 1989.
She was active from about 1975 to the late 1980s. She may have died of tuberculosis.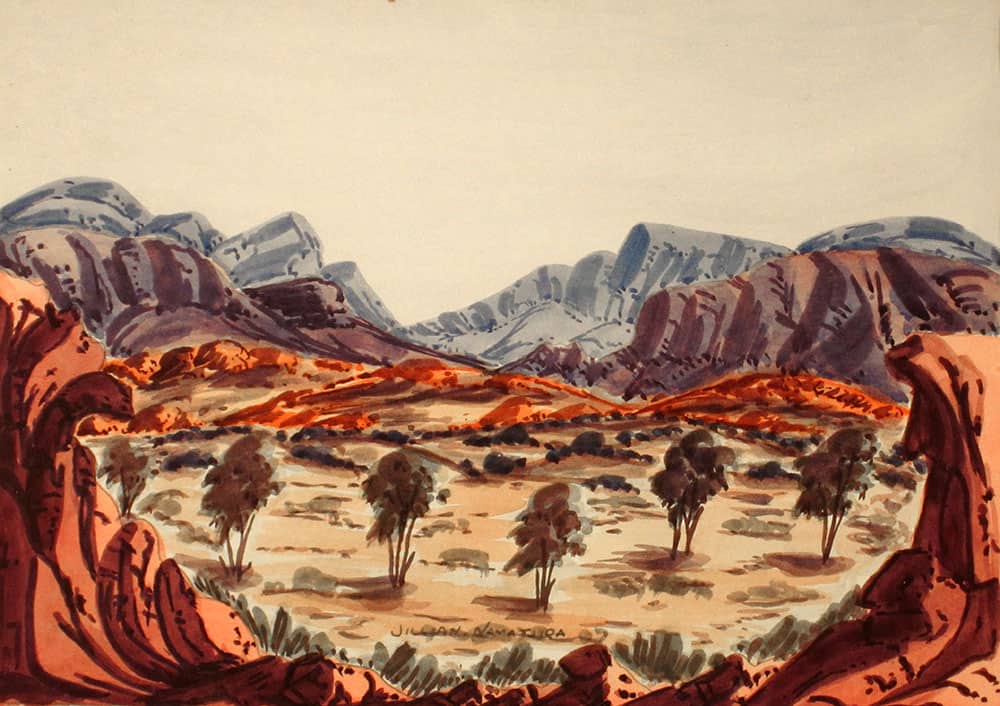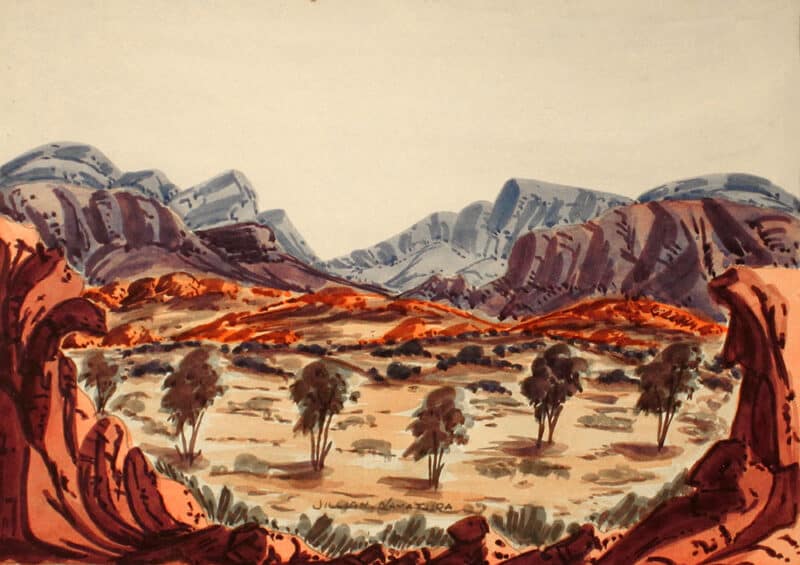 Five trees on a plain
Jillian Namatjira
• • •
est. 1976-77 (with date verso: 18 January 1977, and on frame: 1976)
Watercolour on paperboard
24.5 x 35 cm
Beverley Castleman Collection
BDC-JN-01
The foreground magenta coloured rocks cradle this stylised scene and the row of trees ceremoniously marks the approach into the loved country. Equivalence is important, especially the semicircle of the red foreground in framing the access to the special setting. Pale cobalt sky and distant hills form a backdrop behind more luminous ultramarine hills. Red ochre topped foothills, form a band with ultramarine topped near foothills. There is a pale lemon under wash to light up the plain, with palest red ochre over the lemon. Six spaced trees on the plain form a screen to the distant country.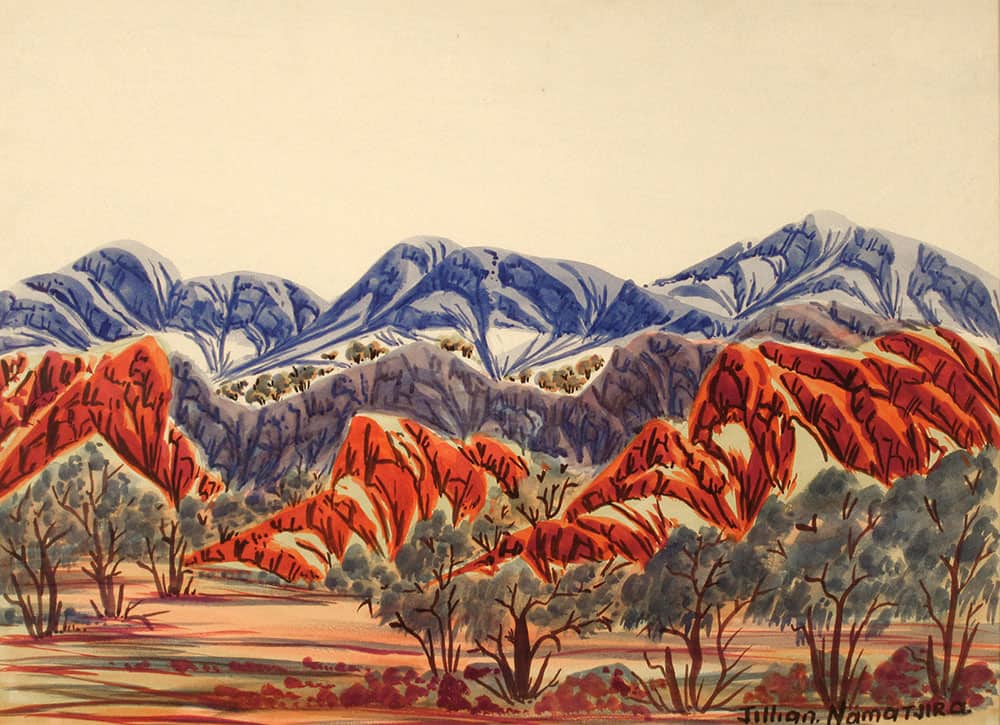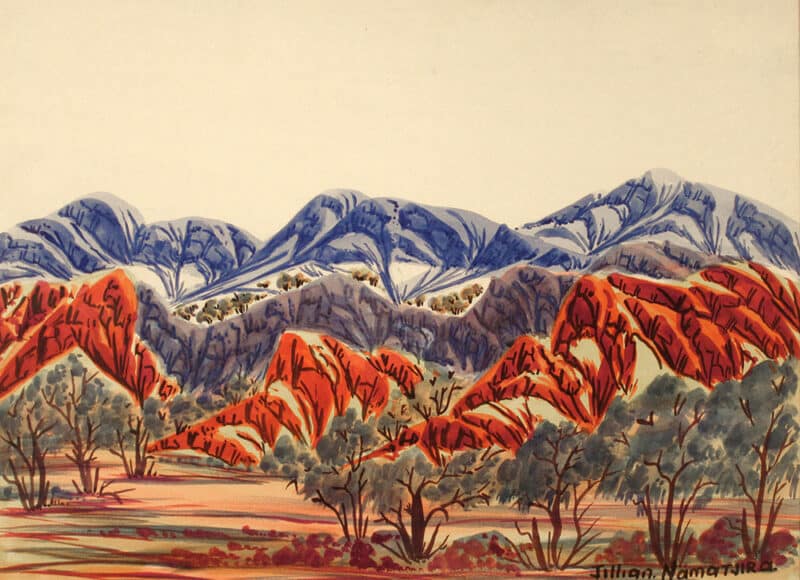 Undulating Landscape

Jillian Namatjira
• • •
est. 1975-88
Watercolour on paperboard
34 x 48 cm
Beverley Castleman Collection
BDC-JN-02
This is an upbeat and dramatic painting. Three horizontal zigzag rows of hills establish distance with some excitement. Her mood in this seems to be of optimistic equilibrium.
There is an unusual horizontal band between two rows of distant hills, which involves unpainted white on hills with ultramarine lines of hills with a band of small blob trees with yellow back-lit foliage. The flat pale cobalt blue sky was over painted with ultramarine. There is a bright lemon underwash behind the red near hills and black lines give a dramatic impact to the luminous plain. The tree trunks are black.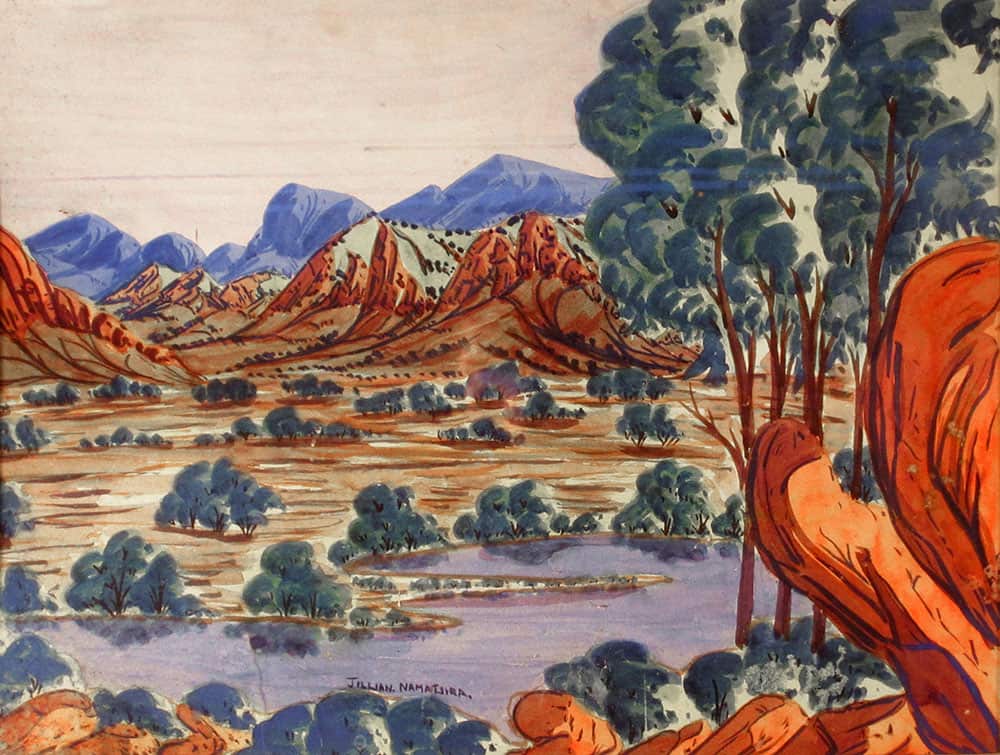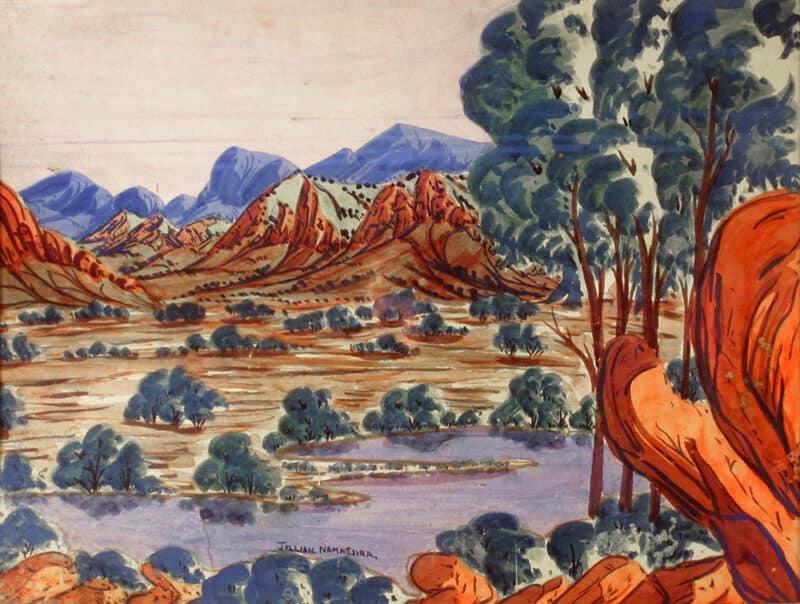 After the rains, MacDonnell Ranges
Jillian Namatjira
• • •
est. 1975 – 88
Watercolour on paperboard
32.7 x 44.5 cm
Beverley Castleman Collection
BDC-JN-05
The somewhat forced happiness of the luminous blues and lemon is prevailing over the less cheerful dull brown of the plain and foothills, but life is winning. Lemon is used on the hill, as an underwash breaking through the brown of the plain and to backlight the upright trees at right foreground.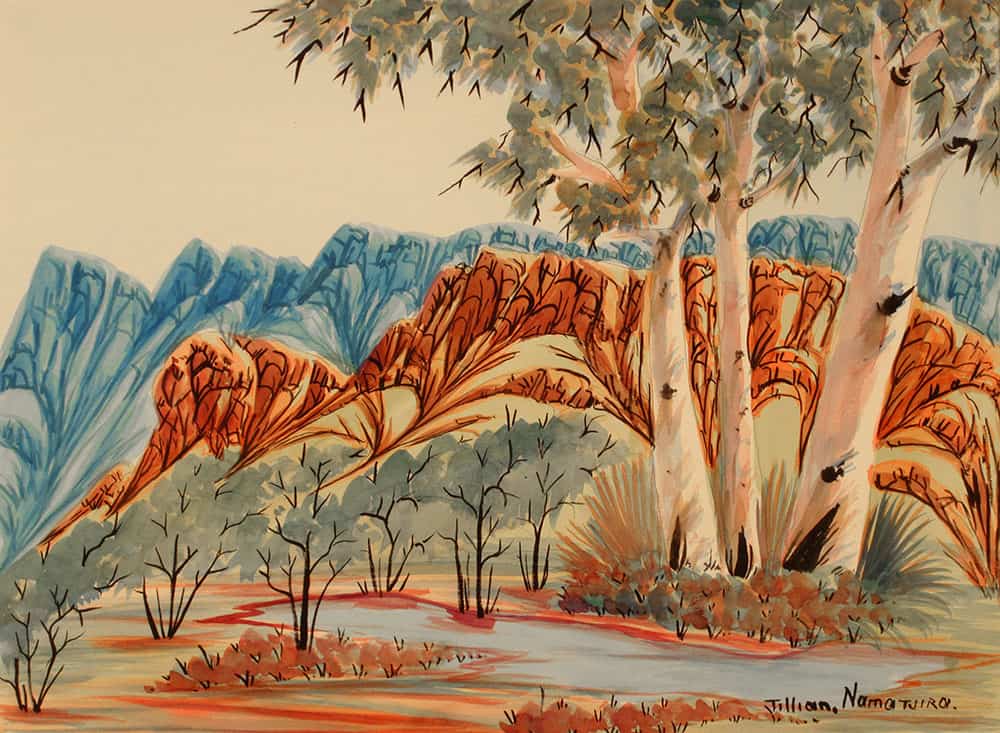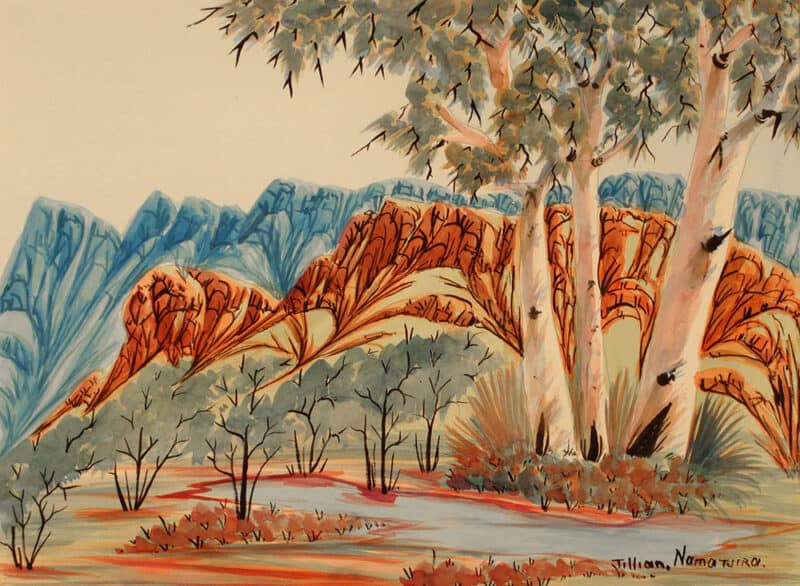 Central Australian landscape

Jillian Namatjira
• • •
est. 1975-88
Watercolour on paperboard
34 x 47 cm
Beverley Castleman Collection
BDC-JN-04
The mindset of this idyllic fantasy seems fragile. The background hills appear optimistic. Tiny blob foliage trees decorate the base of three large white-trunked trees with blue lemon/green foliage. However, black spikes on the big tree foliage seem somewhat pedantic as if the artist was quite emotional when creating this painting. The pool appears very sweet.
Pale flat cobalt sky and bright three tone rear hills. Bright lemon and orange/brown hill with black pen/brush line work. Lemon under-wash of hill extends to bottom foreground where it was over painted with stripey brush strokes.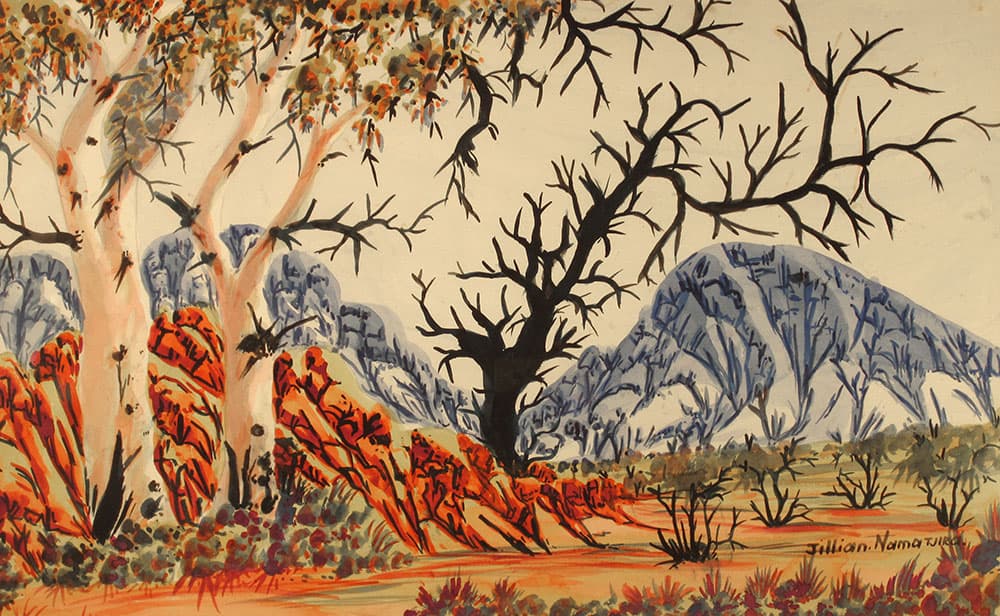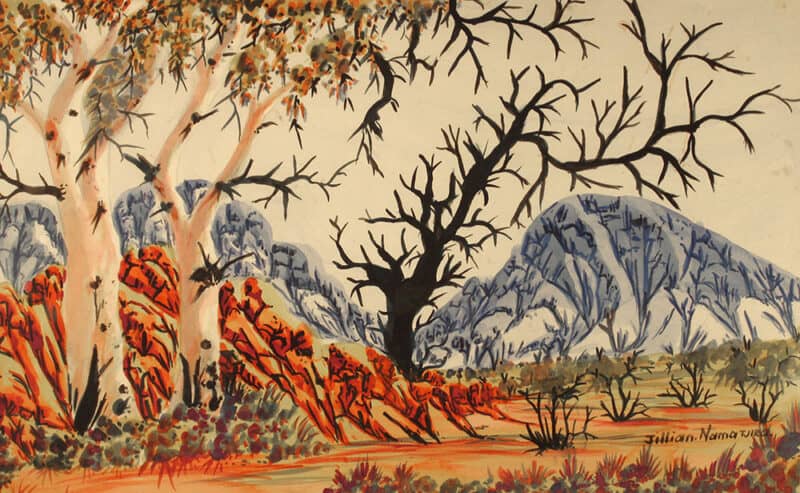 Outback spectre
Jillian Namatjira
• • •
est. 1975-88
Watercolour on paperboard
44 x 72 cm
Beverley Castleman Collection
BDC-JN-03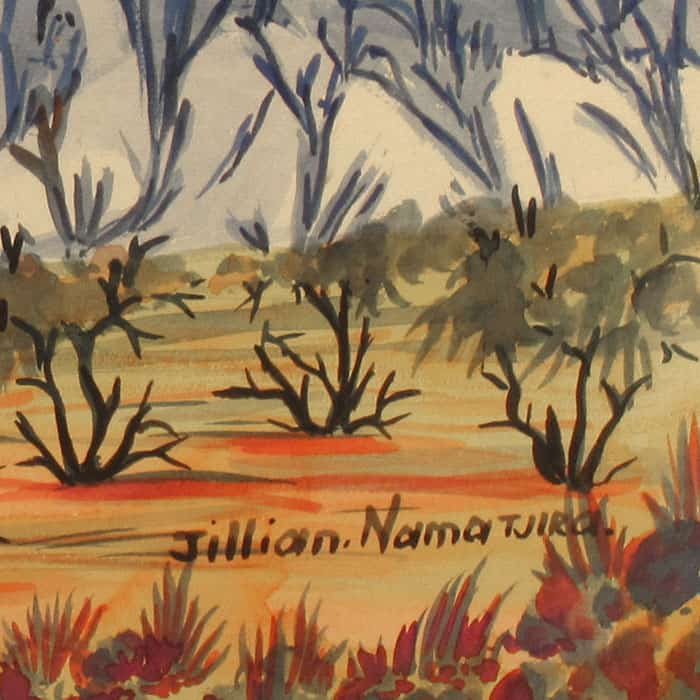 This is a passionate cry about death and survival and pain – all in a world of beauty. There is hope but little joy for the time being. All is not lost as the survivors are hanging on, with the two big trees on the left regenerating, despite blackened limbs. Some of the mid-ground small trees have succumbed while the recovering trees are shooting spiky, not soft foliage. There are rounded hills and rocks, while the vegetation (living and dead) is mostly spiky albeit with some softer foliage of the two big trees and in the ground cover. The symbolic black tree dominates centre of the gap between the two hills. There is no deep distance: all is immediate.
Intense cobalt line brushwork describes the hills. Lemon lights the plain from hills to foreground, where the plain is over painted in stripy orange brush strokes. Black line brushwork describes red outcrop, which is topped with lemon. Big trees have pink on shady side of trunks, and unpainted for the small white areas.
Jillian is represented in Araluen, Flinders University Art Museum and Art Gallery of South Australia.