Maurice Namatjira, youngest son of Albert Namatjira, created a delicate and decorative body of paintings, often including traditional dot and line infill in a decorative, but unobtrusive way. He romanticised the views sometimes with accentuated colour and decorative pen-work. He painted locations between Mt Sonder and Palm Valley and Alice Springs.
He painted seriously from around 1959. By the late 1960s they were more mellow in appearance as lemon yellow gave way to warmer yellows and yellow ochre, perhaps in a mood of fond nostalgia. He was a significant painter in the Hermannsburg School. Sadly, Maurice died when he was one month short of his fortieth birthday.
Maurice was Western Arrernte, Subsection (Skin) Peltharre. Maurice married Epana/Yvonne, a Loritja woman. Artist Kevin Namatjira is their son. (R/W 1957) As at 30.6.66 they had four children. At this time of the Census of Wards in winter, Maurice was at Number 1 Artists Camp Alice Springs with Joshua Ebatarinja and Arnulf Ebatarinja while their wives and children were at home in Hermannsburg.
Claude and Rosina Panka were also at the camp. (Census of Wards 30.6.66). The adults, then, lived rough at the camp, probably on the Todd River, while the children with their mothers were in better housing at Hermannsburg. Temperature records show that the minimum temperature at the date of the census in Alice Springs was about 6 degrees.
It was difficult to estimate dates of the author's collection of paintings by Maurice as few have well evidenced dates, and his style did not change much. Infill style seems unchanged after earliest in the author's collection. There are no Araluen Maurices in Albert's style. He painted seriously from around 1959 and was most active in the 1960s and early 1970s.
Red Rock Faces, Central Australia, 1959 (watercolour on paper; signed lower centre: MAURICE NAMATJIRA. Araluen AC 2008:033). Location appears to be the Amphitheatre in Palm Valley.
Decorations in the MacDonnells, 1959 (watercolour on paperboard; 38 x 54 cm; Museum and Art Gallery of the Northern Territory NAM-0213). Note influence of horizontal system for achieving perspective including original use of warm washes foreground (and red rocks), lemon mid-ground and blues behind. This is an example of an early painting for Maurice.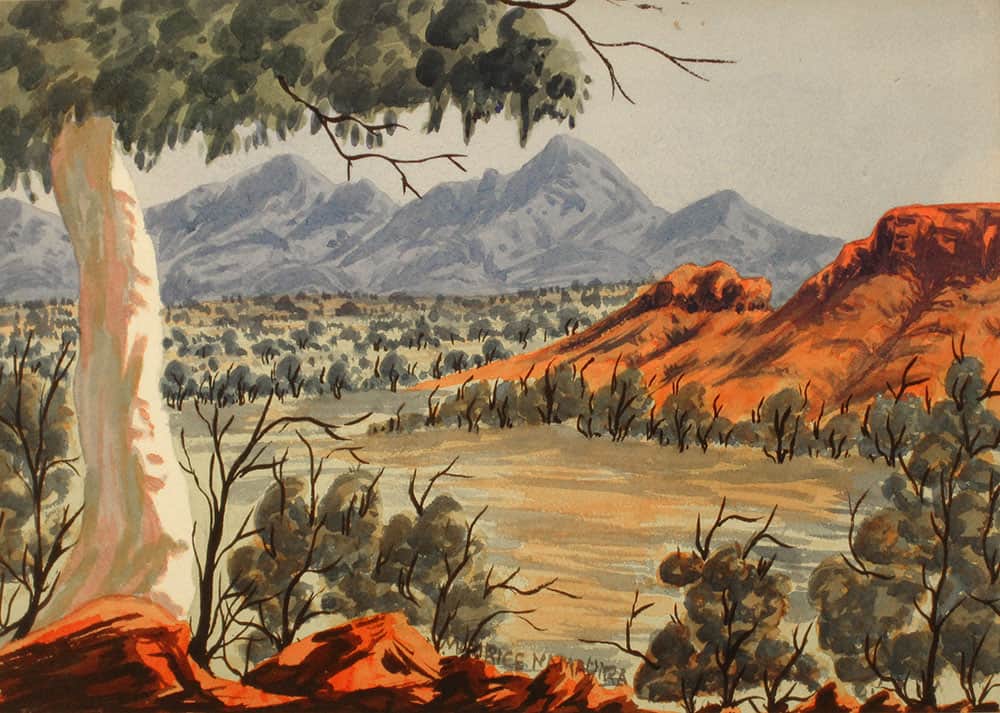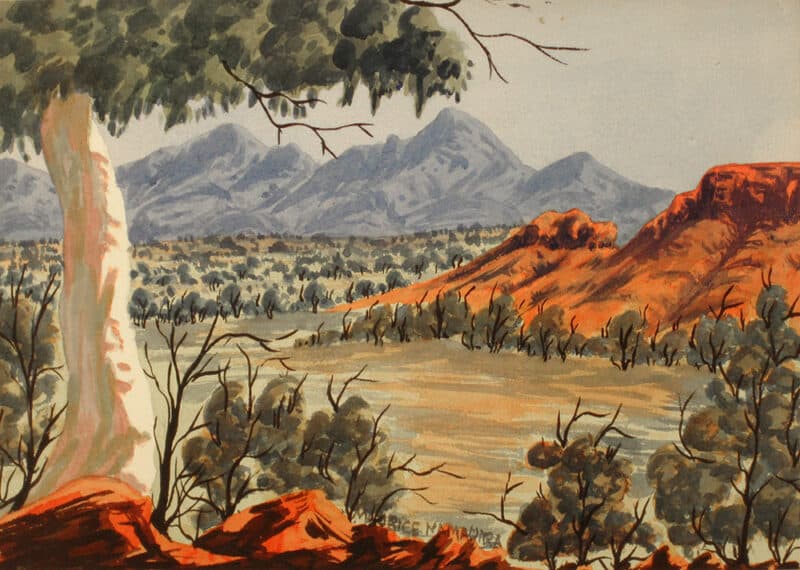 Ghost Gum near Ellery Creek
Maurice Namatjira
• • •
est. 1959-60
(as purchased by Mrs Anne Chapman in 1960, according to RJMetselaar), from whom R.J. Metselaar purchased in 1992.
Watercolour on paperboard
26.5 x 37.5 cm
Beverley Castleman Collection
BDC-MN-01
This is a very decorative painting of a location east of Hermannsburg. There is a prominent lemon under-wash on distant and near plain and behind big tree foliage and on shady side of trunk, with pink and pale blue. Flat cobalt sky and 3 tone distant hills. Red hills at right mid-ground and rocks across bottom. The near plain has stripes of pale orange and pale blue/green. Fine black pen work on tree trunks. White on trunk unpainted.
Sandhills near James Range, 1961 (watercolour on paperboard; 25.5 x 35.5 cm (irreg.); Museum and Art Gallery of the Northern Territory NAM-0211). This features light lemon yellow hill bases and foreground plain.
Sunset on the Chewings Range, 1969 (watercolour on paperboard; 35.5 x 51 cm; Museum and Art Gallery of the Northern Territory NAM-0212). The location is north-east of Hermannsburg, towards Alice Springs. The spaced trees with their shadows were pioneered by older brother, Oscar. This scene is more 'mellow' than Sandhills near James Range above.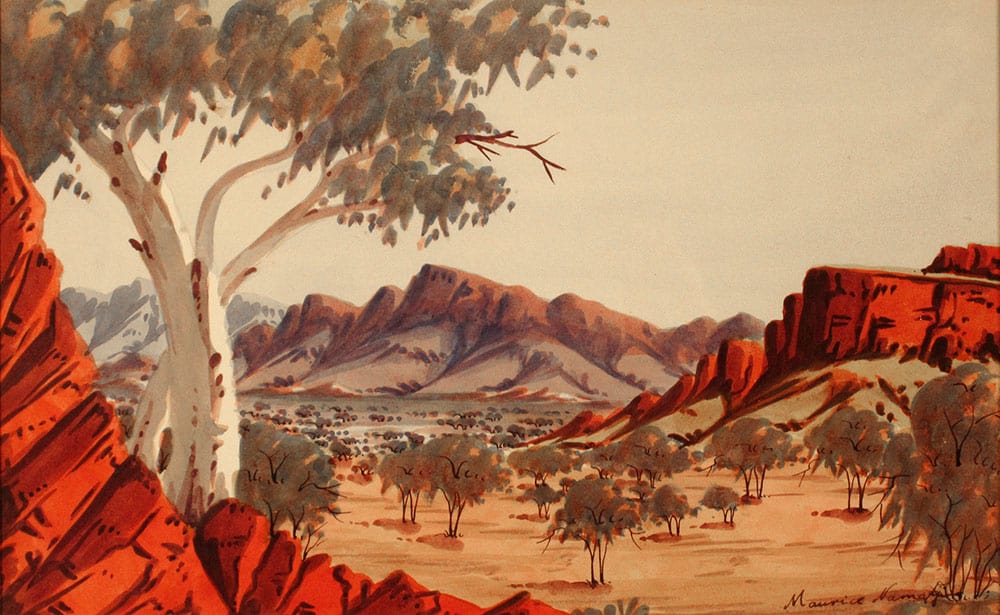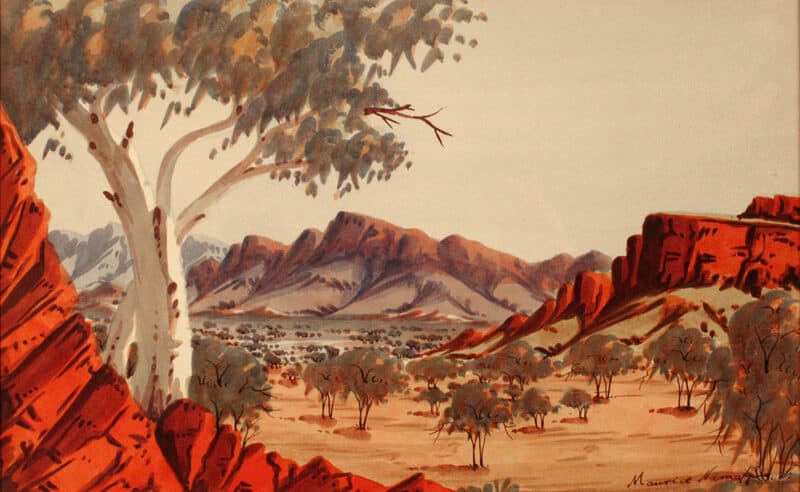 Ghost Gum

Maurice Namatjira
• • •
est. 1968-72
Watercolour on paperboard
23 x 37.3 cm
Beverley Castleman Collection
BDC-MN-03
The stylised red hill at right and the angled outcrop left foreground set a rhythm for this idealised view. There is a cobalt blue sky and two tone distant hills. Pale ultramarine and pale red hill behind rear plain. Big tree behind left foreground rocks. Rear plain opaque towards back – dot infill. Front plain pale yellow ochre/red. Small trees in the mid ground have fine silhouette trunks. Lemon on base of right side red hill and behind foliage. The red foreground rocks were stylised angled parallels, possibly developed from the natural patterning of the rocks. Normal traditional influenced dot infill.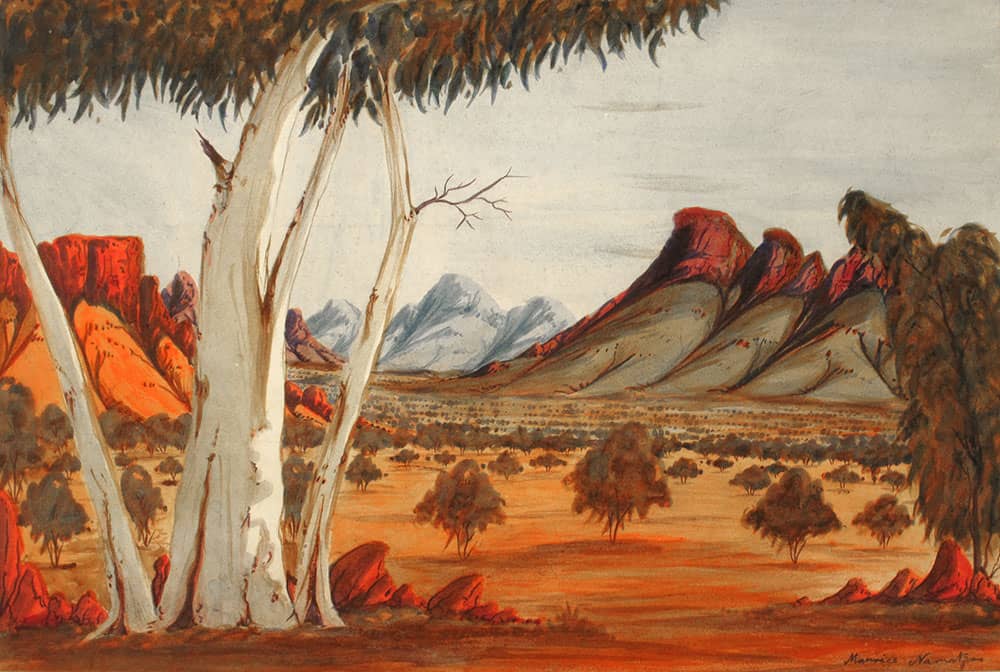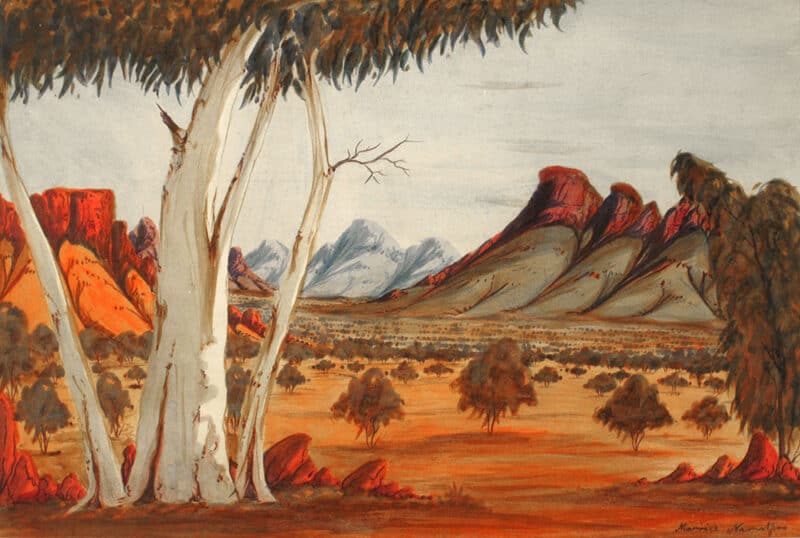 Ghost Gum, Central Australia

Maurice Namatjira
• • •
est. 1968-72
Watercolour on paperboard
33 x 50 cm
Beverley Castleman Collection
BDC-MN-02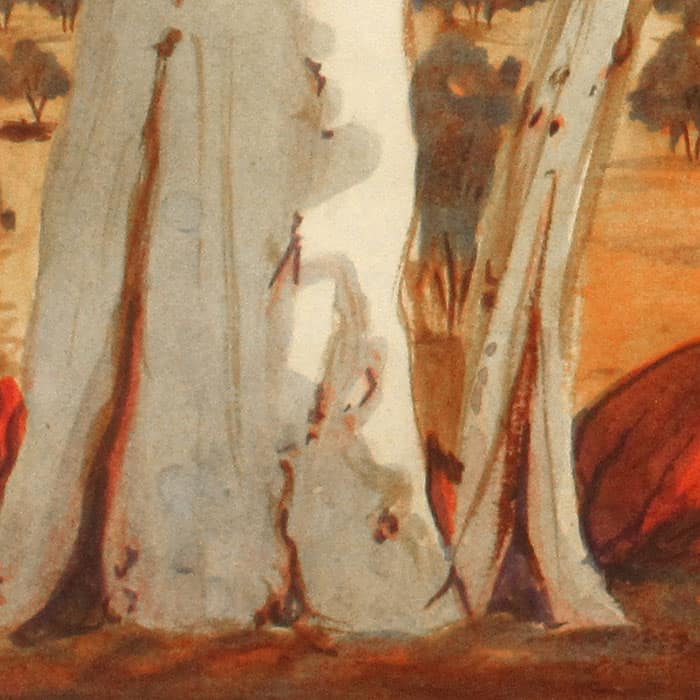 This is the author's favourite Maurice and demonstrates the artist's fond memory of this scene. The big tree had unusual treatment. Lightly pencilled trunk was outlined by fine brushwork in yellow ochre. The two dead branches are ultramarine. Foliage is ultramarine and yellow ochre. Magenta flushed on to base of tree. Black pen on crimson foreground rocks for blob trees.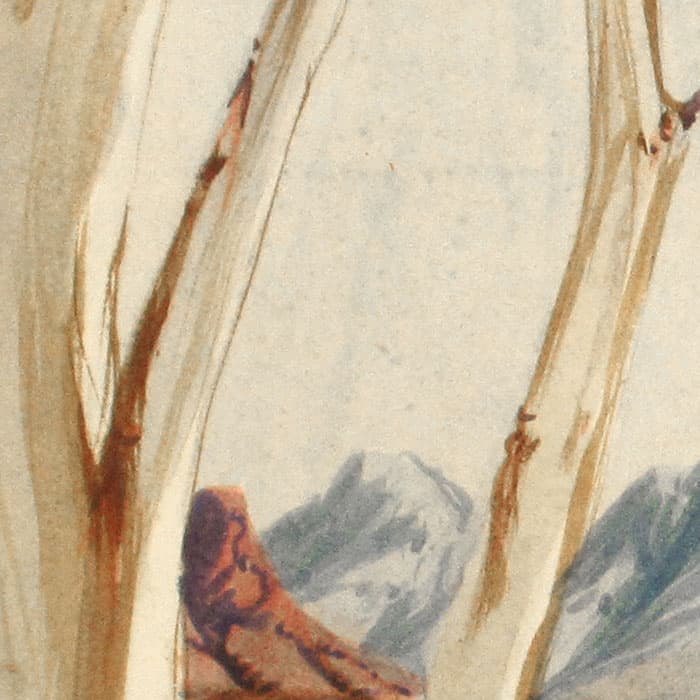 This very mellow fantasy involved no lemon yellow. Palette of cobalt blue sky and two-tone cobalt blue distant hills with a magenta and ultramarine hill in front at left. Right hill has cadmium red, magenta and ultramarine at top with warm grey green base, over-painted with yellow ochre. Left nearer hill has mainly crimson top with ultramarine brushwork and bright orange base.
Front plain yellow ochre and orange with ultramarine in foreground part. Spaced blob trees in Oscar's style. Row of blob trees screens left hill and continues to become back of front plain. Tiny rear plain is indicated with lines of dots. Rocks dividing foreground from mid ground are light crimson and appear luminous against the orange.