Norman Ratara painted scenes of gentle dynamic grandeur, portraying a country running on 'forever' in his panoramic compositions. In contrast, the panoramic shaped painting of his brother Noel Raggett is quite contained and more still in appearance. Norman was a talented artist whose career was probably constrained by his increasing traditional duties in a prominent family group. He helped regenerate interest in the Hermannsburg School, especially in portraying country appearing to move in relation to the plains.
Norman Ratara was a senior spokesperson for the Renkeraka/Ratara group during the Palm Valley Land Claim No 48 hearings, which reported in 1999. He died after the hearing and before the report of 13 August 1999. (3.7.1 and 3.7.2 of report).
Norman Ratara (1935-1999) and Noel Raggett (1937-75) were full brothers and were both born at Hermannsburg. The family usually used the Ratara surname, but Raggett was sometimes used alternatively. For instance, on the Register of Wards 1957, Noel was listed as 'Ratara' with correct birthdate. Their Western Arrernte parents were Kristoff and Monica Ratara. Both Norman and Noel were of the Mpetyane Subsection.
Neither artist was a prolific painter and the author's collection includes five by Norman and only two by Noel Raggett. Noel Raggett was an occasional painter. It is estimated that they were active from about 1960, and early to mid-1970s. Considering the small number of paintings created, they were very capable. Both were followers, rather than leaders, when it came to art.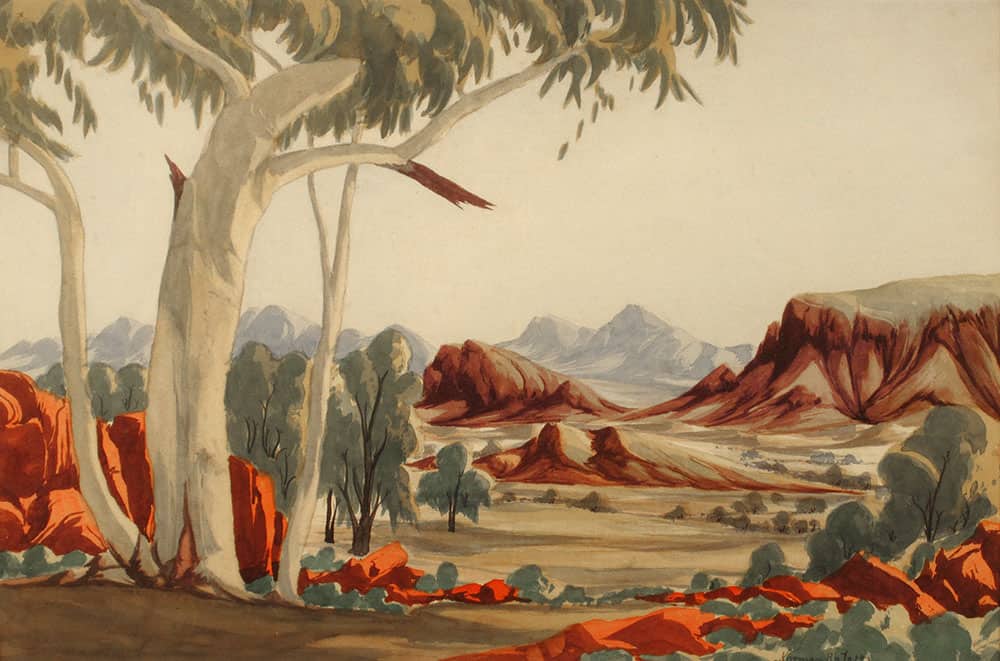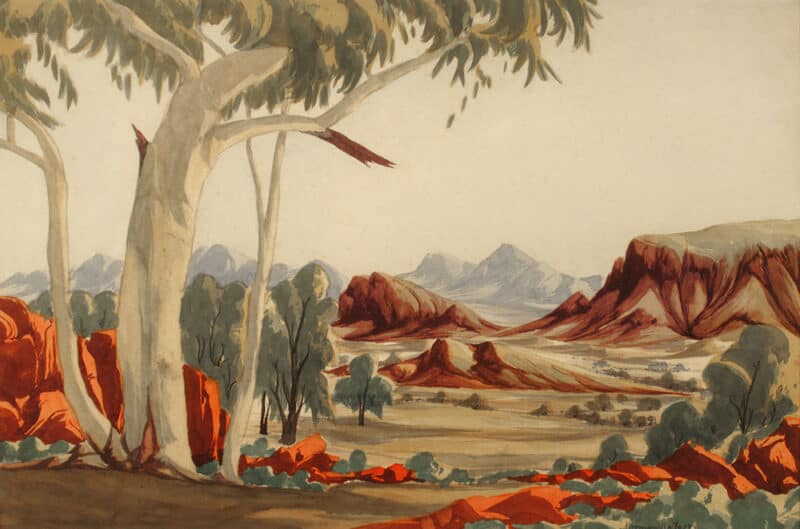 Central Australian landscape

Norman Ratara
• • •
est. 1960-69
Watercolour on paperboard
35 x 53 cm
Beverley Castleman Collection
BDC-NRat-02
The viewpoint for this intimate and dynamic scene is from the shaded haven of the totemic tree, which with its curving leaves, moves in unity with the apparently moving hills. The viewer can pause and consider whether to descend to the valley below or stay and contemplate what the scene might mean to those 'in the know' and also share in the artist's love of country.
This fantasy has fluidity and harmony. Sweet blues, greens, lemon, red are counter balanced by the greys of muted magenta on lemon and pale grey topped hills and other soft greys. The rear of the foreground is a low screen, which rises on each side to frame the view and is decorative in itself, while being a gesture of respect. The hills appear to be rising up from the plain and are portrayed (if unconsciously) as possibly moving sideways. Yellow is important on the plain, the front screen and behind the foliage and on top of the mid ground and right hills. Tree trunks pale yellow with soft greys on shady side. White areas on plain are unpainted paperboard.
The painting originated in the Leyland Brothers collection. Mal and Mike Leyland were pioneers of outback documentary-making, first setting off to Central Australia in 1960. According to the ABC's Australian Story episode of 4 April 2017, their shows in the 1970s and 80s were so popular that their theme song, Ask The Leyland Brothers remains familiar to millions of viewers today.


Western MacDonnell landscape

Norman Ratara
• • •
est. 1960-75
Watercolour on paperboard
21.5 x 69.5 cm
Beverley Castleman Collection
BDC-NRat-03
This panoramic and lyrical composition emphasises the rhythmic continuity of the mountain ranges, which appear to be in gentle motion. A fantasy multi-trunked tree frames a horizontal view of animate hills – two rows, with a red and yellow totemic hill on left.  
There are no straight vertical shapes. The far plain was described minimally in traditional dot and line infill and the front of the plain with larger blob trees. Left row of blob trees has some movement. Cobalt blue sky and two-tone back row of hills. Front row of hills pale blue mauve grey with red cliffs at top left of each rounded hill. Yellow on plain and left top and base of hill. Yellow behind big tree foliage.