1922 – 1991
Oscar Namatjira developed his own stylised approach, influenced mainly by his father Albert, in the 1950s. His natural interest in rhythm merged into a series of rhythmically spaced blob trees in the late 1960s. In the mid to late 1970s he created a painting which reflected an affinity to the dotting aspect of Papunya art, while retaining a pictorial style. Oscar adapted dotting in a new way for his personal interpretation of how the country looked. He thus linked in to the emerging Western Desert style. He was a founder of the Hermannsburg School.
Although Oscar was seen painting with his father as early as 1939, it seemed that it was in the late 1940s, after the success of Edwin and Otto, that he started painting seriously. His earliest painting in the author's collection, Central MacDonnells, from the late 1940s showed a close understanding of Edwin and Otto's work at that time. This very rhythmic painting is his most spirited painting in the author's collection. Oscar was the second son of Albert Namatjira and started to paint seriously in 1946.
There was a 'quiet period' for a few years from 1963, when few (if any) paintings were created by the artist. Paintings from 1967-68 onwards have spaced trees on bland plains as he regenerated his approach. Heavitree Gap is his major late work and builds on the influence of Papunya as he developed his own elaborate and objective system. There is no record of later paintings than Heavitree Gap of 1975-70.
Oscar apparently had a special interest in Heavitree Gap (Ntaripe) Dreaming site near Alice Springs (Mparntwe) (where he is said to have lived much of the time), which was most described in detail in Heavitree Gap. This gap appears to be the subject of most of his paintings in the author's collection. The viewpoint for his paintings of the Gap was from the hill above the Honeymoon gap to Stuart Highway Road, near Alice Springs. Like most of the artists, he portrayed the Gap as imagined before the presence of structures built by white people.
The view in Oscar's earliest painting in the author's collection, which was called Central MacDonnells, showed an interest in the patterned rhythmic foothills. Although strongly influenced by his father, he was also inspired by the independence of Edwin and Otto to develop his own rhythmic dotting infill in empathy with the Papunya dot-art movement.
Oscar was deeply grounded in the pictorial interpretation of country, but increasingly his traditional decorative and rhythmic infill – and the occasional tree-trunk cicatrice – led him to express his aboriginality in comfort with the general increase in pride in being Indigenous. Although he was conservative and restrained in his emotional expression of country, his understanding and ability to express the country was profound.
Oscar was born out bush and died in Alice Springs, having lived there for much of his life. Oscar was Western Arrernte, Subsection (Skin) Peltharre. He married an Arrernte woman, Desma, daughter of Tom Raggett and Sarah. As at 1957 they had seven children including future artists Reggie, Lenie, Albert junior and Gwenda. Sadly, his wife, Desma, died after the birth of their eighth child in 1970.
Rex Battarbee's diaries mention Oscar as doing well at athletics. For example on 18.10.41 he was fifth in steeplechase and on 26.12.42 at the Mission's sport's afternoon the major winners were Richard, Edwin and Oscar. During the War when many men were involved in the Military labour gang, Battarbee noted in his diary, 17.2.44, that Oscar 'has been allowed to work for his father'. Oscar painted for around forty years.
Oscar's early paintings reflected his father's style. Palm Valley James Range, 1946 (Museum and Art Gallery of the Northern Territory; NAM 1217) is an example. It is slightly tentative.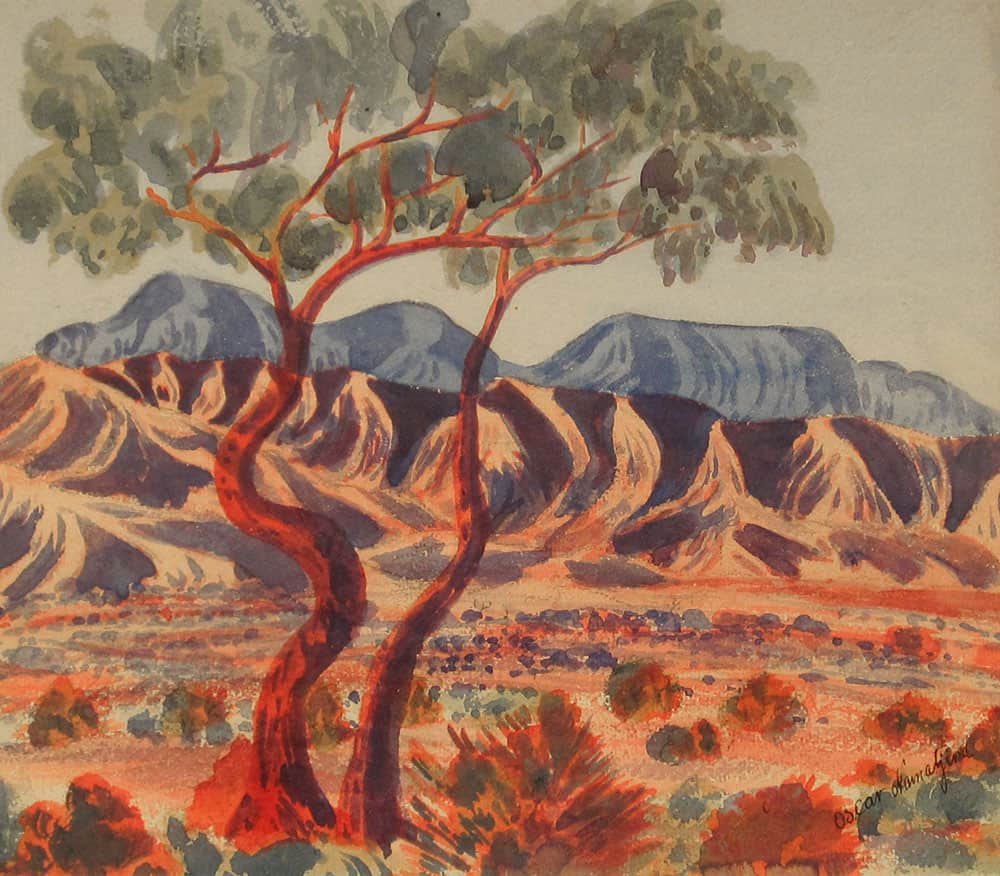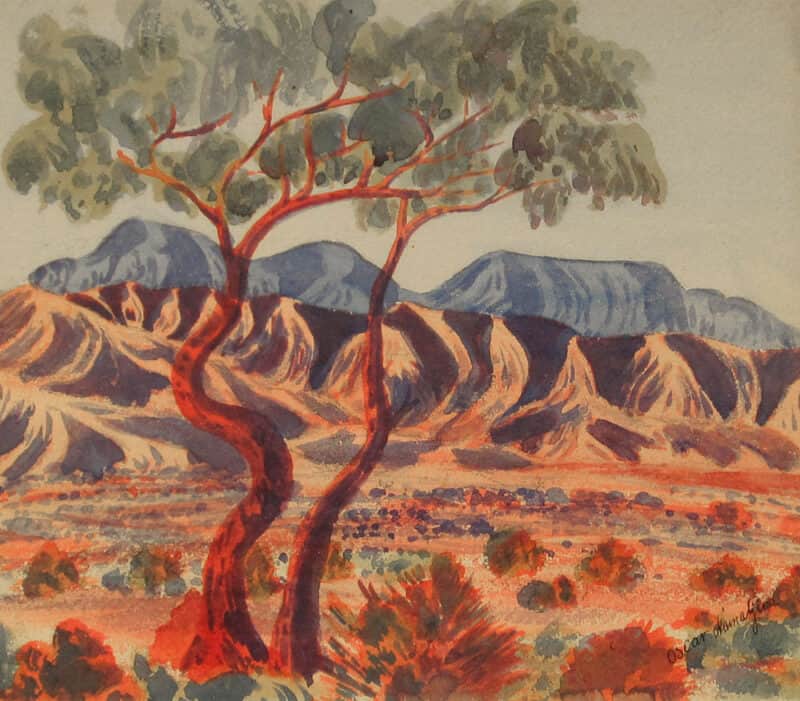 Central MacDonnells
Oscar Namatjira
• • •
est 1946-49
Watercolour on paper
27 x 31 cm
Beverley Castleman Collection
BDC-ON-14
This joyous composition is the author's most spirited painting by Oscar. After a number of paintings in Albert's style, this is consciously indebted to Edwin and Otto, who may well have given some encouragement. Oscar clearly understood essential qualities of Edwin and Otto's ideas of interpretation, but (after this painting) took these on board only sufficiently to inspire and develop his own rhythms and strong compositional strengths within the ostensible influence of his father.
The colour system and sinuous pair of trees uniting the composition are derived from Edwin. The rhythmic semi-circular patterning vitalising the row of hills is from Otto.
His long-term path was established in this painting, which was an early breakthrough. In particular the spaced blob trees in the near uncluttered mid ground shows his comfort with open space and foreshadowed his spaced trees on a bland plain, which characterised his later work in the 1960s. In this work, Oscar did not try to be as faithful to nature as his father and also as Rex Battarbee. Oscar settled down after this to find his own way.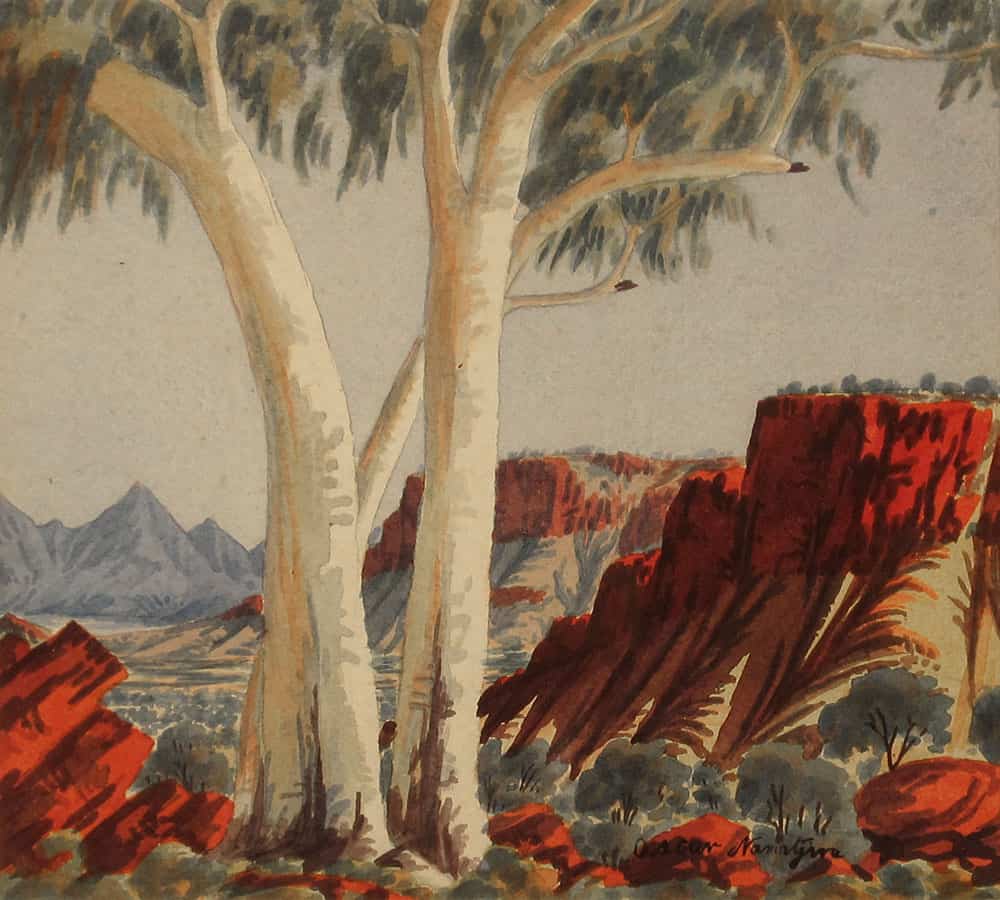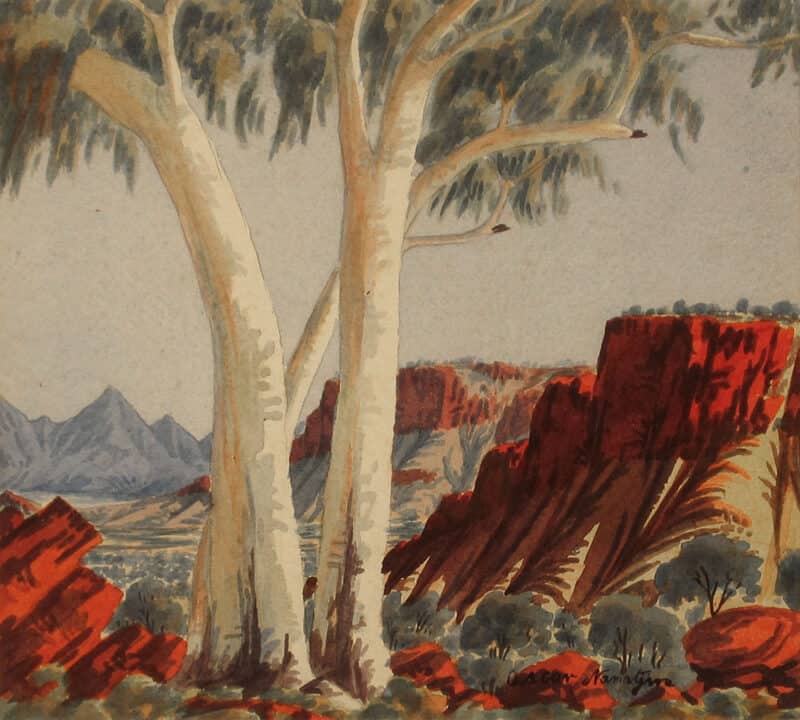 Central Australian landscape
Oscar Namatjira
• • •
1951
Watercolour on paper
26.5 x 26.5 cm
Beverley Castleman Collection
BDC-ON-12
This emphatic composition is in Albert's style, but has dramatic contrasts. The location is likely to be Heavitree Gap.
Square composition with two trees a little to left of centre. Foreground big trees on lemon and green ground cover across with geometric red rocks to left of tree and curved to right, beneath flat topped red hill with straight sides to the red cliff top. Mid and foreground structures have intense colours and contrasting tones – softer in distance. The hill top is deep red with bright lemon on base and ultramarine line work and in shadows. Ultramarine based green for blob trees. Flat pale cobalt sky and two-tone pointy cobalt blue hills.
Tiny blob trees are on the front of the plain with stripes behind. A rear plain is indicated. Lemon behind long brush strokes of big tree foliage. There are tiny areas of schematic infill.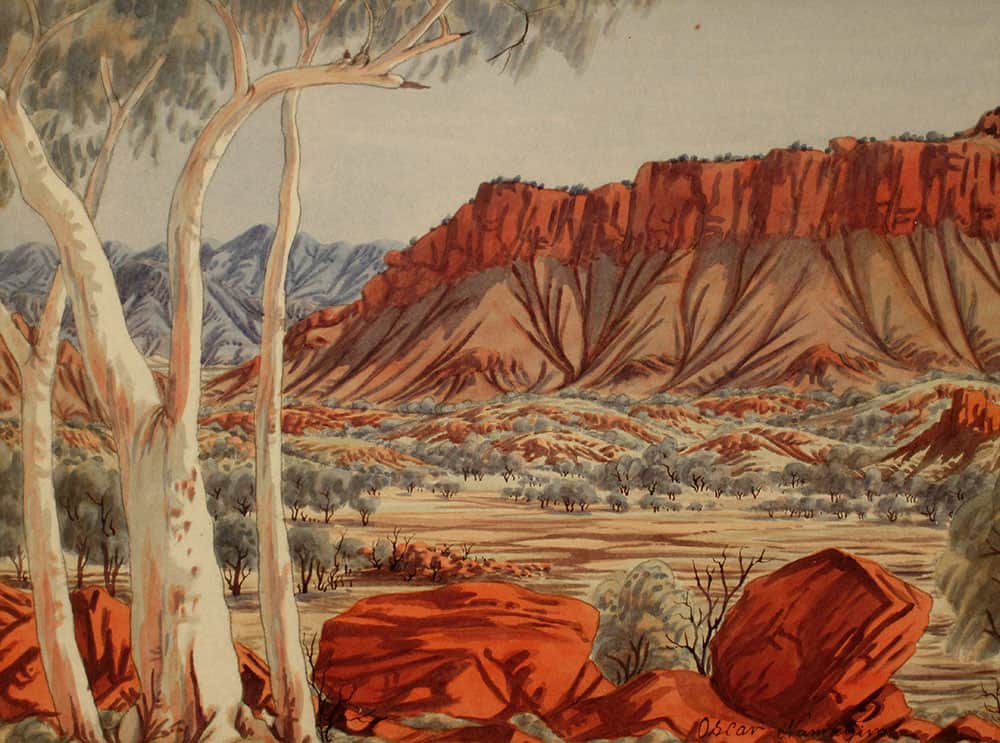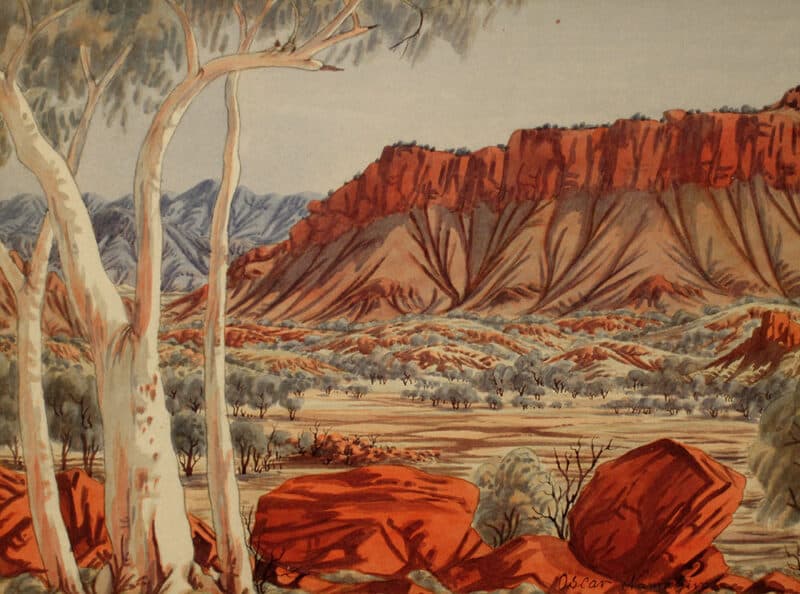 Glen Helen Valley MacDonnell Ranges
Oscar Namatjira
• • •
est. 1958-59
Watercolour on paperboard
35 x 51.5 cm
Beverley Castleman Collection
BDC-ON-05
The Glen Helen Valley was the country of Albert Namatjira's father. Emphatic red large foreground rocks across bottom, behind big trees at left are part of the here and now of the viewer. Oscar has treated every little hill in the country beyond the informal screen of rocks as being as important as the dramatic gap and distant blue hills. Hence the sense of abstract design present in the foreground seems to summarise aesthetically the vitality of the whole interpretation. This reflects Oscar's father's style.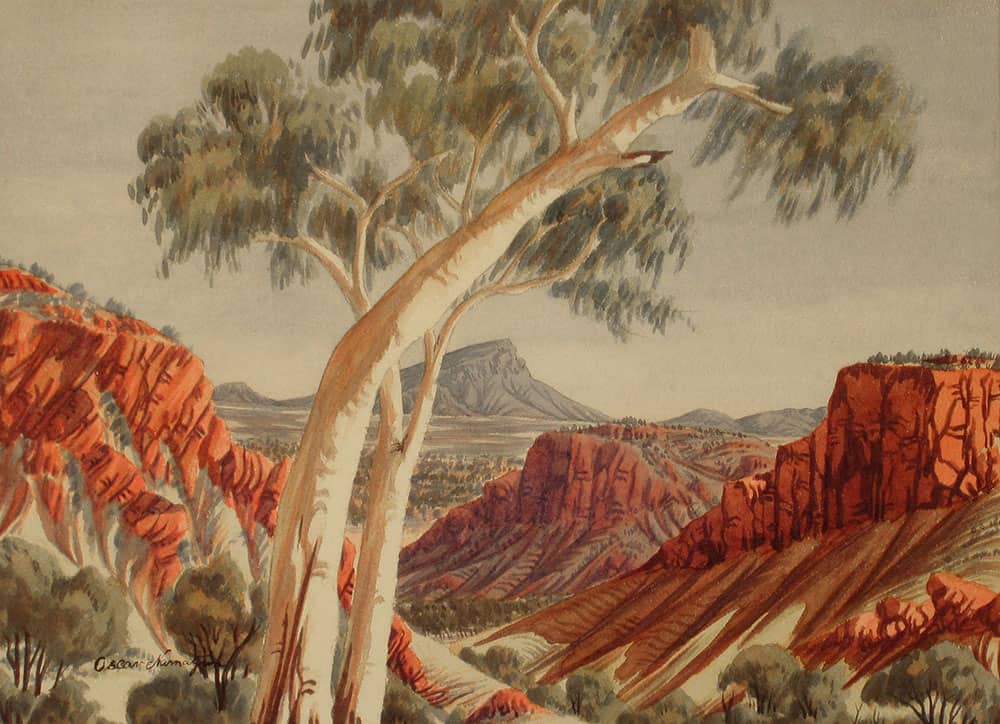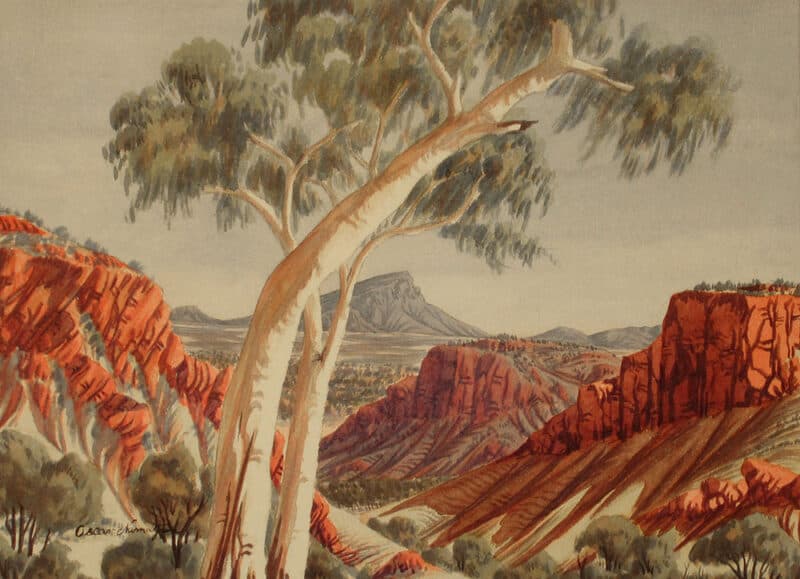 Central Australian landscape
Oscar Namatjira
• • •
est. 1960-62
Watercolour on paper
27 x 38 cm
Beverley Castleman Collection
BDC-ON-15
This is ostensibly in Albert's style, but is more stylised. The early maturing and younger ghost gum seem to be actors in the scene with animate cliff patterns, suggestive of faces. The nature based patterns are stylised and the distant hill is an eloquent echo of the main scene. Traditional infill spans the space to the distant hill.
This is a view through a gap with a distant hill that looks like Central Mt Wedge, which is north-west of Hermannsburg in Loritja country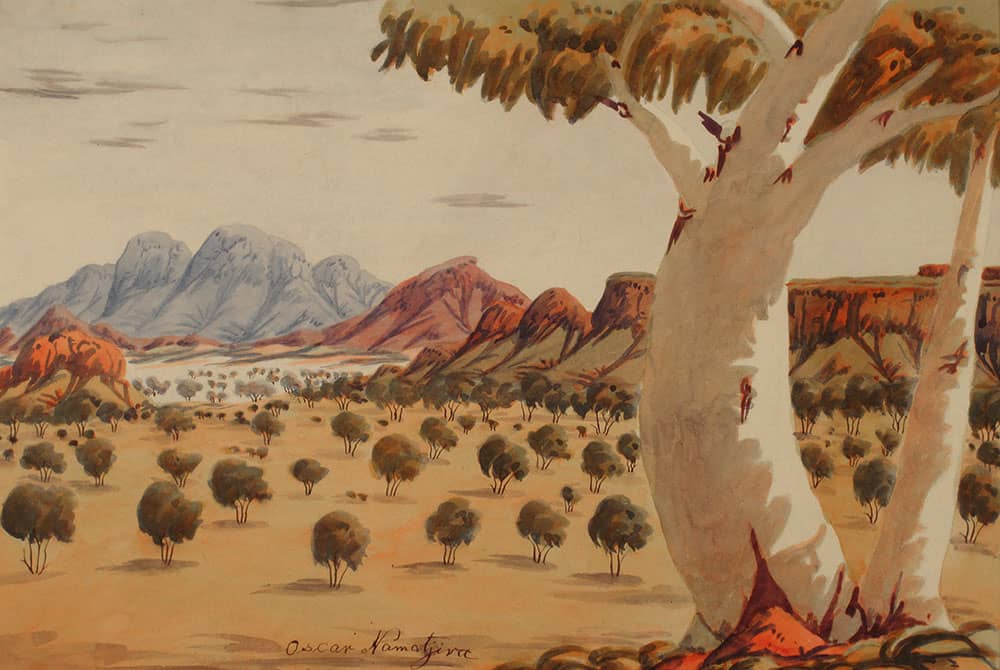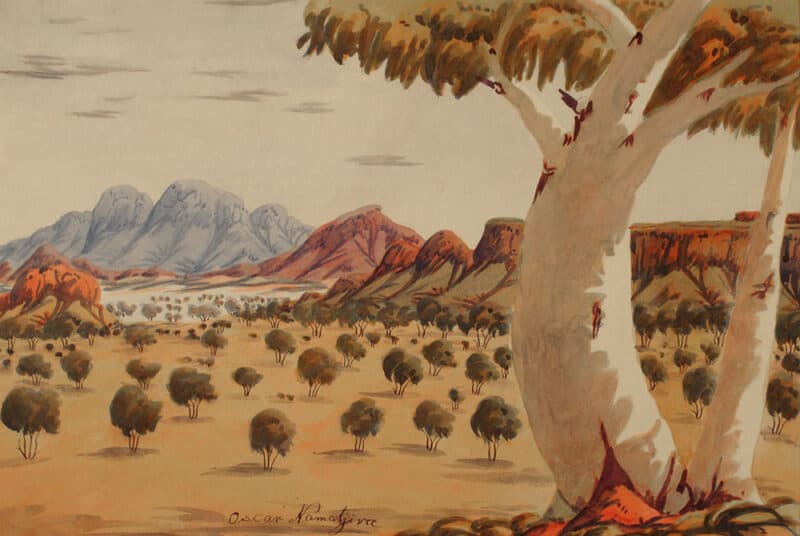 The Ghost Gum
Oscar Namatjira
• • •
est. 1967-69
Watercolour on paperboard
35.5 x 52 cm
Beverley Castleman Collection
BDC-ON-01
This is more individual, with spaced trees with shadows on a bland plain. The spaced tree idea was present in the early painting Central MacDonnells, est 1947-49. Here the spaced trees with their shadows have Oscar's own rhythm. This appears to be an interpretation of Heavitree Gap. The sky is pale cobalt blue with soft horizontal line clouds, picking up lines of diamond pattern on back plain and tree shadows of front plain. Coloured diamond pattern at back of pale green rear plain. Flat reddish topped hills right, rounded red topped hill left are screened symbolically by blob trees. Spaced blob trees on plain with black penned trunks. Front plain has pale orange wash and yellow at back left and right hills. Lemon in foliage and ground cover. Rear plain has flat diamonds to indicate foothills. Dots and blobs on front of rear plain.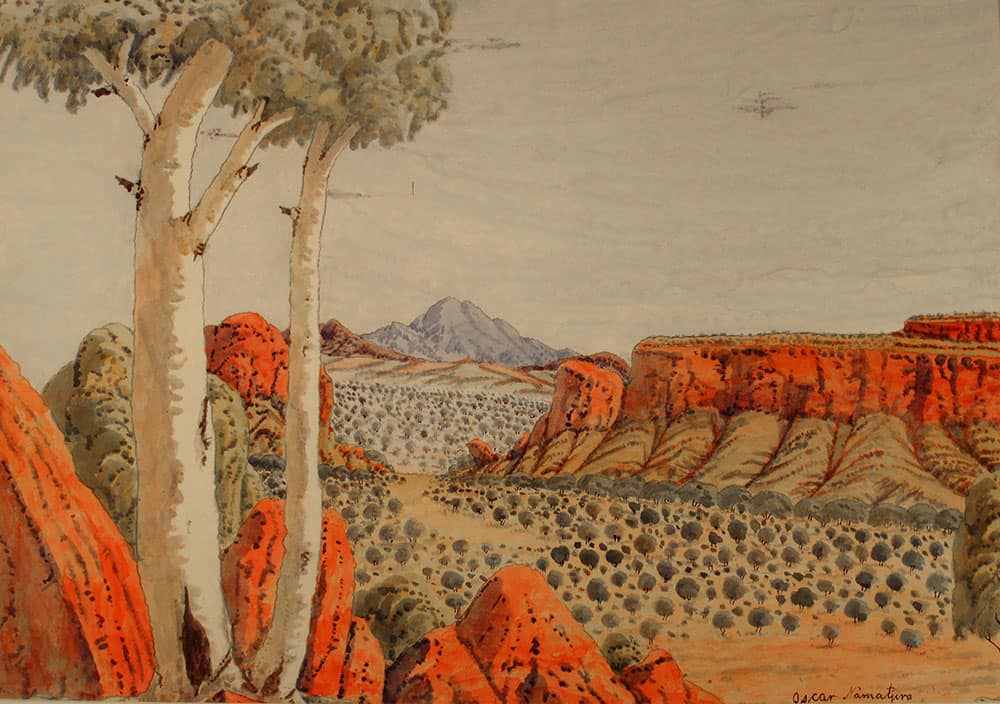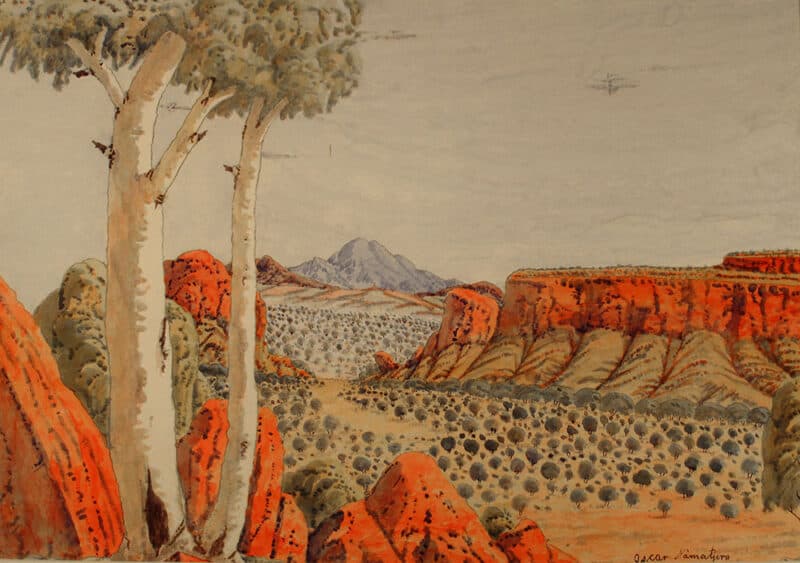 Heavitree Gap
Oscar Namatjira
• • •
est. 1975-79
Watercolour on paperboard
50 x 71.5 cm
(View from south to north confirmed on author's site visit)
Beverley Castleman Collection
BDC-ON-18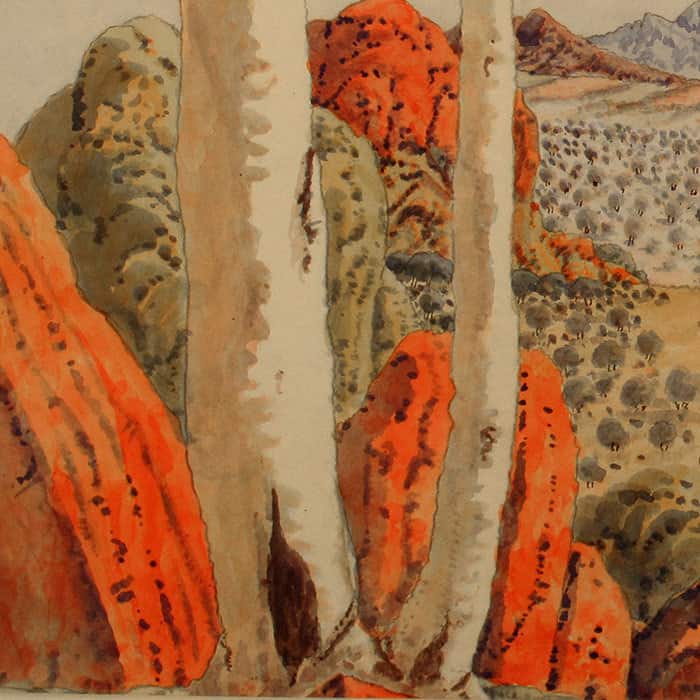 This seems to be an idealised portrayal of the important Heavitree Gap (Ntaripe) Dreaming site as imagined before the presence of white structures, such as the town of Alice Springs (Mparntwe) on the plain behind the gap and the road and railway through the gap.
The timing of the painting coincided with the years of the land rights movement of the mid to late 1970s.
In keeping with painting developments at Papunya in the 1970s, Oscar was inspired to portray Heavitree Gap employing his form of dotting to describe how the country looked, pictorially. The main structures were lightly outlined in pencil as usual. Colour washes were applied for the main structures as usual. The cliffs and foreground rocks were then outlined with rows of dots. The treed plains have large and fine dots to suggest small trees. The clouds are of dots in a way Kaapa employed in FUAM 3076. Fine dotting is used to accent the big tree foliage. Albert's influence persisted in the way of using shadows on tree trunks to describe their round shape and the painting of the distant blue peak is a reminder of Albert.
Although this painting absorbs elements of dot art, it does not use the dotting to screen any secret symbols because he was employing dotting in a new way as his interpretation of how the country looked pictorially.
The all-over rhythm of front and rear plain blob tree infills resonates with the sublimely subtle blobby sky. The lines of dots describing the landscape rocks suggest some comfort with abstraction. However this was as far as Oscar evolved toward non figuration. The system of rippled pencil lines as on the big tree trunks was unique to Oscar, although shared in a different way with Walter Ebatarinja. This painting is objectively methodical and calm with everything as if in its place. With no intense colours it is quietly luminous.
Oscar's painting is a view from south of gap to the north. It omits any of the built structures of the town of Alice Springs that would be visible on the rear plain. The view is consistent with a photo taken by the author from Honeymoon Gap to Stuart Highway Road. The artist could have composed this painting from a higher level above the road on the low range running parallel to the (west to east) road.
To top it all, the strange cloud shape in the sky at right may be present as a friendly and respectful homage to Kaapa Tjamptitjimpa in Kaapa's pictorial watercolour, which is untitled, at FUAM 3076. Kaapa was a leader and founder of the Western Desert Movement. Oscar may well have met Kaapa through his younger brother Keith Namatjira who was living at Papunya. Kaapa named a son 'Keith', possibly after Oscar's brother Keith.