Lindsay Imbarndarinja was born at Santa Teresa in 1918. Lindsay Imbarndarinja's elegant and stylised work was usually very different to that of Albert Namatjira. The artist was very accomplished but did not have a serious career as an artist because his uniquely stylised paintings were not commercially popular and he stopped painting in the early 1960s. However, he was influential in his patterning ideas, hence his inclusion in this study. A painting by Cordula Ebatarinja seems to have been influenced by Lindsay, as discussed below. Lindsay created a painting with informal symmetrical patterning in the foreground, thus contributing indirectly to the consolidation of the Hermannsburg School.
Lindsay's parents' details are not recorded. He was fostered at Hermannsburg by Dinah and Eric Ebatarinja (brother of Benjamin (Ebatarinja) Landara. He was born Eastern Arrernte, subsection Kemarre. His paintings are rare, according to Jane Hardy [1] quoting Gayle Griffiths (daughter of Rex and Bernice Batterbee).
Having been fostered by Eric Ebatarinja, Lindsay would have known Cordula Ebatarinja (nee Malbunka), who was close in age to him, having been born in 1919. Lindsay apparently started to paint around 1951. On 30.6.1966 Census of Wards, there was a Lindsay Ebatarinja at Number 2 Artists Camp Alice Springs with Benjamin Ebatarinja Landara, Keith Namatjira and Gabriel Namatjira. The author was told that the artist died in hospital in Adelaide, apparently of tuberculosis. His date of death is unknown.
None of the five paintings studied have a large tree or trees. Patterning was important in each composition.
Untitled, est 1949-51 (watercolour on paper; 27 x 37 cm; signed lower centre: LINDSAY IMBARNDARINJA. Ngurratjuta. Not illustrated) The hills are like Therese Ryder's Dancing Lubra Hills east of Alice Springs. The colours appear to be ultramarine blue and lemon yellow. Important elements are parallels, schematic blob foliage and the artist's own adaptation of dot and striped infill.
Mt Gillen, Alice Springs, 1952 (watercolour on paper; 23.5 x 37.5 cm (irreg); Museum and Art Gallery of the Northern Territory NAM-0149. Lindsay Imbarndarinja. Not illustrated. The signature is not visible in the illustration) The composition is of two main colours, red wash and two-tone blue on hills. The foreground is of a stylised geometric design. Dotted infill on Mt Gillen.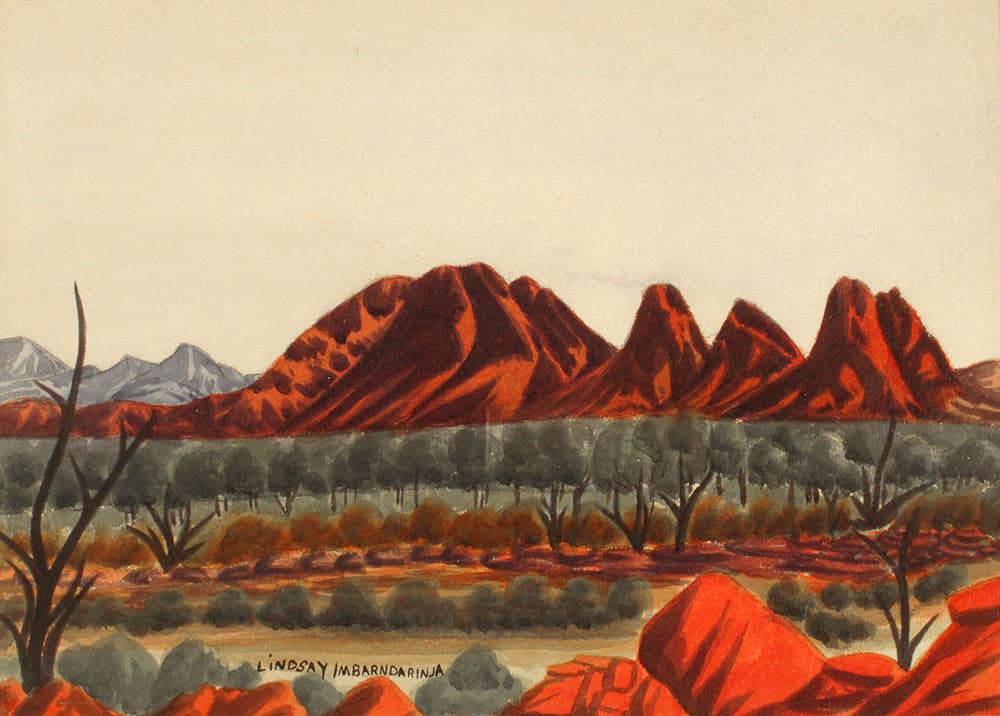 Over the Plain
Lindsay Imbarndarinja
• • •
est. 1952
Watercolour on paper
25.5 x 36 cm
Beverley Castleman Collection
BDC-LImb-02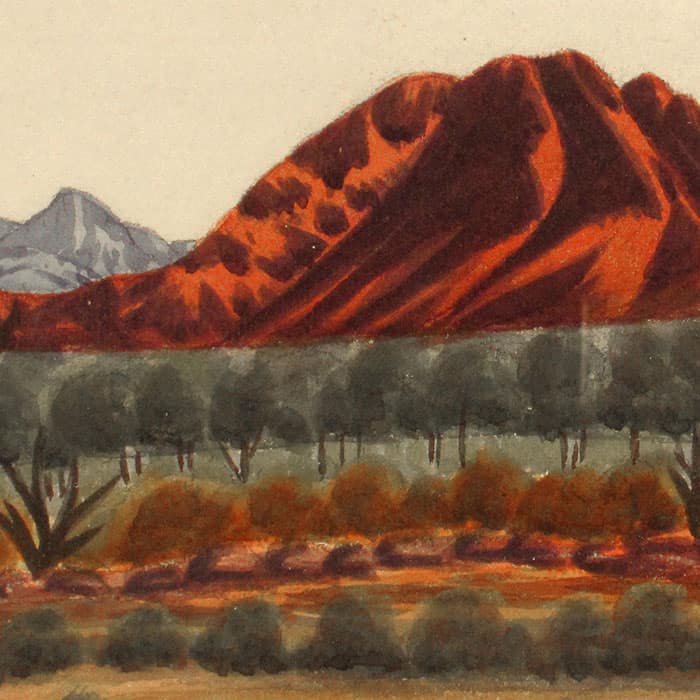 In this mellow fantasy the animate iconic hills rise above a plain described by a band of horizontal personally stylised patterning. The patterned plain is interesting and unique in the way it bridges the space between the narrow foreground symbolic screen and the vibrant hill. The viewer observes from behind the screen and is not invited into the space.
The foreground is stylised like the totemic hills and seems to represent a viewpoint from the here and now across the patterned plain to the totemic hills. The hills appear to be those named in Therese Ryder's large, Dancing Lubra Hills, est 1970-89.
Dramatic red/brown and ultramarine hills and foreground screen of red rocks. Several horizontal rows of patterning between hills and foreground and part of a system.
Apparent method: Flat pale cobalt blue sky and two tone distant hills; red/brown and ultramarine mountain range; palest yellow under wash to foreground; row of bottom screening rocks. Green blob trees form part of the patterning.
Cordula Ebatarinja created a painting which seems to have been influenced by Lindsay Imbarndarinja: Mt Giles in the MacDonnell Range, est 1954-56 (watercolour on paper. Flinders University Art Museum Flinders University Art Museum 3077). The Mt Giles Range and the foothills are styled like Lindsay's hills above and the hills are separated from the foreground by a horizontal band of patterning, similar in concept to Lindsay's more elaborate example of the wide patterned band. Cordula added her own curving tree with its curving branches, which echo the curves of the hills. Cordula's painting was not like her husband, Walter's work. As Lindsay was fostered by Eric Ebatarinja, Cordula would probably have known him and seen his work. Lindsay may have been a model for Cordula to experiment with her own style.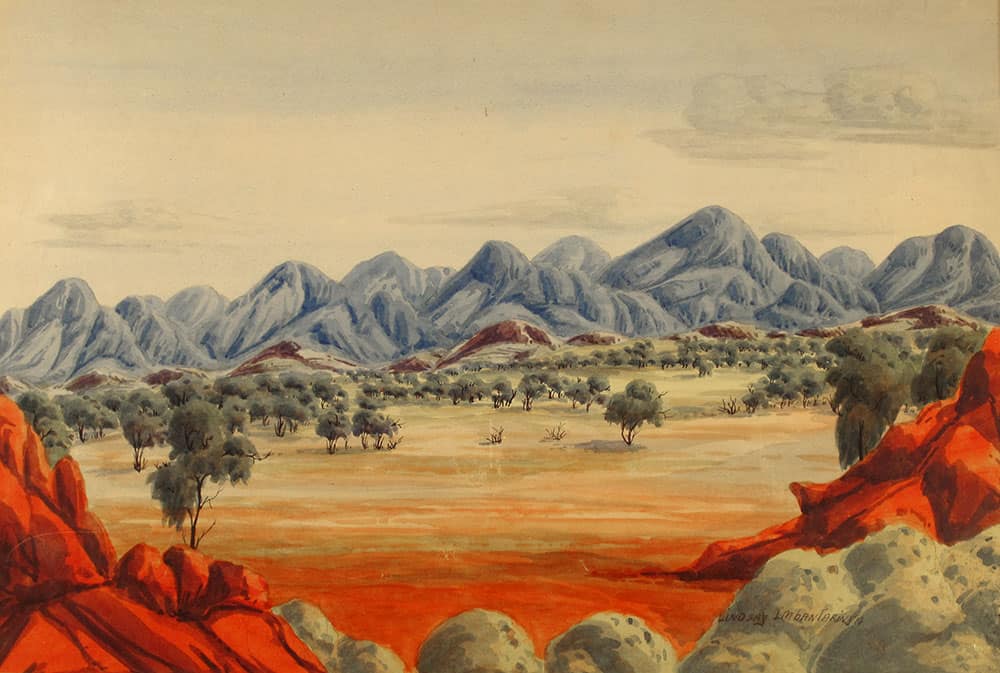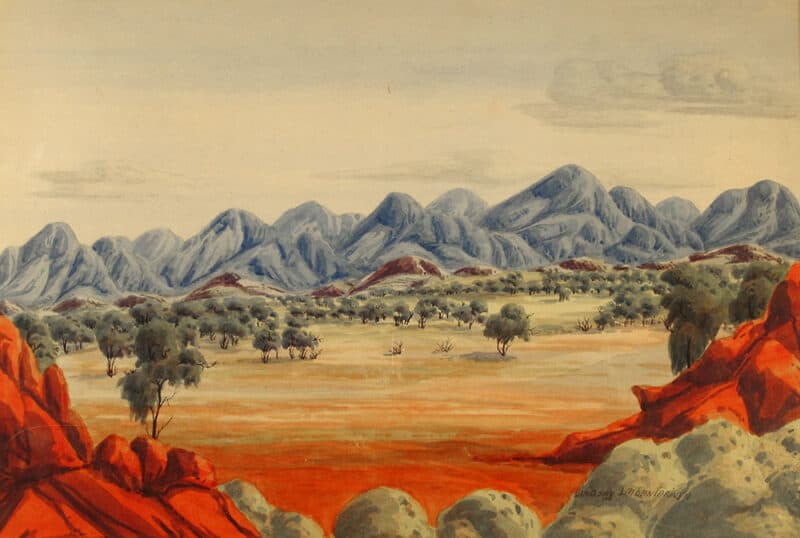 Central Australian landscape
Lindsay Imbarndarinja
• • •
est. 1959-63
Watercolour on paperboard
35 x 52.5 cm
Beverley Castleman Collection
BDC-LImb-03
This composition is in a more commercially popular style and is more typical of the Hermannsburg School of the 1950s.
The symmetrical foreground of the red rocky outcrops on each side plus the green foliage form an informal patterned foreground, from which to view the lively blue range and the foothills. The distant hills could represent the range visible from the look-out at Anzac Hill in Alice Springs. The scene is animate and the clouds appear blown by the wind. It is not like my first and second by this artist. Here the artist has departed from his more stylised approach. Nevertheless the painting is an animate fantasy.
Dramatic pale cobalt blue sky with slight recession and clouds. Two tone cobalt blue curvy hills. Foothills have magenta from ultramarine and red. Lemon on rear plain merging to pale orange and to red orange in foreground. Red rounded rocks each side of foreground. Animate foliage foreground. Lemon behind blob foliage. Plain is infilled with small blob trees and black pen work on trunks.
REFERENCES TO EXTERNAL TEXTS
[1] Jane Hardy, J V S Megaw and M Ruth Megaw eds. The Heritage of Namatjira: The Watercolourists of Central Australia.