Joshua Ebatarinja, had a short career, producing some of the most lyrical paintings of the Hermannsburg School. He created gently romanticised scenes of country from his wife's country of Haasts Bluff, out west of Hermannsburg, to Mt Gillen near Alice Springs.
Joshua was nurtured in the creative Ebatarinja family. He was the son of prominent career artists Walter and Cordula Ebatarinja and future artist Desmond was a brother. He was finding his own way creatively. Joshua's paintings were not as dramatic as those of his father, Walter, but they showed some of the idealisation, boldness and delicacy of both parents.
He did not pursue a system of complex patterning like his older cousin Arnulf Ebatarinja, born 1931.  
Joshua used unobtrusive traditional infill of dots in his romanticised compositions. Joshua may have started to paint around 1960 and was at his busiest between 1964 and 1971.  
Sadly, Joshua died aged 33 and thus a huge potential was not achieved. It was sad for the future of the Hermannsburg School that the lives of Joshua's talented contemporaries Gabriel Namatjira (1942-69) and Trevor Pareroultja (1941–83) were also cut off in their prime. Joshua painted seriously from around 1960. He is represented at the National Gallery of Australia, Araluen and Museum and Art Gallery of the Northern Territory at Alice Springs.
He was Western Arrernte, Subsection (Skin) Perrurle.  Joshua married a Kukatja woman, Clarice (born 3.2.1946).   
In the Census of Wards of 30 June 1966 Joshua was at Number 2 Artists Camp in Alice Springs and his wife and three children were reported as being at Hermannsburg. Also at the same camp were Maurice, Arnulf, Claude and Rosina Pannka and Enos and Ruby Namatjira. Alice Springs had its attractions for artists after alcohol became available. [1]
Haasts Bluff, near Papunya, was the subject of many of Joshua's paintings. In 1971 Geoffrey Bardon saw Joshua and Keith Namatjira selling their paintings at Papunya canteen. [2]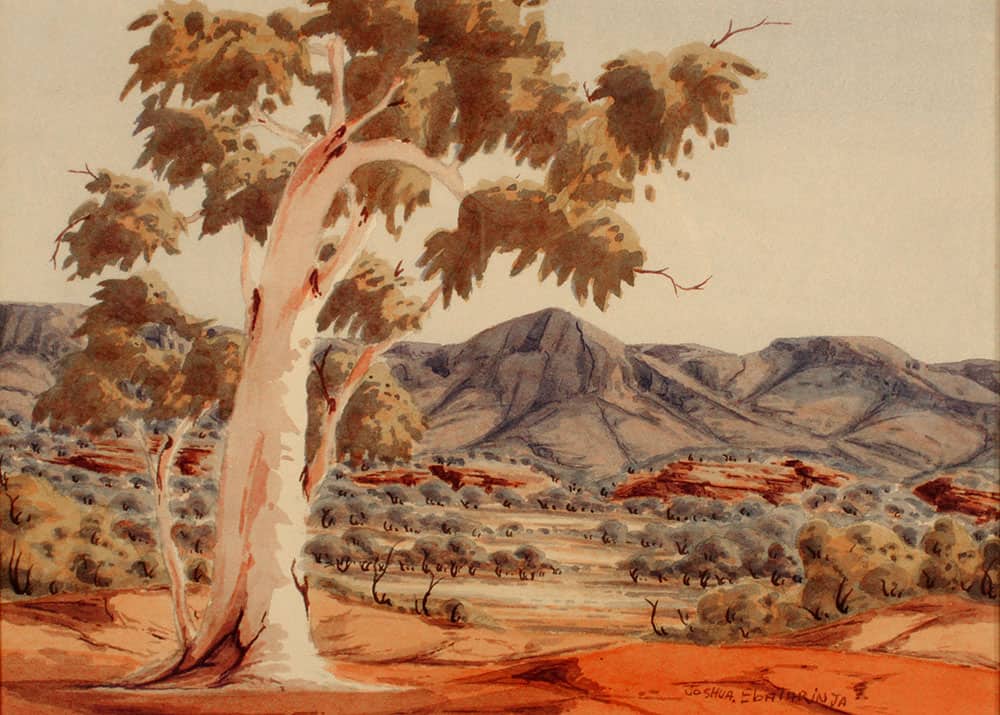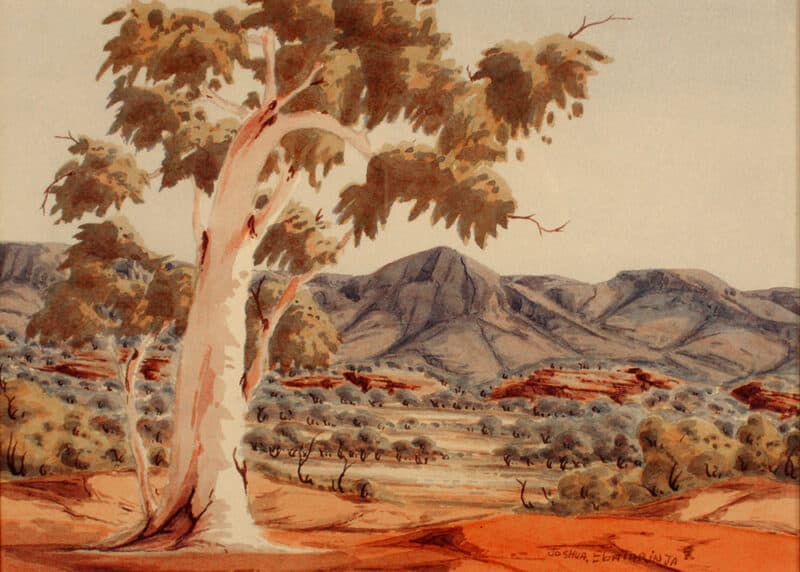 Toward the Ranges
Joshua Ebatarinja
• • •
1964
Watercolour on paperboard
22 x 31 cm
Beverley Castleman Collection
BDC-JEb-03
A landmark ghost gum faces a neat treed plain, leading to rounded foothills beneath the range behind.  It is a mild sunny day.  The foreground seems like a starting point for viewing the scene and for a stroll to the plain below.  Cream plain, pale red/orange foreground.
Short parallels were used on the distant hills and short straight parallels in fine brush drawing were used on the low red foothills.  The plain is decorated and described with lines of tiny blob trees with fine black pen trunks.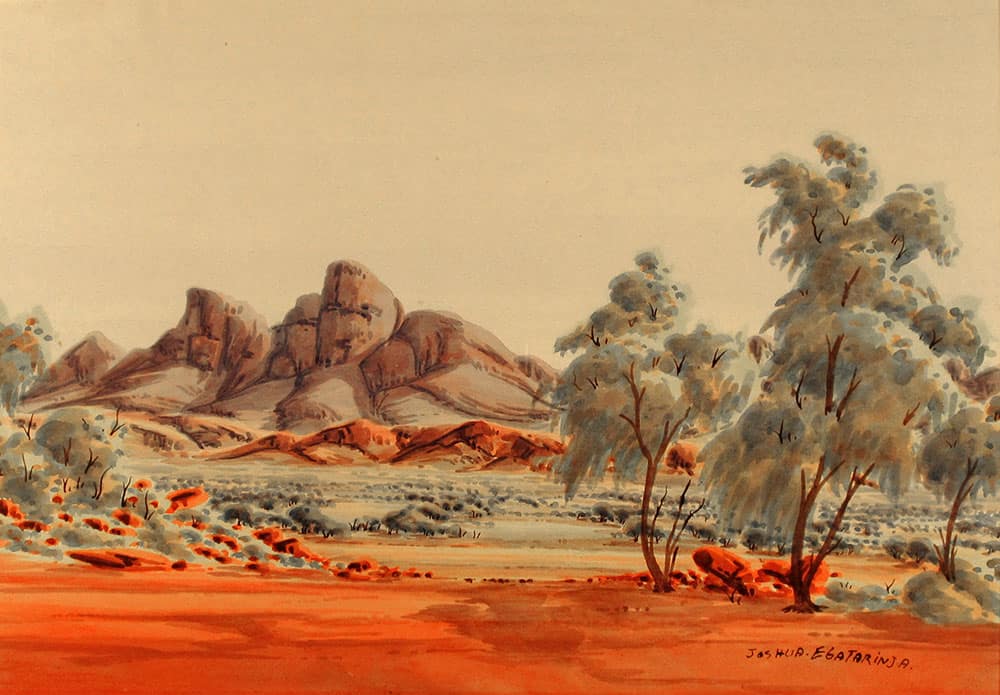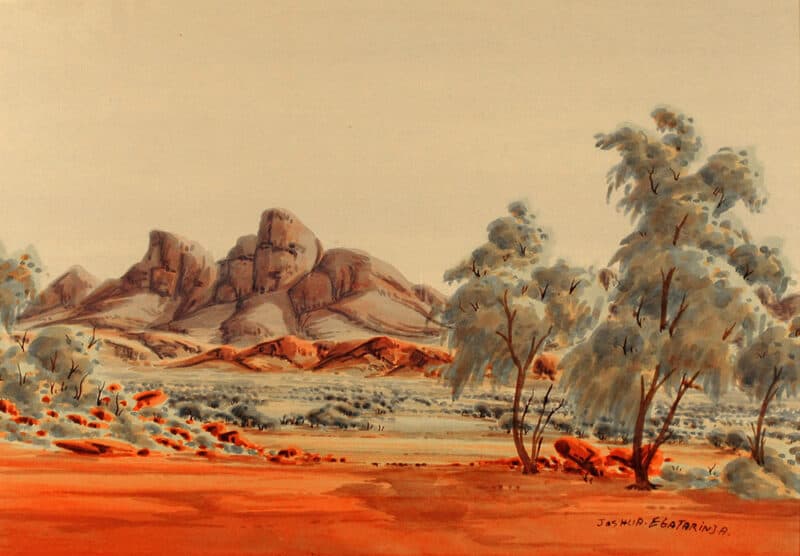 Central Australia (Haasts Bluff)
Joshua Ebatarinja
• • •
est. 1965-69
Watercolour on paperboard
35.5 x 51.5 cm
Beverley Castleman Collection
BDC-JEb -04
This is Haasts Bluff, which is at the eastern end of the Belt Range near Papunya. Part of the range can be glimpsed at right through the small trees, which are moving gently in a breeze. The view is across a red earth foreground with small trees framing the view of Haasts Bluff and complementing the curves of the bluff.
There is an orange-red foreground, lemon under washed mid ground, pale cadmium red foothills, pale blue sky, and cobalt blue greyed with cadmium red for the Haasts Bluff hill structure. A gentle breeze moves the long leaves of the small foreground trees. There are short parallels on the distant hills and foothills and long horizontals on the treatment of the plain.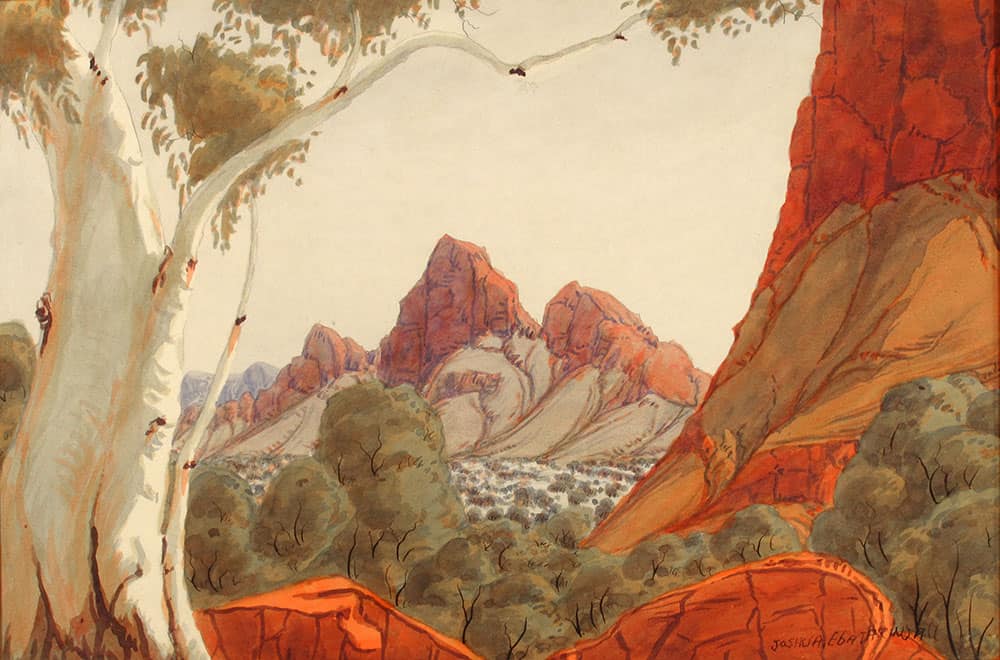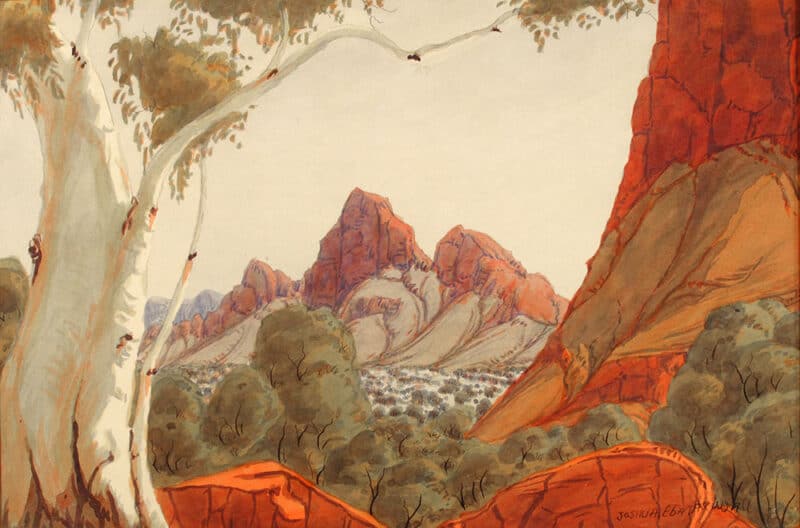 Central Australian landscape
Joshua Ebatarinja
• • •
est. 1967-73
Watercolour on paperboard
33 x 50.5 cm
Beverley Castleman Collection
BDC-JEb-05
In this romanticised portrayal of Haasts Bluff, the totemic hills are viewed from a shaded and lush haven with an ancient ghost gum on the left and a hill of exaggerated height on the right. The haven seems cosseted from any harshness.
The lemon underwash on distant plain is overpainted with white so that it glows gently. A lemon underwash behind the mid ground foliage is mostly overpainted with green, grey from ultramarine and orange so that the bush seems luminous, while not hot. Touches of orange gently intensify the effect. Again, lemon is behind the foliage of the big tree and brightens up its trunk. Two red rocks behind the tree screen the lush bush from the casual stroller.
This is the only Joshua painting with screening barring a direct way through to the scene. Painting is about the important totemic peaks as much as the haven from which they are viewed. The cool dot treed plain is a buffer.
REFERENCES TO EXTERNAL TEXTS
[1] Paul G E Albrecht, From Mission to Church 1877 – 2002 finke river mission, p22   [2] Vivien Johnson, Once upon a time in Papunya, p29