Reuben Pareroultja cleverly established a subtle delicacy of stylisation that exceeded that of most of the artists. Reuben was a founder of the Hermannsburg School and is notable for his distinctive, sensitive and smoothly detailed style. Perhaps encouraged by his brothers' individual approaches, Reuben adapted the principles of Edwin's transparent colour fields and Otto's rhythmic hill patterning so that he could emphasise that all features of the country were as important as dominant looking iconic sites like Mt Sonder.
He was an important, if not a prolific painter and after he went to live 'out west' in his wife's country he painted only occasionally from the mid-1950s to 1962 and again in 1968.
Reuben married Janice, a Loritja (Kukatja) woman, who is said to have been the sister of Rubina Namatjira. As at 1957 they had seven children, including Helmut, born 1939 and Hubert, born 1954. Helmut and Hubert painted in watercolour. Helmut did not have a career as a painter and remained at a distance from the church. [1] Hubert is continuing to paint prominently. Reuben was Western Arrernte language group, Subsection (Skin) Kngwarreye. Reuben was a man recognised as having significant [traditional] knowledge. [2]
Reuben started to paint seriously in late 1946. He was discharged from the army labour force in 1943 due to ill health. He had created, apparently as early as late 1943, a delicate painting influenced by Edwin's horizontal composition of colour fields. It is unclear whether Rex Battarbee saw this when it was created.
This painting is Untitled landscape Western MacDonnell Ranges, 1943 (watercolour on paper; 24.5 x 30.5 cm; The Araluen Collection at Alice Springs: AC 1992:040). The painting is sensitive, yet has a touch of drama in the dark distant hills. The author considers that it was probably created in late 1943 after Edwin produced his first few paintings. Reuben's early paintings employ separate colour fields of under wash, reflecting Edwin's methods.
Reuben developed an inconspicuous all over system, appearing (in Battarbee's view) the most European in style of the three brothers. His style was more harmoniously gentle and the traditional elements, especially of infill and rhythmic stylisations of the landscape, were less conspicuous, as traditional patterning was subordinate to the pictorial view.
In many ways, his work resembled that of Albert Namatjira, more so than did his brothers' paintings. Rueben's personal interest in the totemic landscape was arguably no less traditional than his brothers. Reuben was a spasmodic painter and he seems to have been busiest from 1946 to 1956.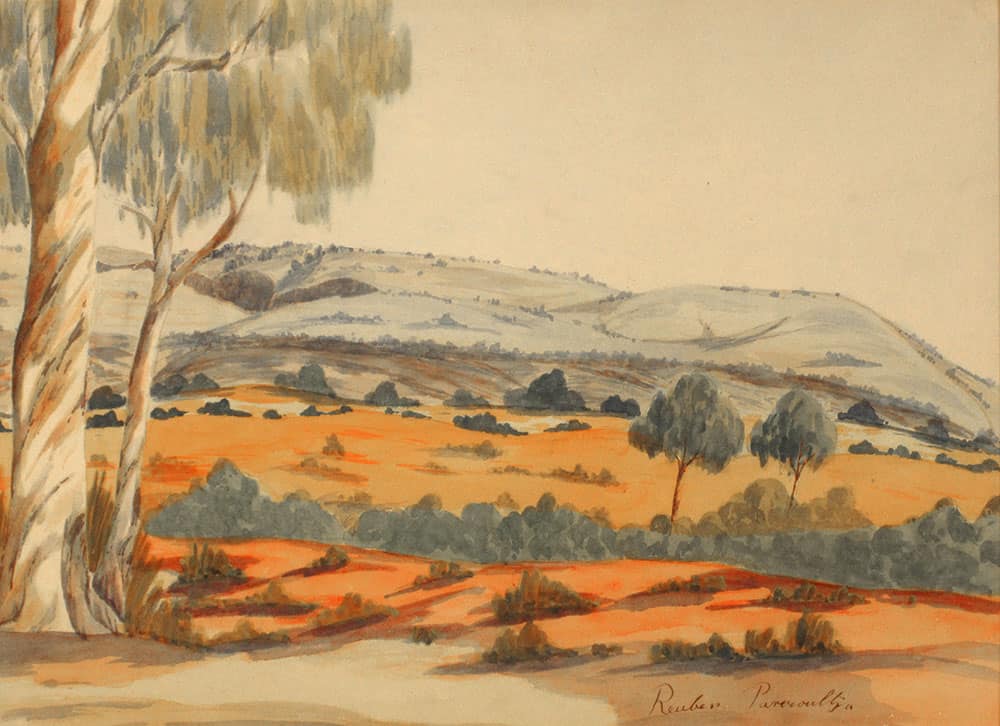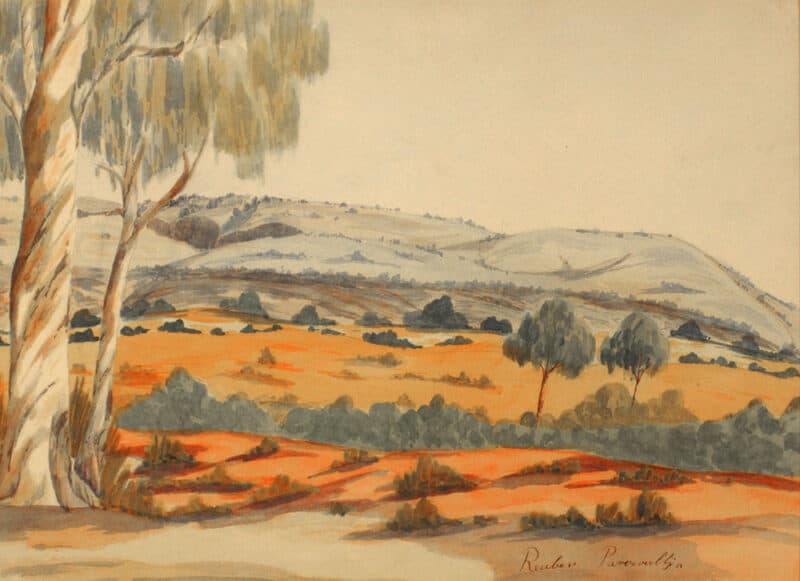 Foot of MacDonnells
Reuben Pareroultja
• • •
August 1946
Watercolour on paper
29 x 39.5 cm
Beverley Castleman Collection
BDC-RPar-03
Reuben seems to have been guided by Edwin in this tentative and delicate early composition.
The result resembled Edwin's earlier and original separated colour fields, from which Edwin was moving on when this was painted. The twisting marks on the tree were developed further in subsequent paintings, as in Central Desert Landscape, described below. There are long parallel brush marks for the big tree foliage. The main guidelines of the composition were lightly pencilled in with 2B pencil.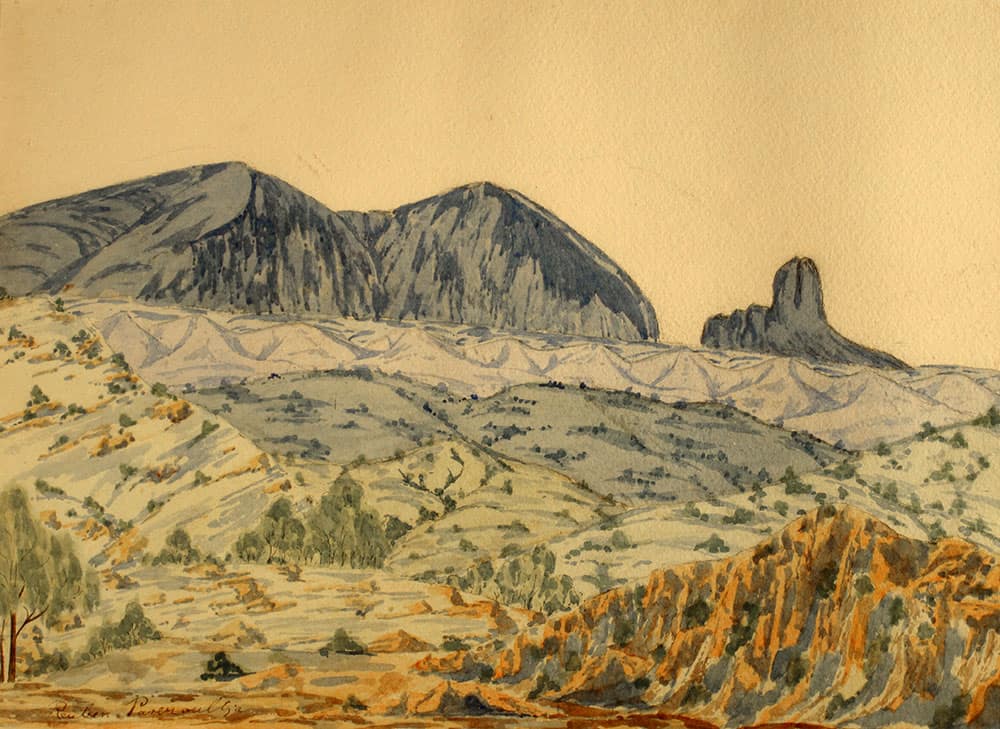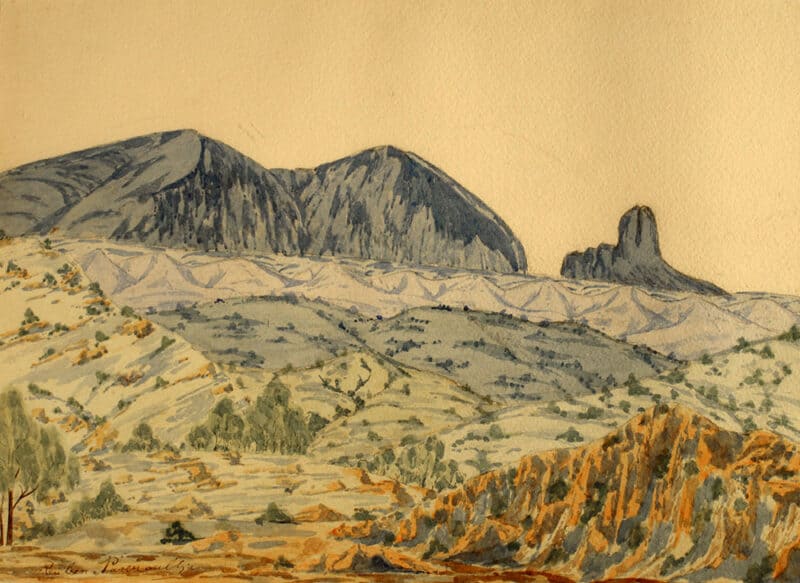 Mt Sonder
Reuben Pareroultja
• • •
est. late 1946
Watercolour on paper
29 x 40 cm (and 27.5 x 37.5 cm mount window)
Beverley Castleman Collection
BDC-RPar-06
This delicate composition involving the iconic Mt Sonder is enlivened by the dynamics of the diagonals, which respond to the slanting horizon. The artist softened the effect of Edwin's obvious colour fields to achieve an unusual and intimate experience of the country.
The small angles of the stylised foothills are repeated in the angled left and right mid ground hills before levelling to the viewpoint above the horizontal foreground.
This is a more refined and detailed painting than Foot of the MacDonnells of August 1946. The painting is beautiful now, but there would have been a gentle vibrancy from the pale red foreground rocks (which have now faded to pale orange, as evident under the frame rebate). Foreground rocks are like Otto Pareroultja's Blue Mountains and Edwin Pareroultja in NGA 13366 and Mt Sonder (1946-49).
Reuben was one of the few Hermannsburg artists who attempted to paint people or a portrait. The subject of Reuben's portrait was a traditional man in a scene of traditional country, which was characteristic of his landscapes of around 1946. Portrait of an Aboriginal man, est. 1954 (watercolour/paper; 29 x 40 cm; NGA 103950 95.1648). In this portrait, the rocky site on the left and the traditional man seem as of one vibrant mind-set in a contrast with the delicate and calm distant scene to the right of the composition, which is in the artist's early manner of painting in 1946.
Reuben also created his interpretation of a biblical story: Nicodemus, 1954 (watercolour on paperboard; 25.5 x 36.5 cm; MAGNT NAM-0132). The composition title refers to the biblical story of the Pharisee Nicodemus consulting Jesus. The Arrernte man symbolises Nicodemus. Jesus is described wearing a white robe and sitting on a log, speaking to 'Nicodemus', who is unclothed and sitting lower on the ground. A small campfire burns in front of them. Nicodemus appears to have a traditional man's hair style with a knot of hair low on the head. The generalised landscape could be either that of the Mission area or the Middle East.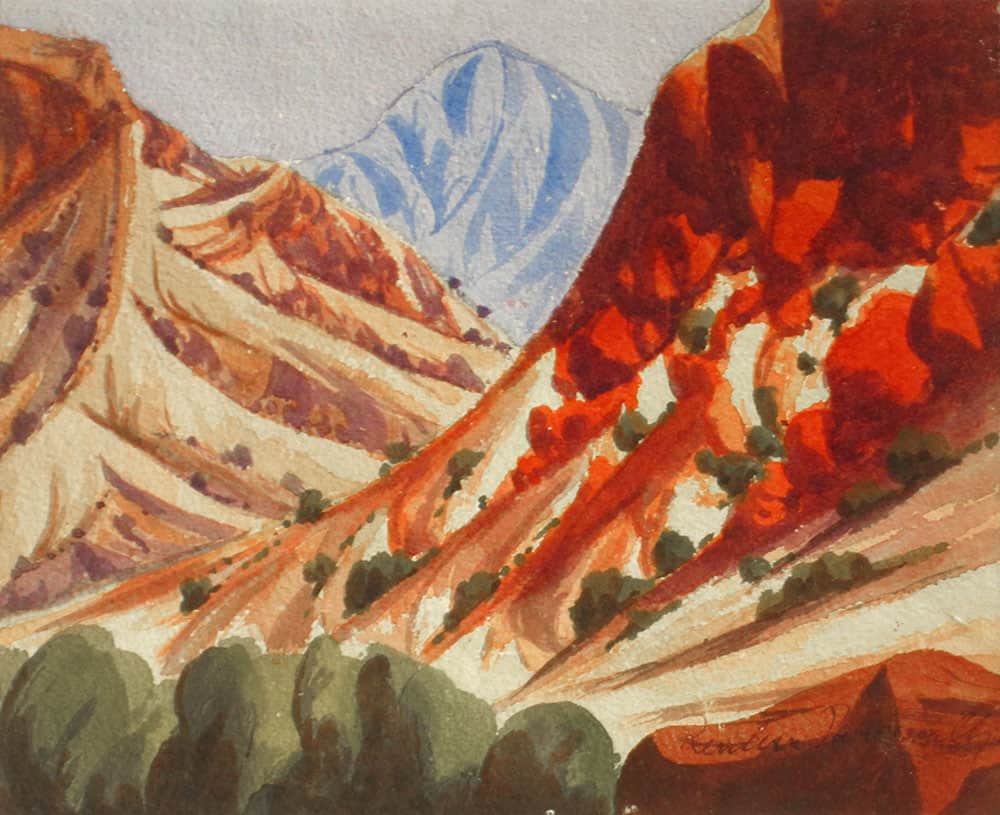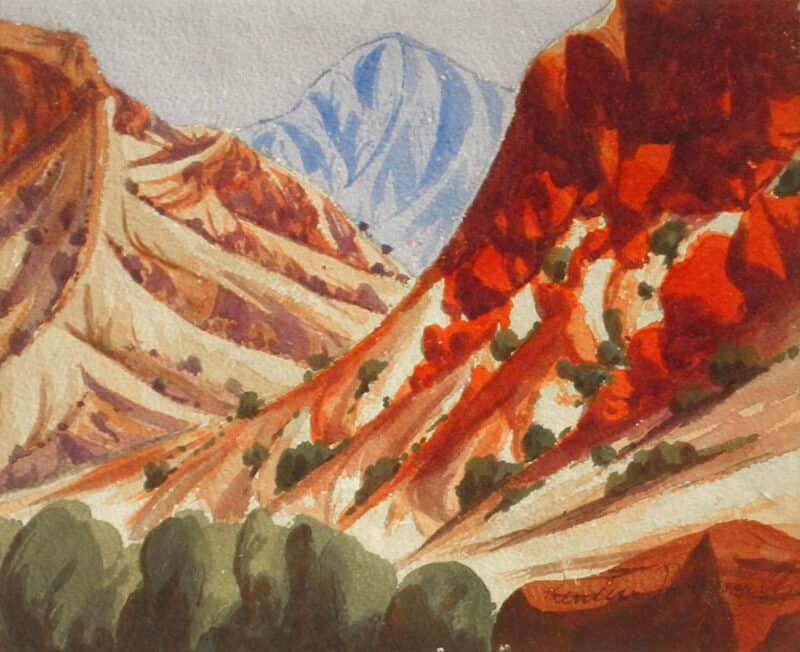 In the ranges near Mt Hermannsburg
Reuben Pareroultja
• • •
1956 (title inscribed back of framed painting)
Watercolour on paper
22 x 27 cm
Beverley Castleman Collection
BDC-RPar-07
The location of this vibrant painting is recognised as in the area close to Hermannsburg, that Ken Porter drove the author and her husband through, when Ken detoured up a hill from the Finke River bed on the way back to Hermannsburg after visiting Palm Valley. The composition has similar vibrancy to that of the NGA portrait of an Aboriginal man, described above.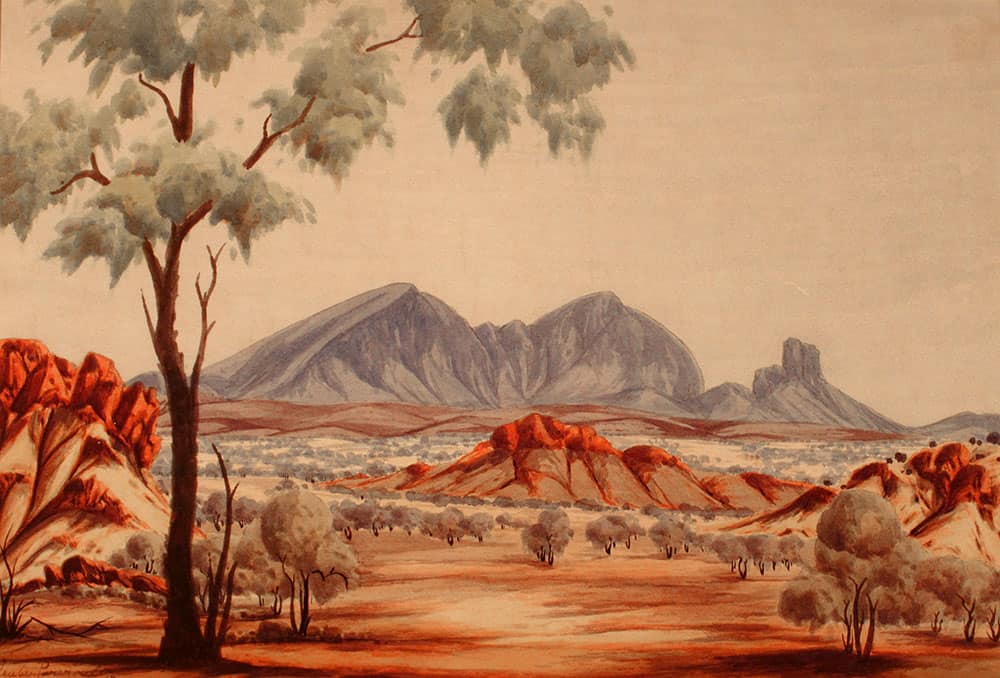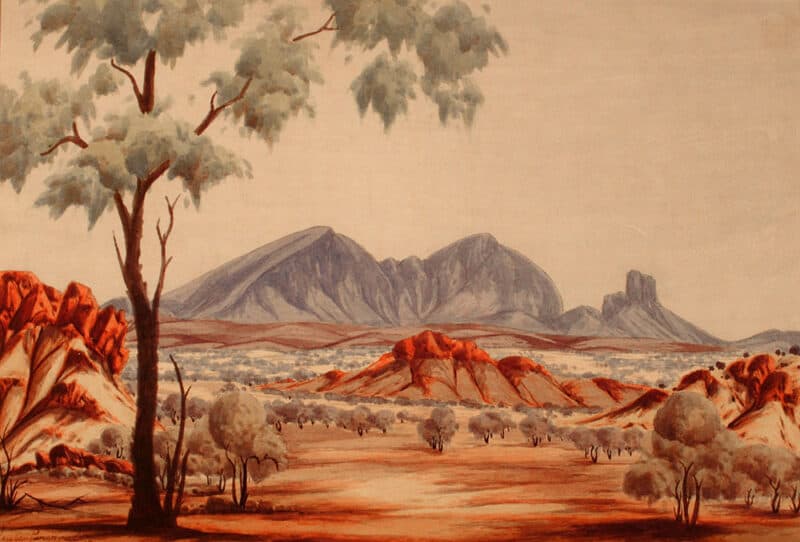 Mt Sonder
Reuben Pareroultja
• • •
est. 1956-62
Watercolour on paperboard
35.5 x 52 cm
Beverley Castleman Collection
BDC-RPar-04
In this view of country with the dominant Mt Sonder in the distance, Reuben emphasised that all features of the country are important. A lovingly described traditional diamond nature based pattern separates Mt Sonder from the here and now of the red outcrops on each side of the viewer and a significant low rocky hill in the centre of the composition (as in illustration detail). The tall iron bark tree unites the scene.
This is a complex and carefully painted composition with an ironbark tree at left foreground in front of an animate rocky outcrop behind on left. The tree is only slightly 'cut off'. The view looks down a slope, past a rocky outcrop on right, to a Dreaming rocky structure near the centre. This central structure looks important. There are two bands of traditional type infill patterning between the central structure and the striking Mt Sonder, which fills the background. The symmetry of the main mass of Mt Sonder is emphasised. The close band of pattern is the diamond pattern with the dotted trees with a smooth pattern of gentle hills behind.
There is one coherent system for the painting. Slightly damp paper, wet in wet tree foliage and paint to 'dry' surface. There was limited use of fine 6B pencil for profile of Mt Sonder and rocky outcrops. No sign of pencil on ironbark. Horizontal bands of unifying washes: Cobalt blue on Mt Sonder; a mix of cobalt blue and probably cadmium red on smooth hill pattern; wash of Naples yellow on mid and foregrounds including the dotted tree pattern. Lemon yellow illuminates the ironbark foliage. The ironbark trunk and branches are a dark grey apparently of cobalt blue with some red mixed in. There is fine pen-like brush work on trunks of small trees and dead wood on left.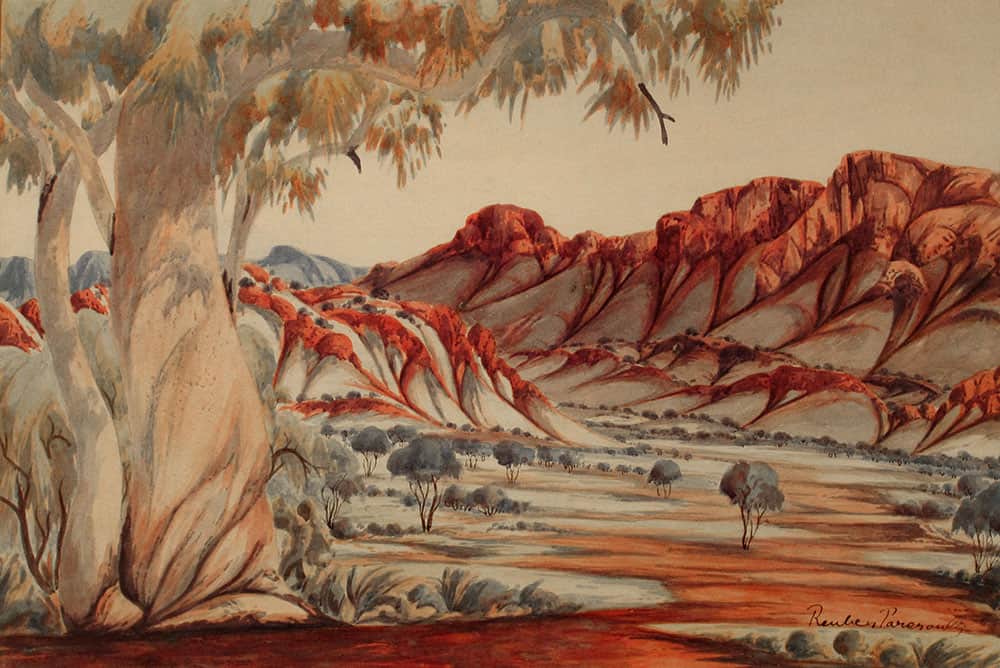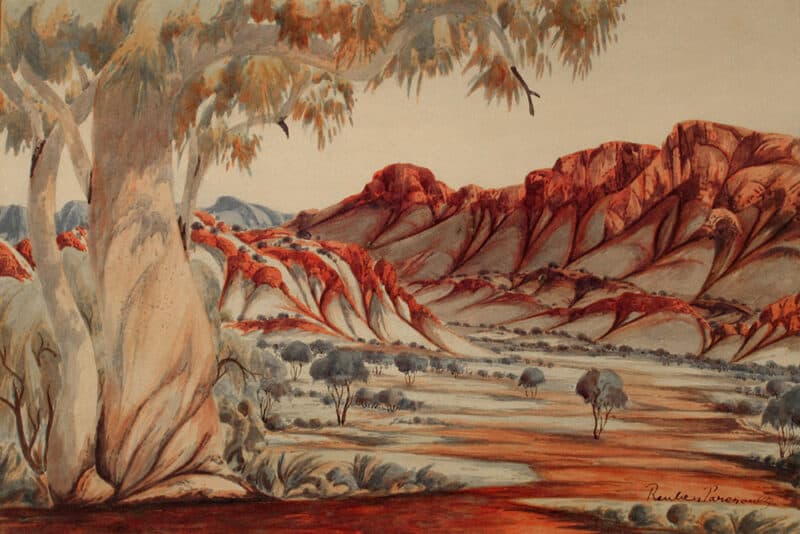 Central Desert Landscape
Reuben Pareroultja
• • •
1962
Watercolour on paper
36 x 54 cm
Beverley Castleman Collection
BDC-RPar-05
The elaborate tree appears twisted at the base, as if the tree is in the motion of turning from facing the viewer to guide attention toward the hills. It is a very mature tree and two young trunks grow from each side of its base.
This sensitively described tree gazes over a quietly detailed plain to the vibrant range of hills and important mid-ground hill. The hill and ranges support red rocky cliff tops, which suggest face-like patterning. In his own restrained way, Reuben seems to have converted Otto's blob and tail pattern, which Otto developed to suggest pulsating movement, to suggest vibrancy in the totemic hills. The blob and tail pattern system on hills seems derived from Otto's as in The Birds of Central Australia, est 1960-69.
The plain flows gently down to the right and is infilled with stripes and dot and blob trees. This is a loving, fluid and mellow painting. In contrast, Otto's plain was steeper and Otto's tree leaned towards his treeless but striped plain.
There is a hint of possible infill diamond dot pattern each side of the hill. There is very little clear colour, most being greys achieved by mixing clear colours. Big tree foliage is lively and backlit with yellow and lemon/green.
Rex Battarbee thought that Reuben was the most sophisticated of the Hermannsburg artists. Reuben was not robust and did not have a prolific output. But as a founding painter he was an excellent role model for others to follow.
REFERENCES TO EXTERNAL TEXTS
[1] Diane Austin-Broos, Arrernte Present, Arrernte Past: Invasion, Violence, and Imagination in Indigenous Central Australia, p42 [2] Diane Austin-Broos, p42